The Memory of Time
May 3, 2015 / by The National Gallery of Art / The Memory of Time: Contemporary Photographs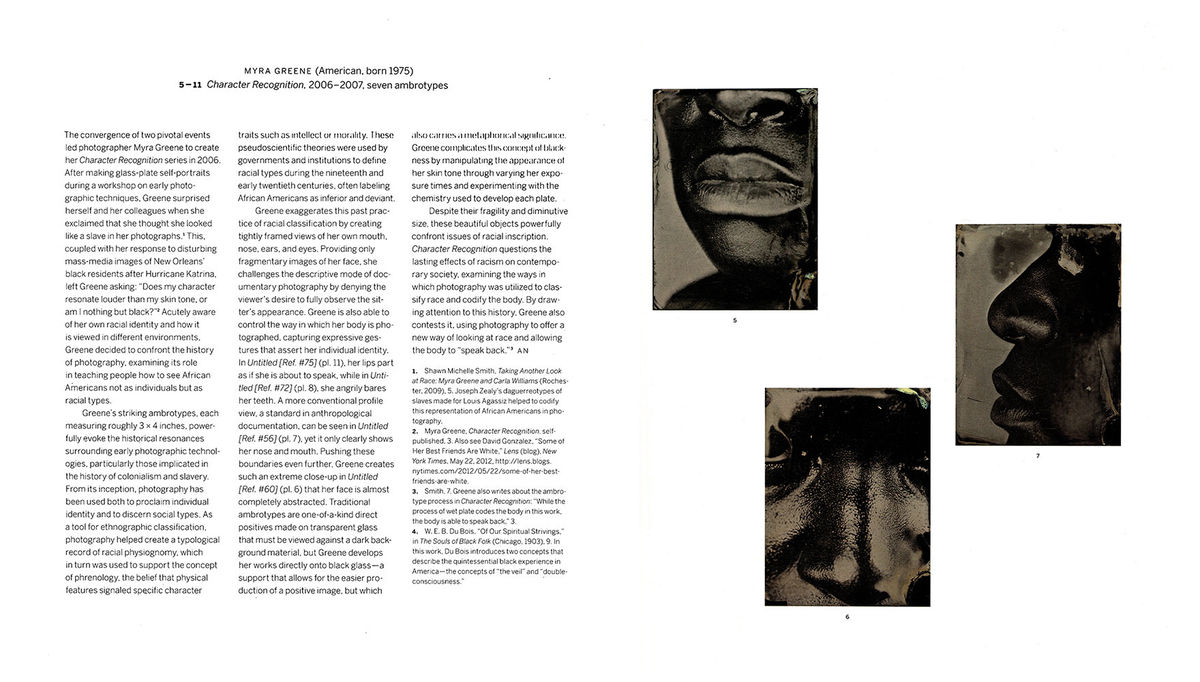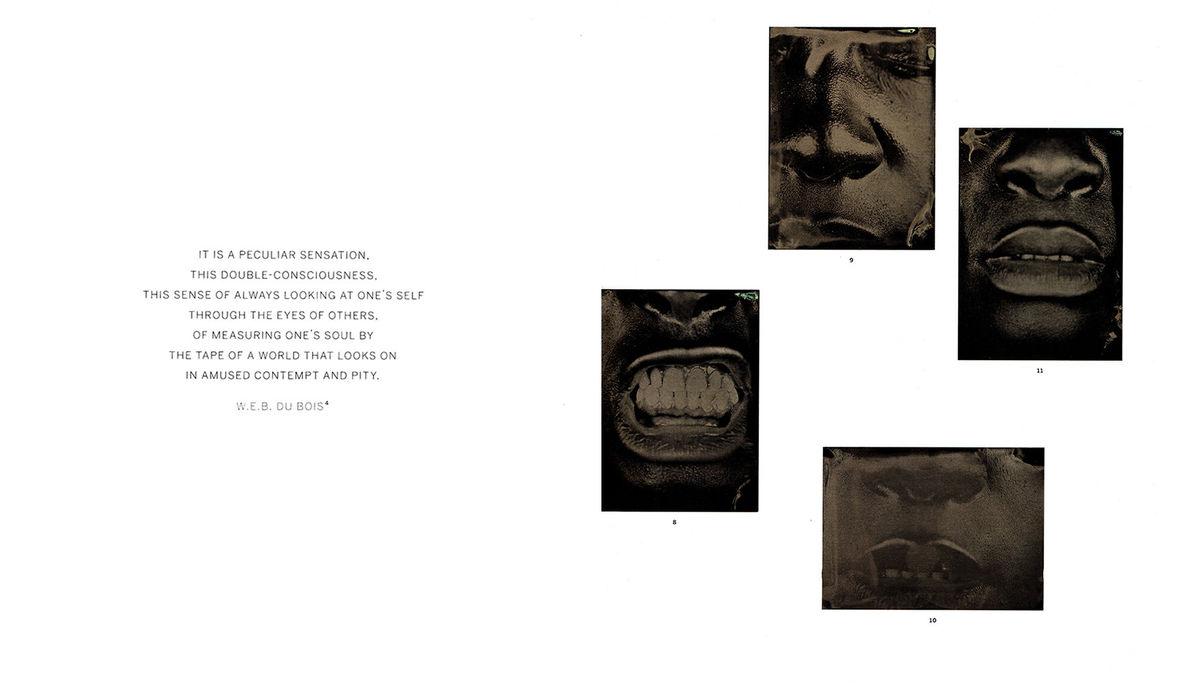 The convergence of two pivotal events led photograph Myra Greene to create her
Character Recognition
series in 2006. After making glass-plated self portraits during a workshop on early photographic techniques, Greene surprised herself and her colleagues when she exclaimed that she thought she looked like a slave in her photographs.(1) This coupled with her response to disturbing mass-media images of New Orleans' residents after Hurricane Katrina, left Greene asking: "Does my character resonate louder than my skin tone, or am I nothing but black?" (2) Acutely aware of her own racial identity and how it is viewed in different environments, Greene decided to confront the history of photography, examining its role in teaching people how to see African Americas not as individuals but as racial types.
Greene's striking ambrotypes, each measuring roughly 3 x 4 inches, powerfully evoke the historical resonances surrounding early photographic technologies, particularly those implicated in the history of colonialism and slavery. From it's inception, photography has been used both to proclaim individual identity and to discern social types. As a tool for ethnographic classification, photography helped create a typological record of racial physiognomy, which in turn was sued to support the conception of phrenology, the belief that physical features signaled specific character traits such as intellect or morality. These pseudoscientific theories were used by governments and institutions to define racial types during the nineteenth and early twentieth centuries, often labeling African Americans as inferior or deviant.
Greene exaggerates this past practice of racial classification by creating tightly framed views of her own mouth, nose, ears and eyes. Providing only fragmented images of her face, she challenges the descriptive mode of documentary photography by denying the viewer's desire to fully observe the sitter's appearance. Greene is also able to control the way in which her body is photographed, capturing expressive gestures that assert her individual identity. In
Untitled [Ref #75]
(pl. 11), her lips part as if she is above to speak, while in
Untitled [Ref #72]
(pl. 8), she angrily bares her teeth. A more conventional profile view, a standard in anthropological documentation can be seen in
Untitled [Ref #56],
yet only clearly shows her nose and mouth. Pushing these boundaries even further, Green creates such an extreme close-up in Untitled
[Ref #60]
(pl .6) that her face is almost completely abstracted. Traditional ambrotypes are one-of-a-kind direct positives made on transparent glass that must be viewed against a dark background material, but Greene develops her works directly onto black glass - a support that allows for the easier production of a positive image, but which also carries metaphorical significance. Green complicates this concept of blackness by manipulating the appearance of her skin town through varying her exposure times and experimenting while the chemistry used to develop each plate.
Despite their fragility and diminutive size, these beautiful objects powerfully confront issues of racial inscription.
Character Recognition
questions the lasting effects of racism on contemporary society, examining the ways in which photography was utilized to classify race and codify the body. By drawing attention to this history, Greene also contests it, using photography to offer a new way of looking at race and allowing the body to "speak back."(3) - AN
IT IS A PECULIAR SENSATION,
THIS DOUBLE CONSCIOUSNESS,
THIS SENSE OF ALWAYS LOOKING AT ONE'S SELF
THROUGH THE EYES OF OTHERS,
OF MEASURING ONE'S SOUL BY
THE TAPE OF A WORLD THAT LOOKS ON
IN AMUSED CONTEMPT AND PITY.
- W.E.B. DU BOIS (4)
(1) Shawn Michelle Smith, Taking Another Look at Race, Myra Greene and Carla Williams (Rochester, 2009), 5. Joseph Zealy's daguerrotypes of slaves made for Louis Agassiz helped codify this representation of African Americans in photography.
(2) Myra Greene, Character Recognition. self-published, 3. Also see David Gonzalez, "Some Of Her Best Friends Are White," Lens (blog), New York Times, May 22, 2012.
(3) Smith, 7. Greene also writes about the ambrotype process in Character Recognition : "While the process of wet plate codes the body in this work, the body is able to speaker back," 3.
(4) W.E.B. DuBois, "Our our Spiritual Strivings," in The Souls of Black Folk (Chicago, 1903), 9. In this work DuBois introduces two concepts that describe the quintessential black experience in America - the concepts of the "veil" and "double consciousness."