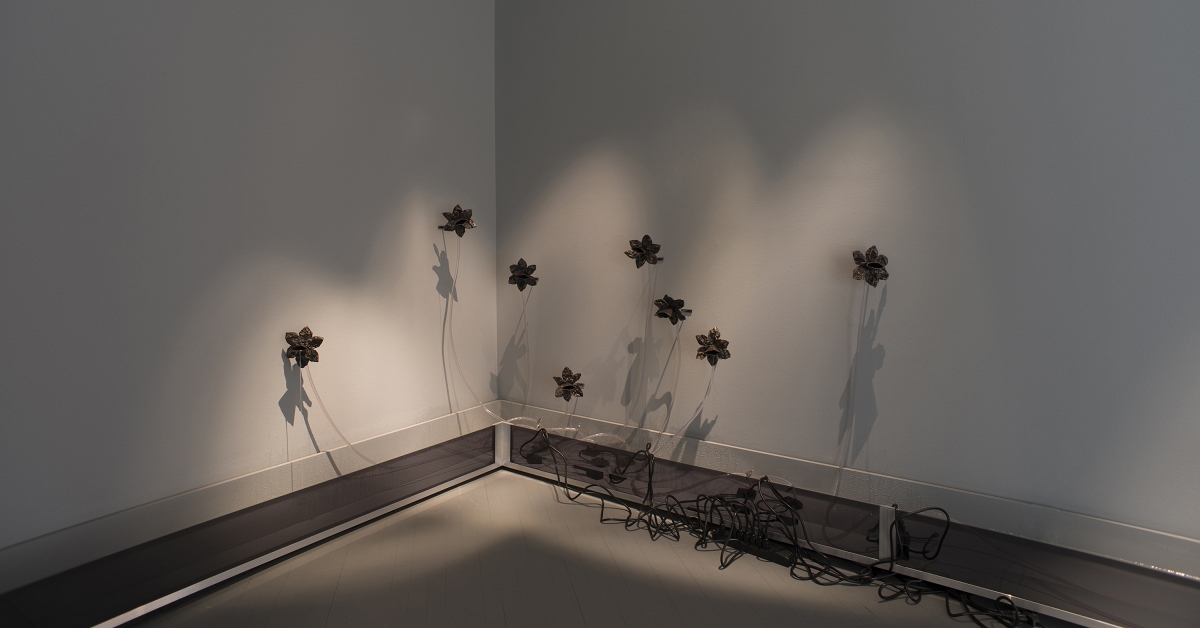 ---
DANIEL G. BAIRD
murmur
Jan 26 - Mar 9, 2019
Opening Reception: Saturday, January 26th from 5 - 8PM
PATRON is proud to present our second solo exhibition with Chicago based artist, Daniel G. Baird. The exhibition titled, "murmur" will open with a reception for the artist on January 26th, from 5-8PM, and will continue through March 9, 2019.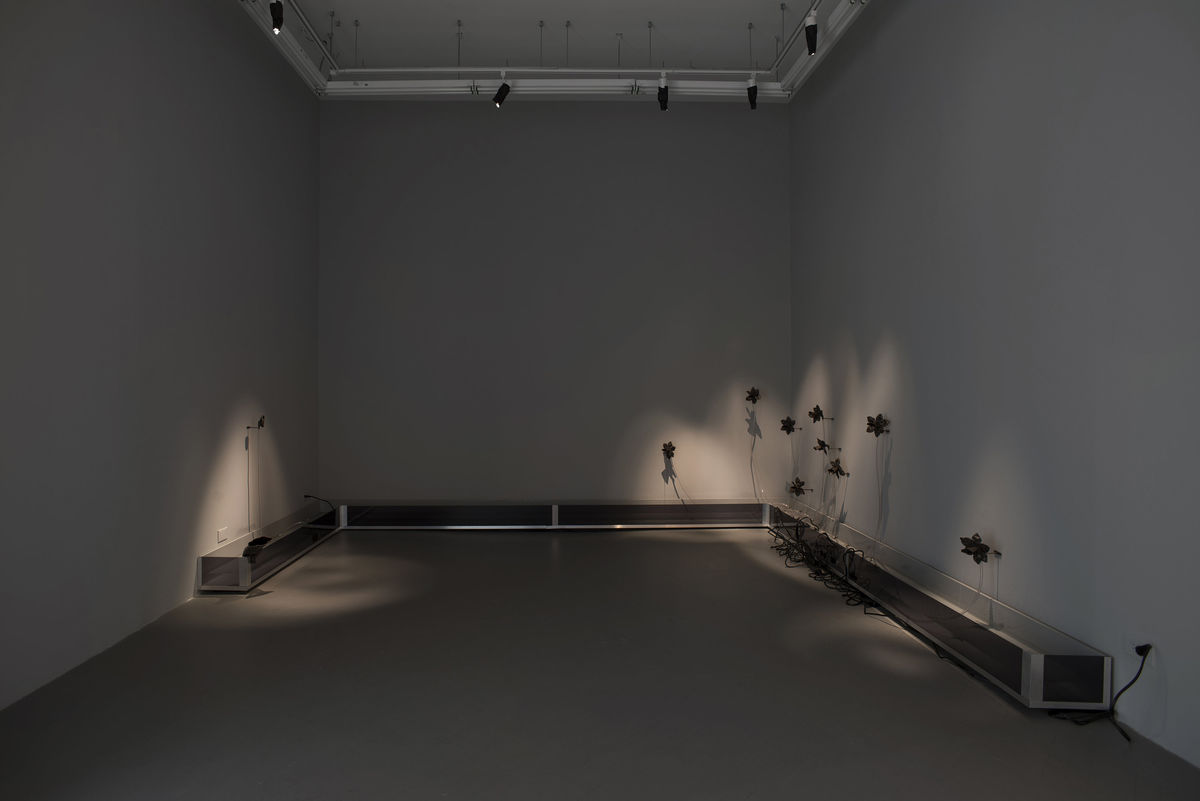 …When I replicated the interior of the cave in full, I needed to make a decision about what separated this static space from the rest of the world. This produced a demarcated line, or threshold, between inner and outer spaces. The shape of the fountain mouths are the contour of the entrance into this void. Earlier this year I decided to produce my own void within by digging into the replicated walls. This exploration resulted in a tactile and gestural marking that gave the piece the appearance of an exaggerated Daffodil corona. As a reference to spring, birth and the womb, this new direction coincided with ongoing questions about life and its origins. Recently, a friend told me about an ability that plant roots have which allows them to pick up on the vibrations of moving water and grow towards it. I like thinking about this phenomenon and how for our bodies, the aural sense becomes more significant in the absence of light.
- Daniel G. Baird
Installation of
murmur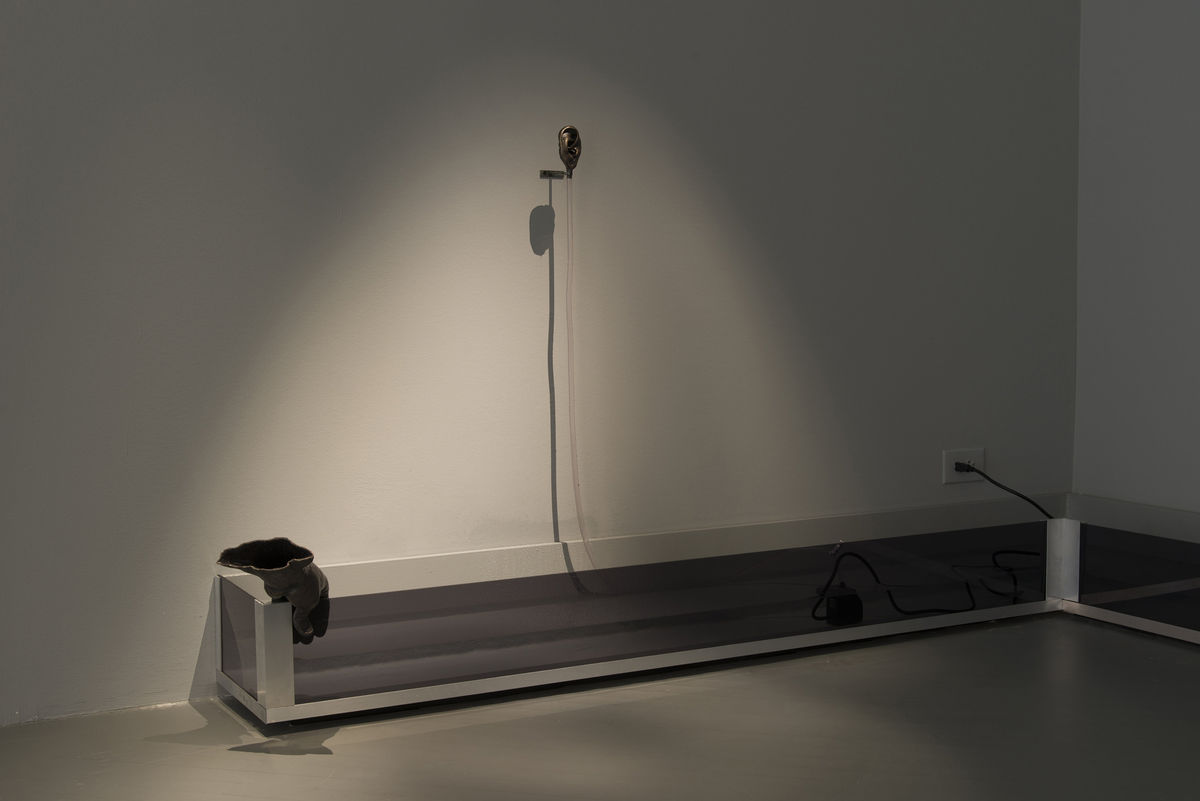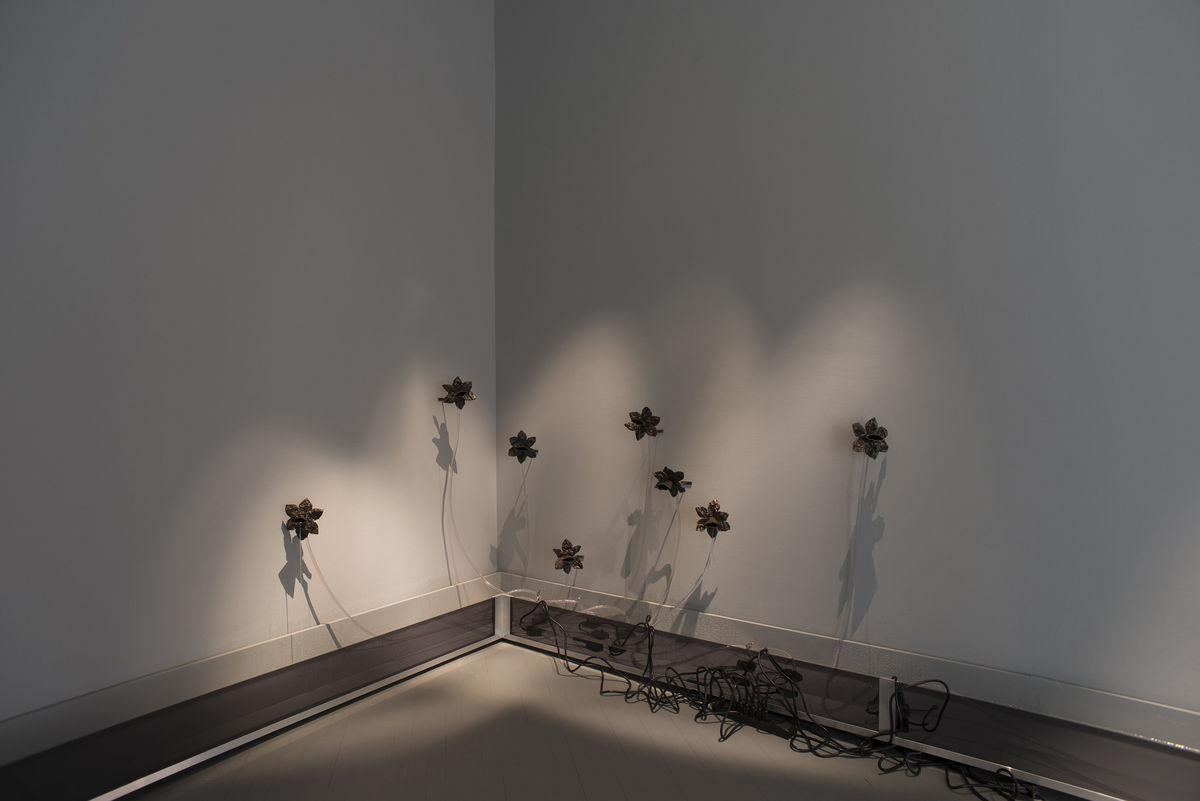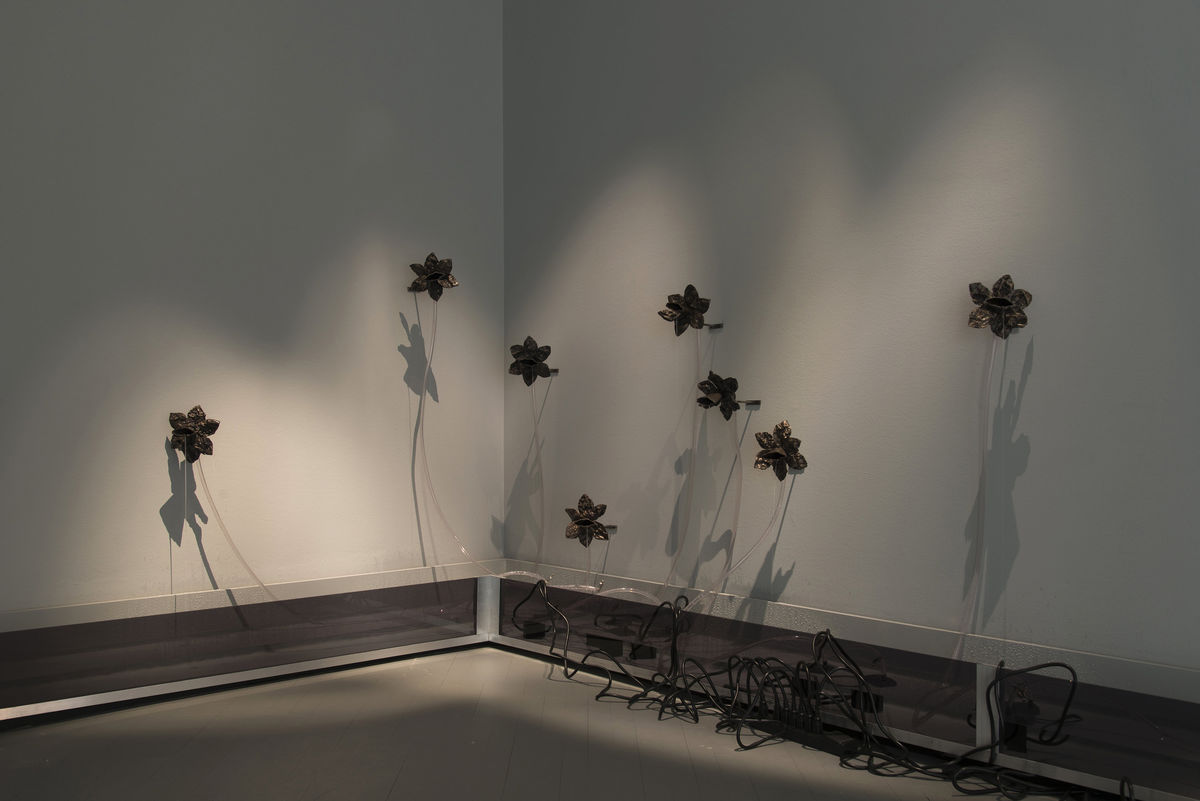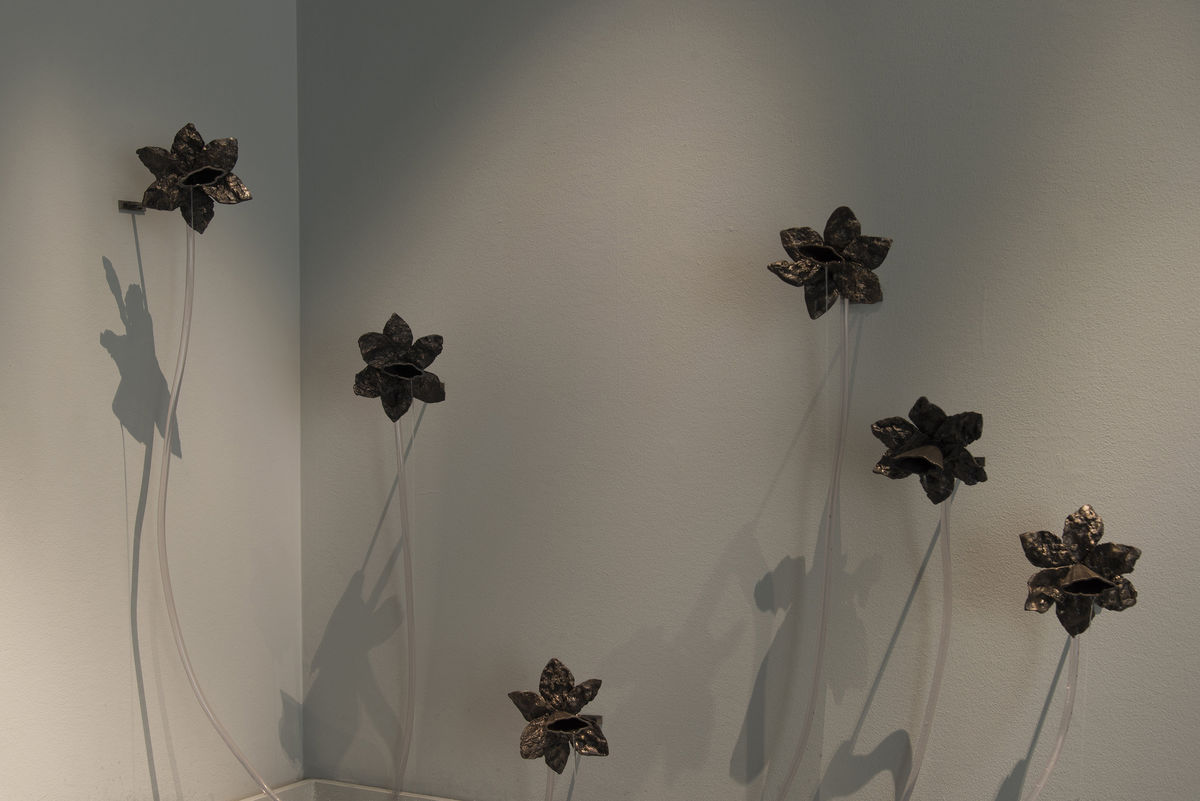 DANIEL G. BAIRD
(b. 1984, Edison NJ) lives and works in Chicago, IL. Baird earned his MFA from the University of Illinois, Chicago, in 2011. In recent years his selected solo exhibitions include:
of the wate
r (2018) at
GRIMM
Gallery
, New York, NY;
Field Station: Daniel G. Baird
(2017) at
Edythe Broad Art Museum
, Michigan State University, MI;
Thereof
(2017) at
Granite City Arts and Design District,
St. Louis, MO;
When
(2016) at
PATRON
, Chicago, IL;
Strata
(2014) at
Andrew Rafacz Gallery
, Chicago;
Has the World Already Been Made? x4
(2013) at
Roots and Culture
, Chicago;
This New Ocean
(2012) at
Appendix Project Space
, Portland, OR;
Has the World Already Been Made?
(2011) at
Jan Van Eyck Academie
, Maastricht, the Netherlands; and
Russell Leng and Daniel G. Baird
(2011) at
Hungryman Gallery
, Chicago. His work has also been included in numerous group exhibitions, including
Local Comfort
(2018),
LVL3
, Chicago IL;
Classic Beauty: 21st-Century Artists on Ancient [Greek] Form
(2018),
Providence College Galleries
, Providence RI;
Bearable Lightness of Being
(2017) at
GRIMM
, Amsterdam, NL;
WheredoIendandyoubegin
-
On Secularity
(2017),
Göteborg
International
Biennial for Contemporary Art
, Gothenberg, Sweden;
HWBMx7
(2015)
Harlan Levey Projects
, Brussels;
Habeas Corpus
(2015)
iMOCA
, Indianapolis, IN;
Real Things About Real Things
(2015) at
American Medium
, New York;
Has the World Already been Made?
(2015) at
Leeds University College of Art,
Leeds, UK;
GYRE
:
ALEX CHITTY AND DANIEL G. BAIRD
(2015) at
Land and Sea
, Oakland;
Ultra Deep-Field
(2014) at
Rockford Art Museum
, Rockford, IL;
There is a Screen
(2014) at
LVL3
, Chicago, IL;
Distant Images
,
Local Positions
(2014) at the
Elizabeth Foundation for the Arts
, New York; and
We Ghosts
(2012) at
Koh-iNoor
, Copenhagen. Recently, Baird was Artist in Residence, Illinois State University,Normal, IL.