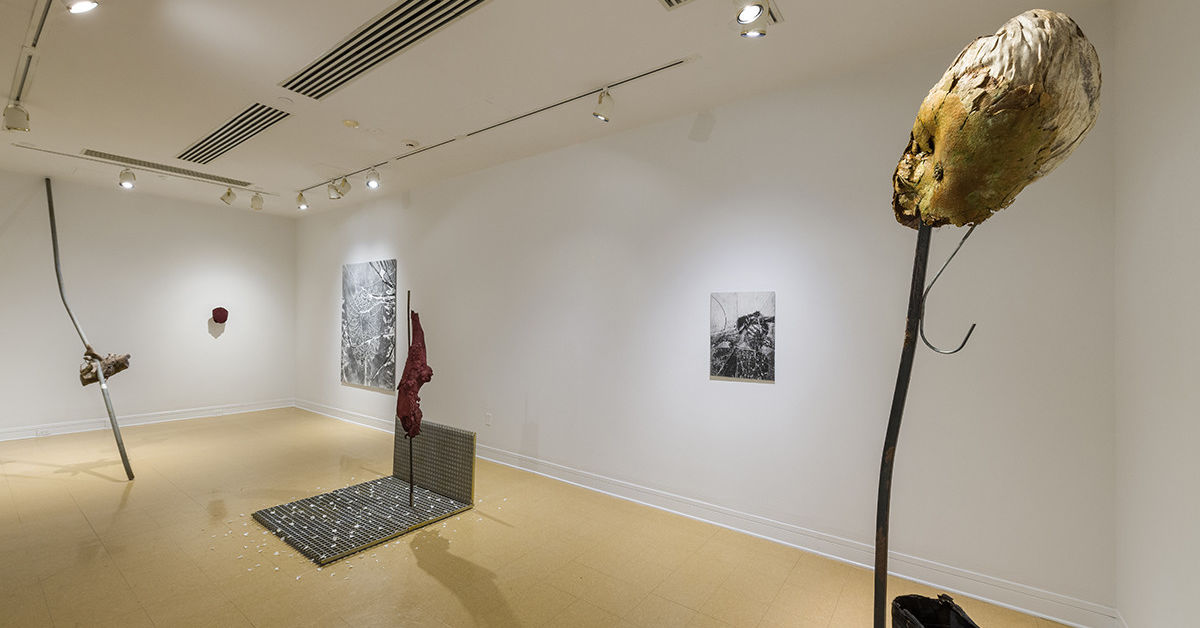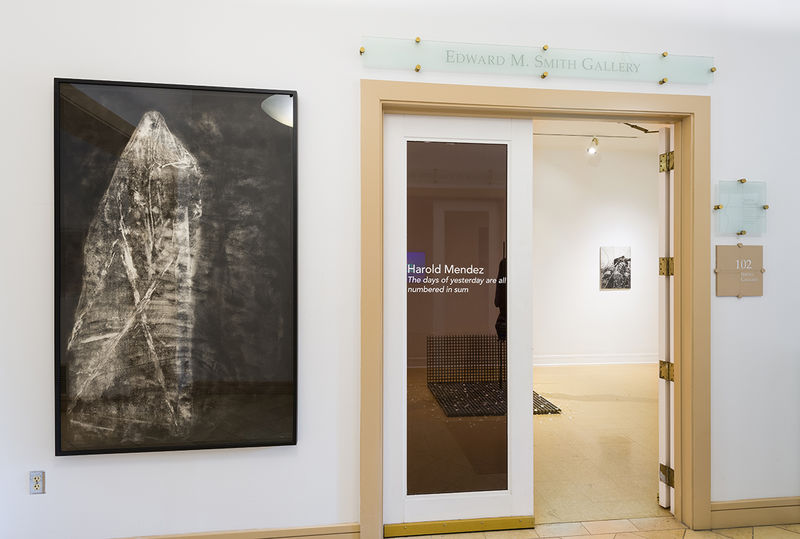 Harold Mendez uses simple materials – archival photographs, industrial items such as found metal and chain link fencing, and natural materials like tree limbs, flower petals, and pigments made from insects – to communicate complex concepts around history, memory, the body, violence, and ultimately, mending. Mendez alters, reprints, edits, distresses, layers, peels away, builds back up , and then re-excavates these objects and works on paper.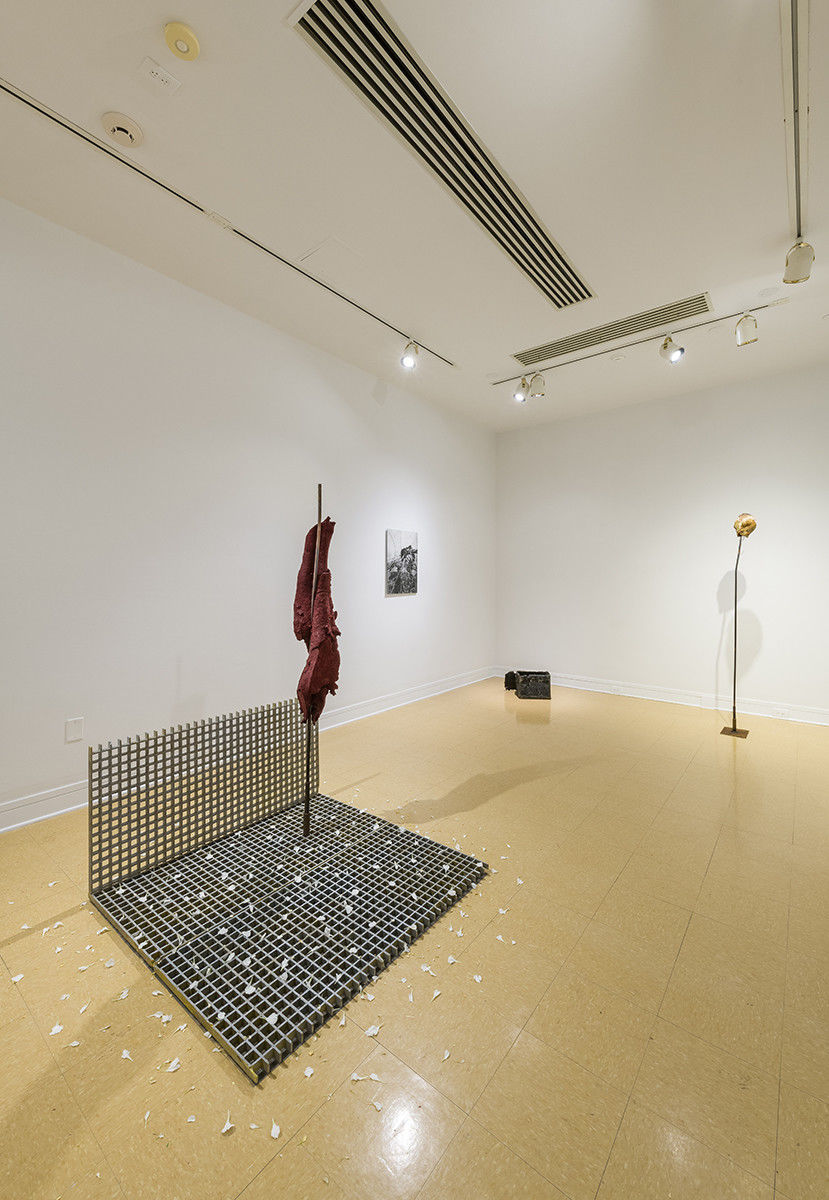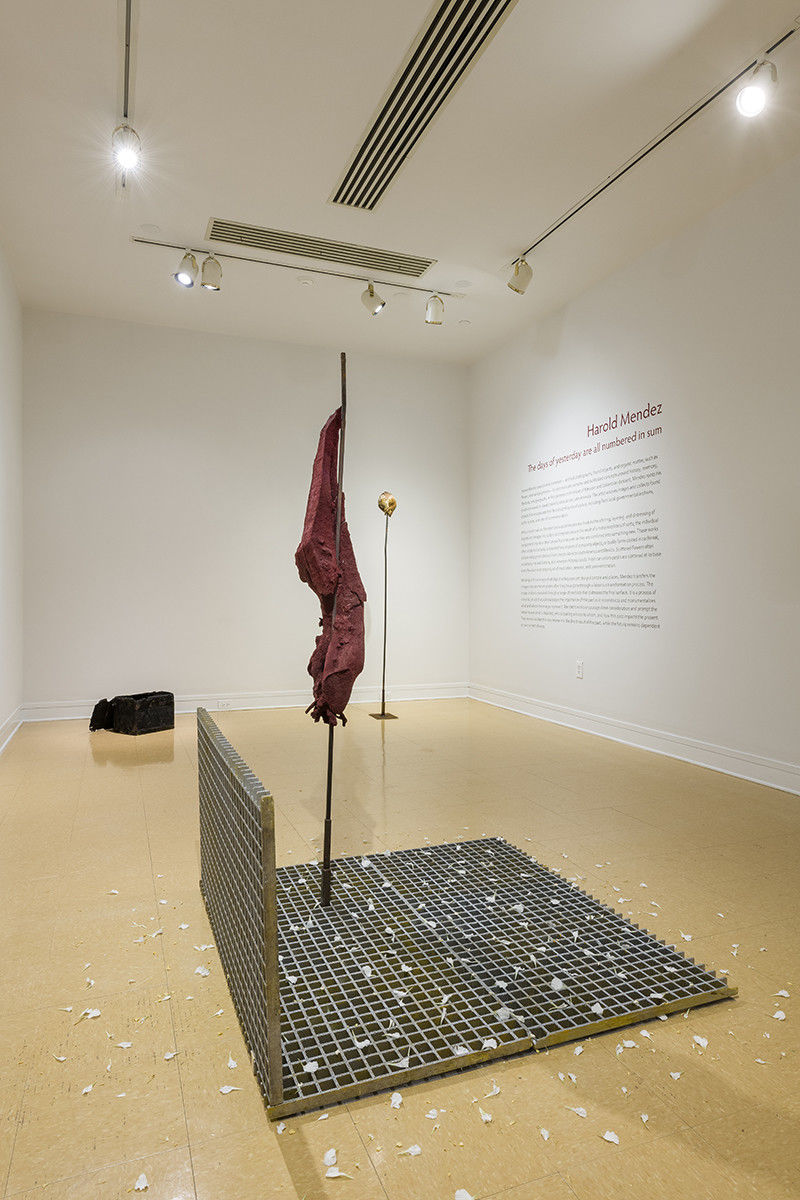 Mendez's works often depict or suggest human or animal bodies, and in some cases they are derived directly from animal matter. In Untitled (Death Mask), viewers peer into a singed cardboard box to find a face staring back. Body incorporates an actual tortoise shell, and the central component of American Pictures is a carcasslike form; both of these works incorporate pigments made from crushed cochineal or other insects native to South or Central America. American Pictures takes on an altarlike presence with the scattering of white carnations around the base. Caretaking of an art object becomes a ritual for the gallery staff who must tend to the work every few days, removing old petals and scattering fresh ones, per the artist's wishes.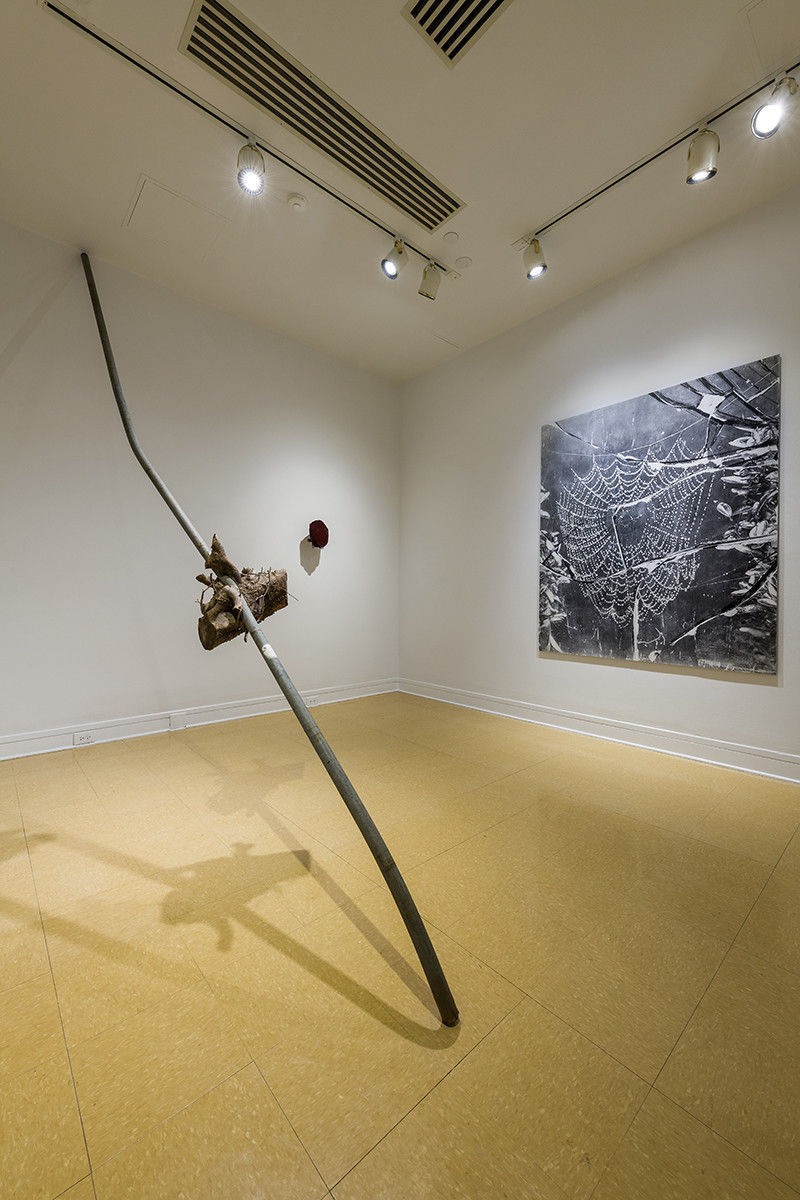 Mendez's interest in history and memory is reinforced through his materials and practice as he creates works that rely on historical photos or objects while imagining an alternative through their manipulation, juxtaposition, or re-presentation. To create For let X stand, if it can for the one's unfound (After Proceso Pentágono), Mendez utilized a photo found in the archives of Grupo Proceso Pentágono, an anti-authoritarian art collective based in Mexico. The life-size image depicts an unidentified man, his back to the viewer, being punched in the face by several attackers. Not only is the identity of the victim obscured, but those brutalizing him are hidden as well. Only the hands of the aggressors remain within the frame of the lens. Further, the context of the aggression is unknown. Mendez has reversed, reprinted, cut, collaged, distressed, and re-photographed the original image, his process further obscuring identity and truth. Works such as this depicting distress, violence, and turmoil, along with Mendez's exhibition title choice, are reminders that this very moment is the direct result of the past, while the future remains dependent on our current choices.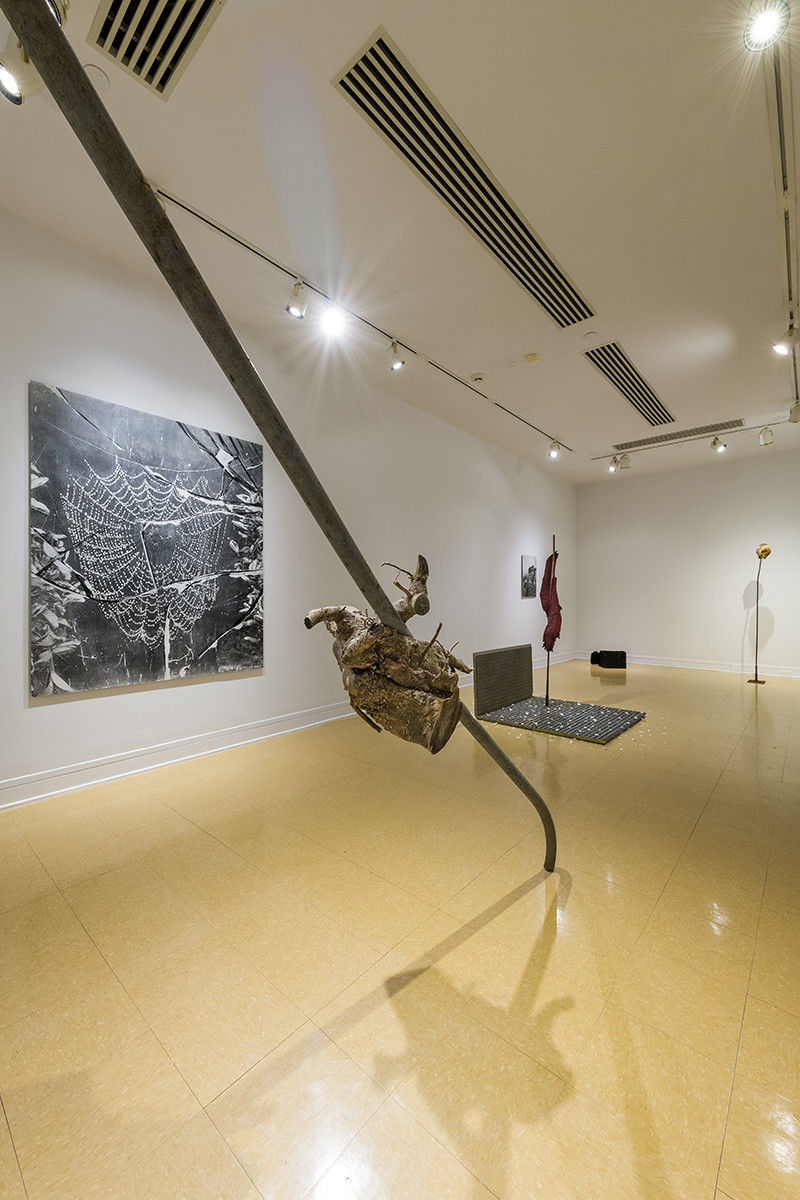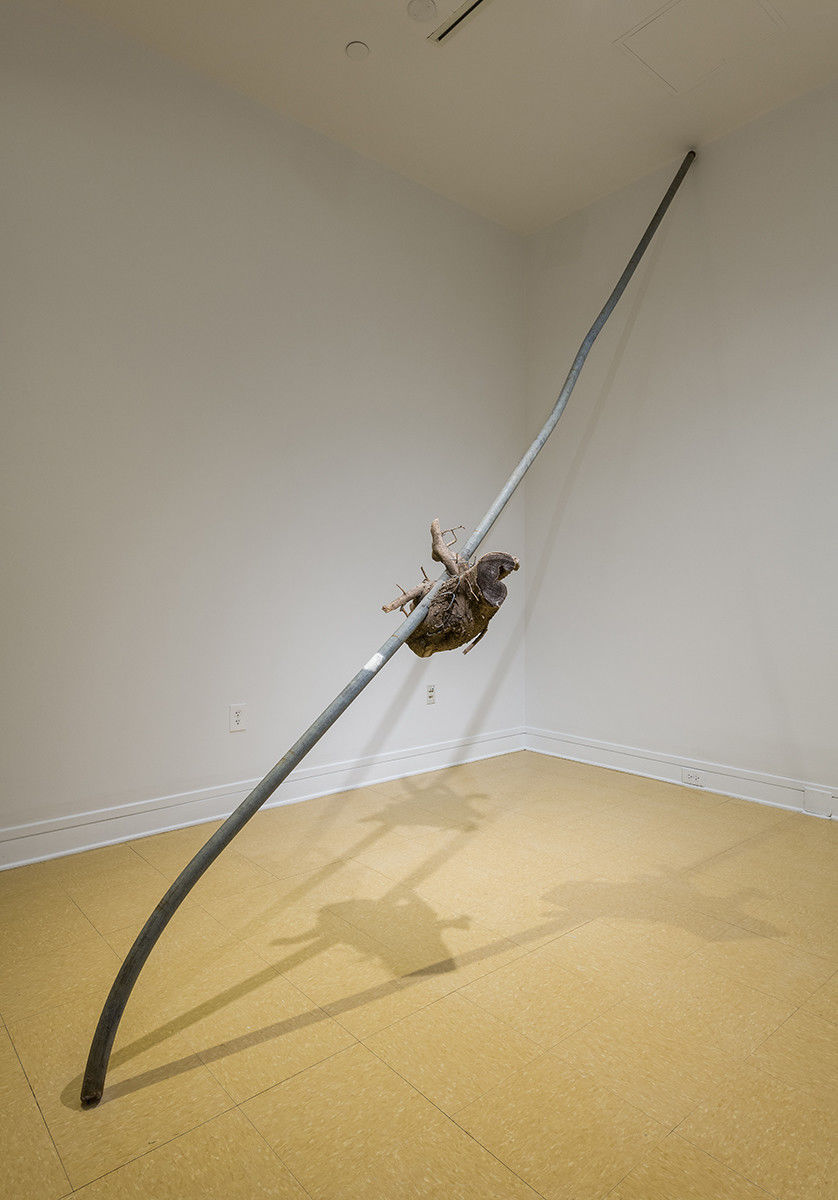 Harold Mendez (b. 1977) lives and works in Los Angeles, CA, and his native Chicago, IL. Mendez received an MFA from the University of Illinois at Chicago in 2007, a BA from Columbia College Chicago in 2000, and attended the Kwame Nkrumah University of Science and Technology, School of Art and Design, in Ghana, West Africa, in 1999. He has had solo exhibitions at such venues as PATRON, Chicago; Van Every/Smith Galleries, Davidson College, Davidson, NC; Moody Center for the Arts, Rice University, Houston, TX (forthcoming) ; and Reva and David Logan Center for the Arts, University of Chicago. His work has also been included in many group exhibitions, including "Cross Currents/Intercambio Cultural," Smart Museum of Art, Chicago; "Being: New Photography," 2018, Museum of Modern Art, New York; "Whitney Biennial," 2017, Whitney Museum of American Art, New York; and among others. Mendez has been honored with numerous awards, grants, and residencies, including those from 3Arts Residency Fellowship in partnership with the Robert Rauschenberg Foundation Residency in Captiva, FL; Headlands Center for the Arts, Sausalito, CA; Skowhegan School of Painting and Sculpture, Skowhegan, ME; CORE Program, Museum of Fine Arts Houston, Foundation for Contemporary Arts Emergency Grant, New York, NY; and Illinois Arts Council Artist Fellowship . Mendez's works can be found in the permanent public collections of the JPMorgan Chase Art Collection, New York; Museum of Fine Arts Houston; Studio Museum in Harlem; Museum of Contemporary Art, Chicago; and the Chicago Transit Authority.