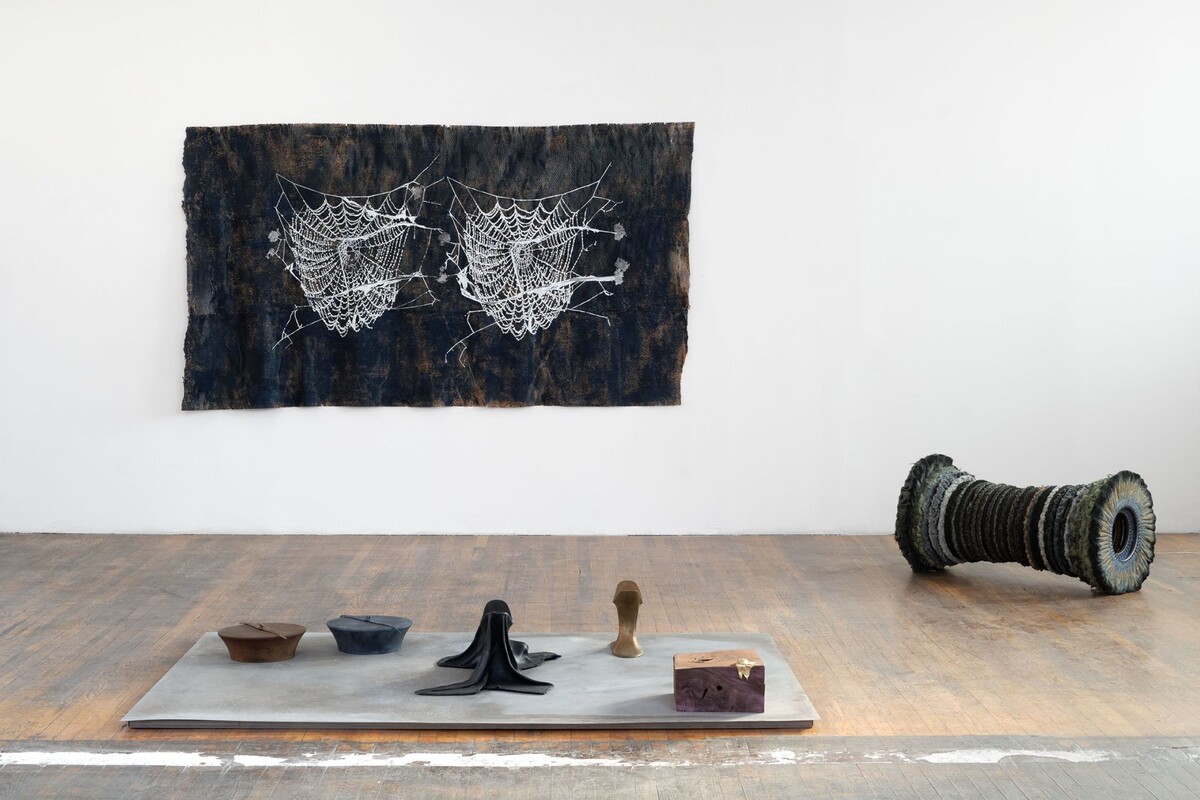 An arrangement of votive offerings in the center of the floor anchors the gallery space. Vessels with prominent bone-like appendages; a jutting stand enshrouded in fabric; shells with serrated spikes clasped together. Upon closer look, the component parts of the objects may reveal themselves as tails of horseshoe crabs, calf-weaning nose rings, funerary headrests. With their atemporal, enigmatic, and elegiac quality, the objects perhaps suggest burial objects from a familiar, yet undefined, culture. Marking death through oblique allusions to the body, Mendez constructs a scenography of communion, evoking notions of life and death, presence and absence, and fullness and emptiness, across time and geography.
The aforementioned objects are cast in brass and iron, with varying patinas. Through these processes of reproduction, Mendez is not so concerned with the loss of any original aura but rather in what meanings carry over. The artist searches and seeks what memories remain as vestiges. And what new meanings material alchemy can produce. The weave of a fabric rendered in metal turns an obfuscating shroud into sinewy skin. Arepas, ubiquitous carriers for food in Colombia, enveloped in silverleaf become pockmarked iridescent moons.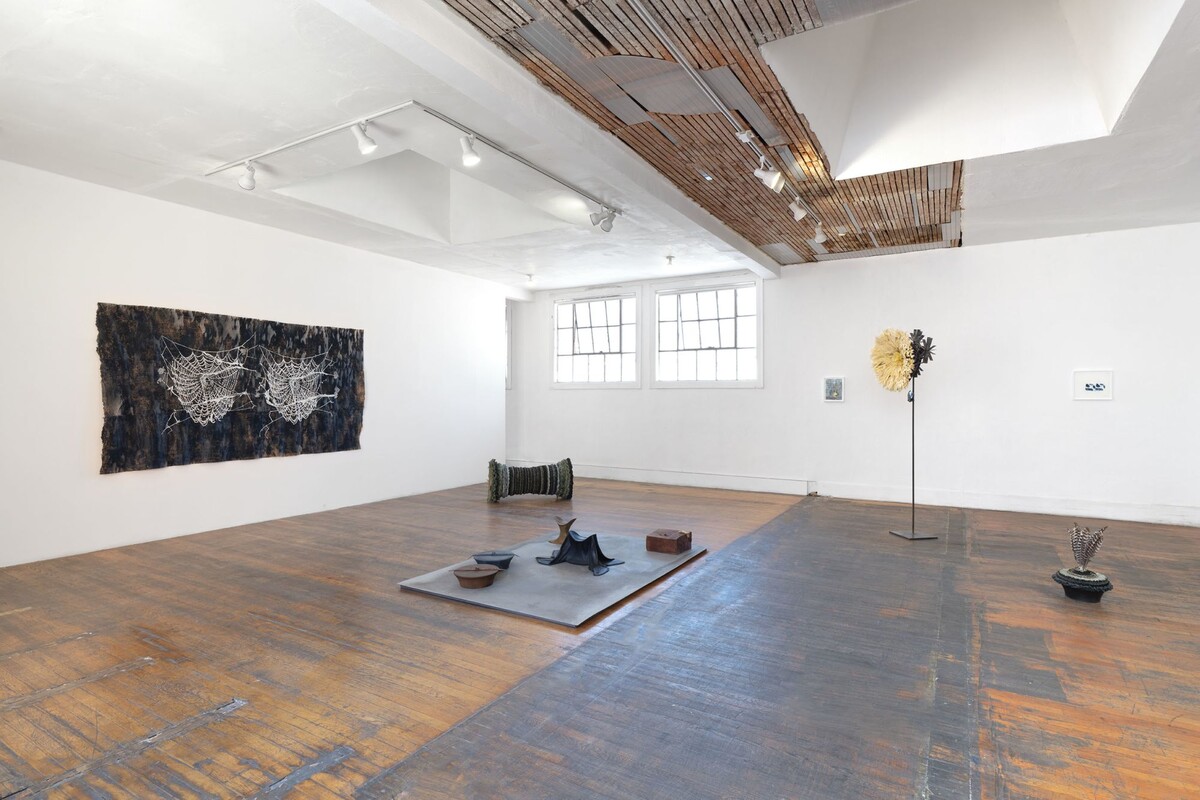 Mendez's uncanny play with materials create multivalent objects and images redolent of more than their prescribed function or meaning. Found objects take on new connotations. Layered crowns of fabric and leather read as ritualistic totems, nodding to pre-Columbian artifacts. They were originally polishing wheels for metalwork, and the residues from their original purpose remain in imperceptible form (and are acknowledged in the materials list). For Mendez, all such myriad meanings and memories, lived and imagined, intrinsic and extrinsic, associated with the objects remain pertinent. The artist asserts that objects and images hold agency, their own subjectivity that speak to their histories and encounters, whether visible or invisible, including the artist's interventions. A glinting silver-leafed spiderweb, painstakingly realized, indexes the labor of the artist's own body.
In offering works with polysemic resonance, Mendez captures moments of slippage in semiotic recognition. Thus the artist repudiates singular identities, totalizing universality, and linear narratives. While histories of colonialism and the concomitant development of capitalism that drove diasporic migration have informed Mendez's life and worldview, and thus his work, as a Latin American, Mendez is not interested so much in these particular narratives but more on how these histories have left traces on our bodies, psyche, and the images and objects with which we live. Affect supersedes cause and effect.
One specific inquiry that informed Mendez's work in the exhibition was his search for the grave of the late Cuban artist Belkis Ayon. While Mendez in the end did not find the grave, it was not a failure as the undertaking was never about achieving a neat resolution. The circuitous travails around and the tangential ruminations about—the precarity of bodies, and bonds shaped by and memories preserved through shared rituals—were just as, if not more, compelling and resonant in the works that followed the trip to Cuba. Through his wayward explorations across histories and materialities, Mendez posits that at times our collective imagination can reveal greater truths.