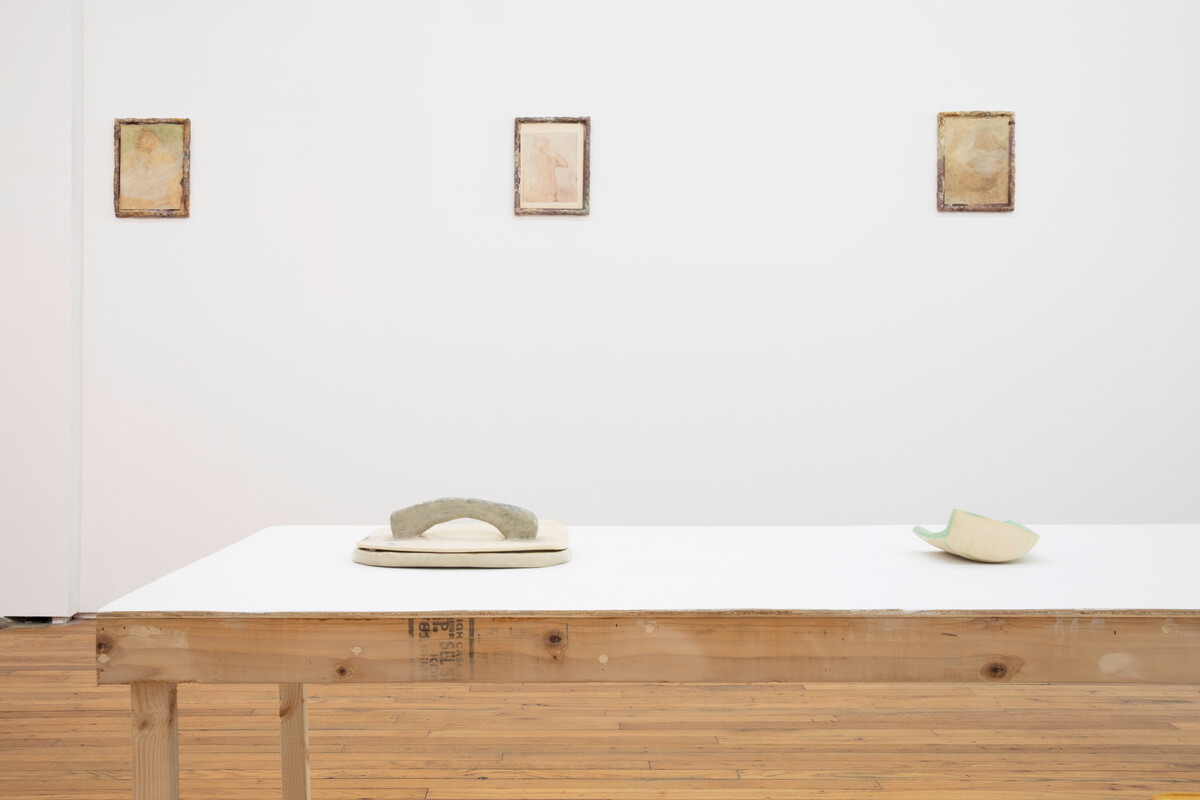 Memory is bodily, like an organ that doesn't cohere, dispersed across pressure points, toes and fingers, energetic en- counters, and spaces of absence. A memory is not a representation so much as a material imprint of working through the thing. While assuming the form of an object or image, it is the process of the working through—and the feeling through—that brings together two new bodies of work by Carmen Winant and Carey Denniston in Common as Mud.
Denniston's hand-modeled clay forms in
Builds
(2023) are at once loosely utilitarian and affectionate. These works— such as a soft curving slab resembling a car doorpanel or a pipe-like tube fragment—are informed by photographs of her late father's auto-body restorations but led by Denniston's embodied memories of them, by touch. The works first took shape during early moments of motherhood: daily rituals of bathing her daughter or putting her to sleep, patting and holding and swaying and imagining the generations before in identical movement . As the aliveness of a child puts into relief the ephemerality of life, Denniston's abstracted objects possess the tactility of new memories forming and others resurfacing from her past. The resulting sculptures exist as physical indexes of her father's care and sensitivity as well the experience of caretaking as a parent herself, pressed into material. Made by "pushing tiny particles of dust in forms, just as he was pushing tiny particles of dust into forms", clay material becomes in Denniston's hands a vessel for holding loss just as it folds into new life.
In Winant's series
A woman in the shape of a monster, a monster in the shape of a woman
(2023), the artist considers memory and the related phenomenon of disappearance and reappearance in tender impressions of nude women obscured almost to the point of disintegration. Here, models posed for the male gaze—culled from her late father-in- law's vintage collection of the French porno magazine, Oui as well as found porno ephemera and the artist's collection nudist colony magazines—are barely recognizable apart from a silhouette or outline, smeared into a washy rendering reminiscent of watercolor and underpainting or a fresco, with something beneath but also worn away. The works con- tinue the artist's practice of extracting and altering photographic documentation from their original context—garage and estate sales, newspapers, and used books—to create abstract interventions in constructions of femininity and to explore experiences many women have shared. Focusing on the loaded subject matter but also her agency over the material, the works are largely records of process:the sensation of her fingers rubbing the photos, sanding their surfaces, and her relationship to touch as a means to obliterate and re-form. Through erasure and recreation of these images, she also processes her relationship to her children's grandfather who, she explains, will always be an abstrac- tion to them, and to her.
Rather than seeking a form of closure, the works in this exhibition engage in a reflection on the unresolved nature of recalling the past and very real, tangible experience of the ways in which time moves forward. As a means of grieving and healing by putting "hands on bodies, ad infinitum," in Denniston's words, or through repeated movements that result in a ghost image of a form or identity, both artists give shape to the in-betweenness of knowing and feeling.
— Margaret Kross
‍