Bryan Savitz, New Sculpture
Apr 19, 2008 / by Rare Gallery / ArtCat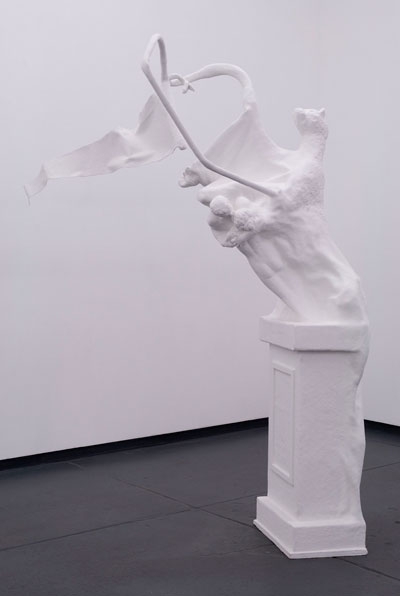 Bryan Savitz, New Sculpture
RARE Gallery
547 West 27th Street, Suite 514, 646-339-6050
Chelsea
April 19 - May 17, 2008
Reception: Saturday, April 19, 6 - 8 PM
In his new series of sculptures, Bryan Savitz presents a constellation of narrative fragments. The situations he creates expose a Nature disfigured and reformed through the fluxive interplay of the sculptures' own elements. The metamorphosis depicted in each of Savitz's works is made possible by his open engagement with the materials he employs in their making.
Milky white shapes, forged with fiberglass, resin, trinkets, and wood, appear from a distance like figures cast from fossils of an alternate evolution. On closer inspection the familiar, although estranged and suddenly unstable, is evident. Shapes that at first glance appear botanical, bestial or anthropomorphic eventually defy classification. Every initially recognizable form or aspect seems less like itself and more like the interruption, however temporary, of a process. What is ultimately recognized, when viewed against the cumulative artifice of the individual sculptures, are the lines between forming and fixedness – each one on the verge of taking another shape or else sinking back into oblivion.
The prominence of pedestals in Savitz's configurations is an insistent reminder of the inevitable artificiality of their "setting." The viewer's imagination is not impeded by these classical devices, but rather is propelled by what paradoxically might be considered as the sculptures' catalysts. One example is Untitled 5 (2008) in which a blazing cumulus prematurely congealed (and affixed to a cinderblock) becomes a sort of séance. Positioned among the other works in this series, it conjures the spirit of Vesuvius. Trinkets and figurines that float to, or are excavated from, the surface here and there emerge like emblems and accidents of a lost civilization. These ghostly artifacts are in actuality discarded objects of our own "everyday." That they now figure in Savitz's sculptures amounts not to rescue per se but to a revived state of precariousness.