Waterworks Expands Best-Selling Collection, Peter Pennoyer Architects Launches New Division, and More News
Architectural Digest / Apr 3, 2023 / by Alia Akkam, Mel Studach, and Hannah Martin / Go to Original
From significant business changes to noteworthy product launches, there's always something new happening in the world of design. In this biweekly roundup, AD PRO has everything you need to know.
Product Launches
The Liberty archives inspire a new rug collection
Flora and fauna even make appearances in the inaugural partnership between Liberty and The Rug Company. After poring over Liberty's archives, which date back to 1875, there were myriad examples of Aestheticism and Art Nouveau that spawned elaborate designs like the Hera, its tawny silk peacock feathers juxtaposed against soft wool, and Hana, a mix of sinuous lines and delicate poppies.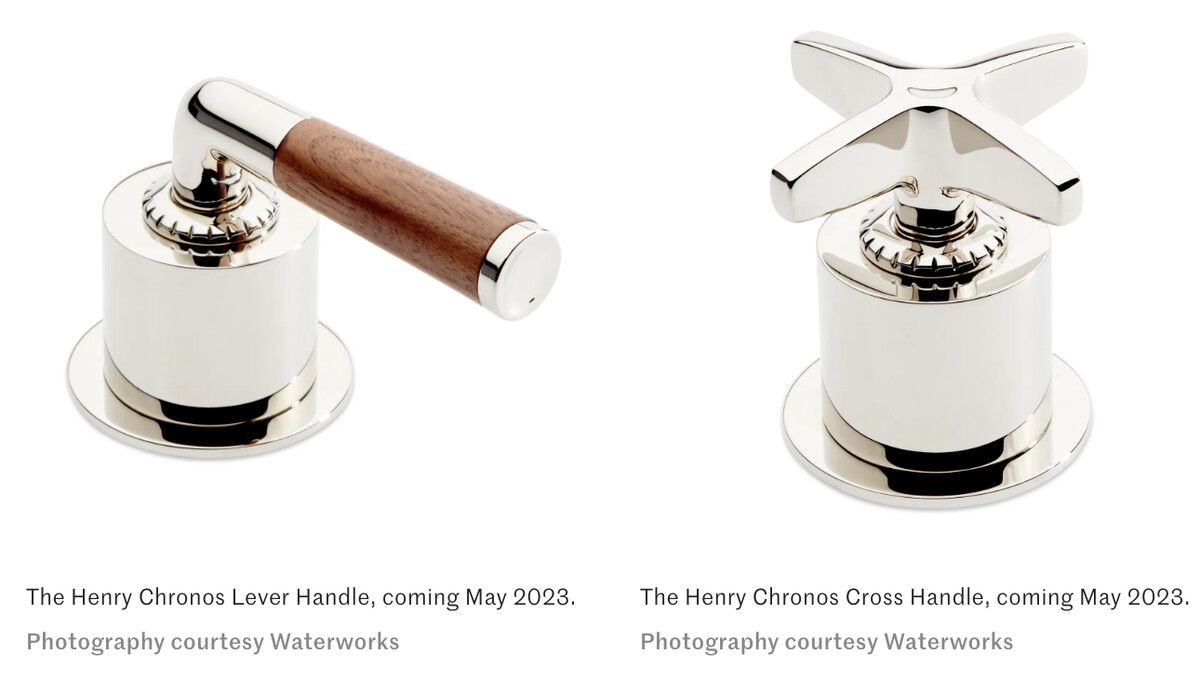 Waterworks expands its best-selling Henry collection
Henry, the sleek metal fittings collection that Waterworks debuted in 2010, is already the brand's biggest seller thanks to the likes of attractive coin-edge detailing and exposed screws. But the May arrival of Henry Chronos is bound to garner even more fans. Drawing inspiration from luxury dive watches, this family of bath fittings, lighting, mirrors, and hardware is embellished with engraved groove rings and bezels, dimpled handles, and high-end finishes like American black walnut and pliable, water-resistant Nappa leather flaunting elegant stitching.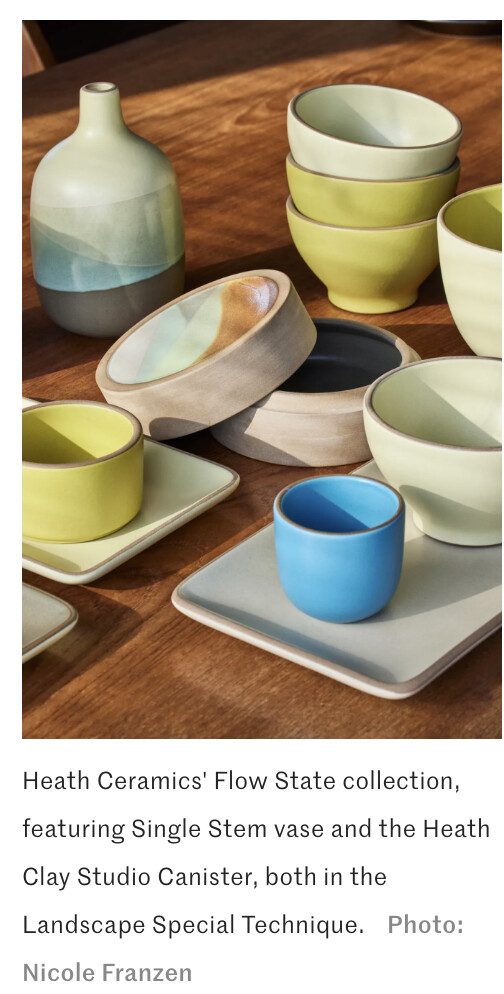 Heath Ceramics rolls out an anniversary range
Edith and Brian Heath founded Heath Ceramics in 1948, and 75 years later—under the direction of Cathy Bailey and Robin Petravic for the last two decades—it continues to flourish as much as it stays true to its artsy California roots. To commemorate this milestone year, the sustainable home goods company has released Flow State, a seasonal tableware collection grounded in a soft, summery palette of avocado, lemon rind, and cyan. Along with a barley-hued pitcher that showcases Edith's classic 1940s design and deep serving bowls, the release includes a platter (with matching canister and single-stem vase) that revisits one of Edith's poured glazing techniques from the 1970s to conjure moody, distant landscapes.
AD PRO Hears…
…AD100 design firm Studio KO has introduced The KO Eye, an online design gallery of unique or limited-edition handmade works. Sandstone dinnerware by Parisian ceramicist Marie Lautrou, burnt oak vessels by Ateljé Loupchat, and Marmorean glass lighting Muller Frères are among the initial drop, which is made up of two collections: the Gallery and the Last Supper.
…London-based Popus Editions, the fun-filled furniture studio that dazzled design editors when it launched at Maison & Objet in 2021, is now available through the Invisible Collection.
Design Happenings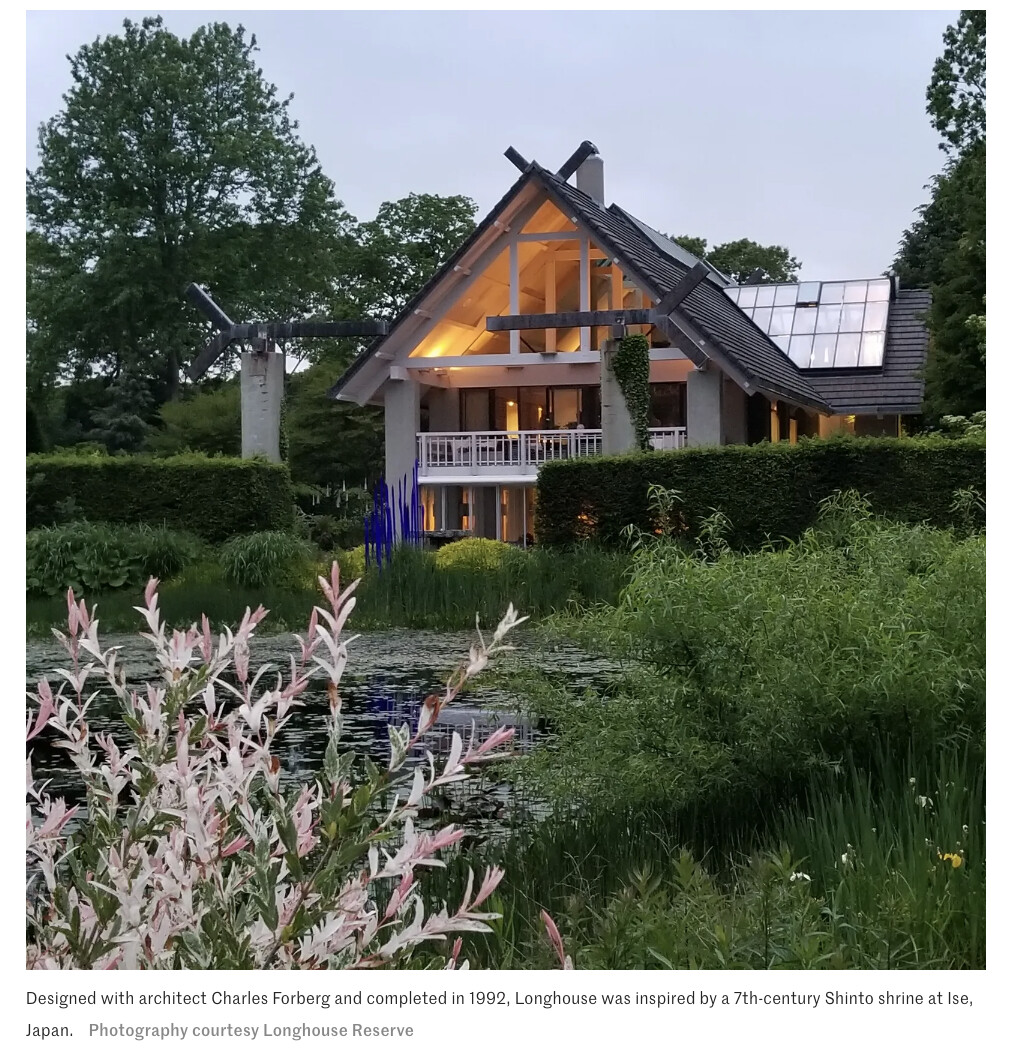 Object & Thing is heading to Longhouse
The roving gallery Object & Thing, which takes up residence in architecturally significant houses, has announced its next location: Longhouse, Jack Lenor Larsen's East Hampton home, where the textile designer lived with a vast collection of art, design, and craft. A Summer Arrangement: Object & Thing at Longhouse, which runs from May 27 to September 3, plays on that idea, using the gallery and guest level of the space to display contemporary works of art and design in dialogue with works from Larsen's collection, such as the carved-wood dining table by Wharton Esherick that was shown at the 1939 World's Fair, or the quotidian straw hats Larsen collected on his travels.
The exhibition, co-curated by Abby Bangser, founder of Object & Thing, and Glenn Adamson, curator-at-large at Longhouse in collaboration with Longhouse director Carrie Rebora Barratt, will feature works by nearly a dozen artists—many of them site-specific commissions. All will be artfully arranged by interior stylist and friend of AD Colin King.
Christie's unveils inaugural edition of The Collector in collaboration with Jane Schulak and David Stark
The decorative arts get the spotlight in The Collector, Christie's expansive new biannual auction series simultaneously unfolding in its London, New York, and Paris salerooms. For this first iteration, with its more than 600 lots of furniture, ceramics, clocks, and silver spanning from the 16th to the 20th century, designers Jane Schulak and David Stark, authors of At the Artisan's Table, were tapped as tastemakers, orchestrating a trifecta of presale exhibitions at each location. While the Paris Edit puts a pair of Louis XV floral marquetry commodes front and center, for example, London's bold color scheme pulls from an 18th-century George II red and gilt japanned secrétaire, and New York's features treasures like a Royal Copenhagen porcelain dinner service emblazoned with a mushroom motif. Kicking off April 4, the sale closes on April 18, 19, and 20, in London, New York, and Paris, respectively.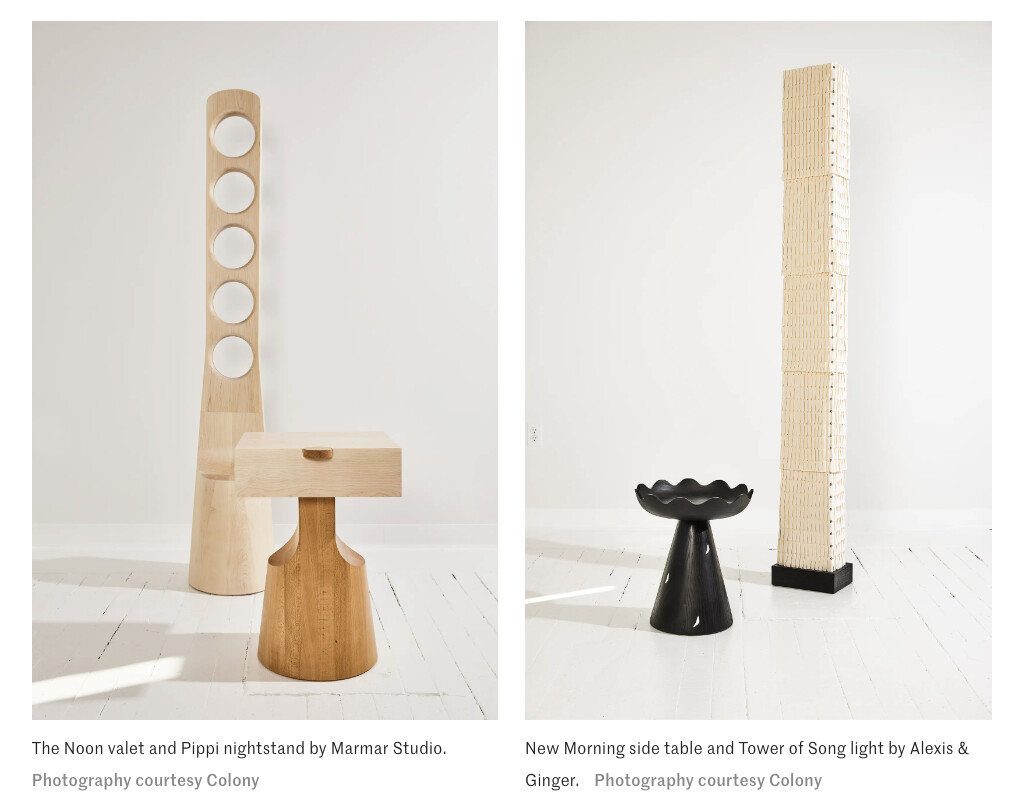 Colony to launch a design incubator this month
Jean Lin, founder of the designers' co-op Colony in New York, has always championed the indie, under the radar talents making furniture, lighting, textiles, and objects. Now she's taking that unwavering support to another level with The Designers' Residency, an eight-month program that immerses young designers, artists, and makers (the first participants are RISD graduates Ingemar Hagen-Keith of Marmar Studio and Alexis Tingey and Ginger Gordon of Alexis and Ginger) in the worlds of product development and entrepreneurship as they produce their first collections for Colony. The residency's backbone is a curriculum shaped by Lin and Colony art director Madeleine Parsons influenced by their time as professors at Parsons and RISD, coupled with heaps of priceless time in the studio.
Openings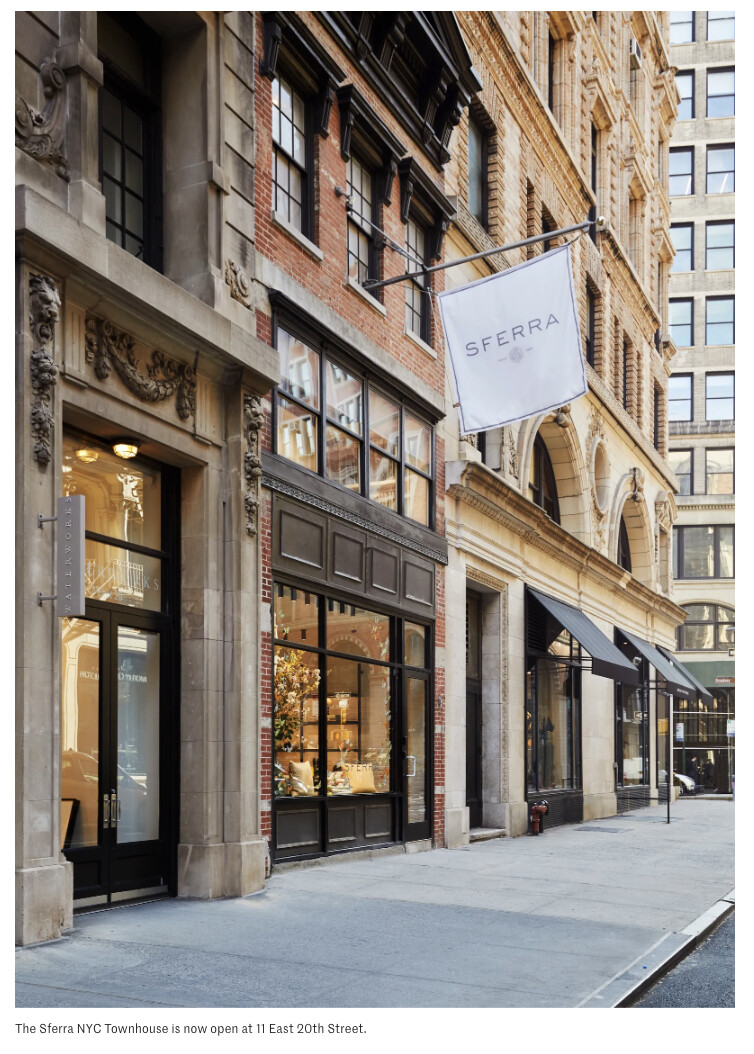 Sferra Townhouse New York makes its debut
Situated in a graceful Italianate-style residence dating back to 1853, Sferra Townhouse, the luxe Italian home lifestyle brand's first retail hub in New York's Flatiron District, was brought to life by Studio Monteleone & Associates, the local practice that also designed the Sferra shop at Harrod's in London. Designers can wander the 2,600-square-foot space, perusing bedding, tableware, rugs, decor, and even displays of archival items before popping into the dedicated interior design studio to discuss future projects or host clients.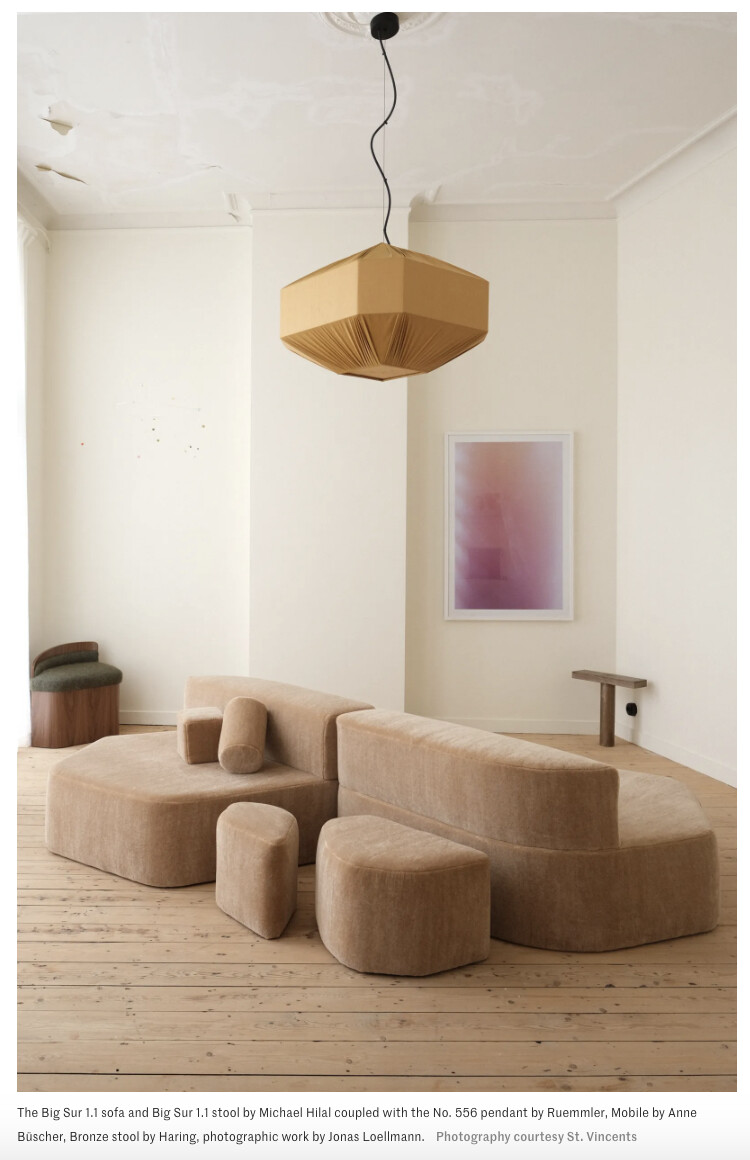 Michael Hilal's first-ever furniture collection pops up in Antwerp
San Francisco designer Michael Hilal is smitten with California's abundant mountains and beaches, so it's fitting that Big Sur, his first line of furniture, is an ode to nature. On view from April 6 through August 31 at St. Vincents, the Antwerp-based collectible design gallery and showroom, Big Sur stars a commodious sculptural sofa with modular upholstered components in two configurations. Designed for relaxation as much as jovial gatherings, it's rounded out by a duo of extra wide stools and a record player and bar. Fashioned out of aluminum and blue acrylic, this cabinet player and accompanying floating shelf take cues from the late artist Donald Judd's minimalist boxes.
Solo Kay Hofmann show to coincide with Expo Chicago
Artist Kay Hofmann has spent nearly 70 years forging a powerful relationship with stone, exploring its seemingly ever-shifting properties and transforming it into graceful, introspective sculptures. Perfectly timed to modern art show Expo Chicago (April 13 through 16), Patron Gallery's presentation of Being and Becoming is running from April 12 through May 27. This is the second solo show of the Rockford, Illinois—based sculptor's works. Made over the last three years, including the height of pandemic lockdowns, these small-scale, fluid female figures are hand-carved from African black stone, marble, and white-and-pink alabaster, although their distinctive finished surfaces suggest the presence of another material entirely.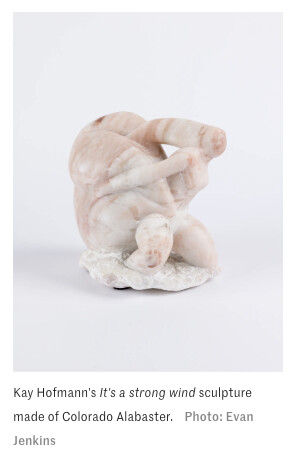 ---