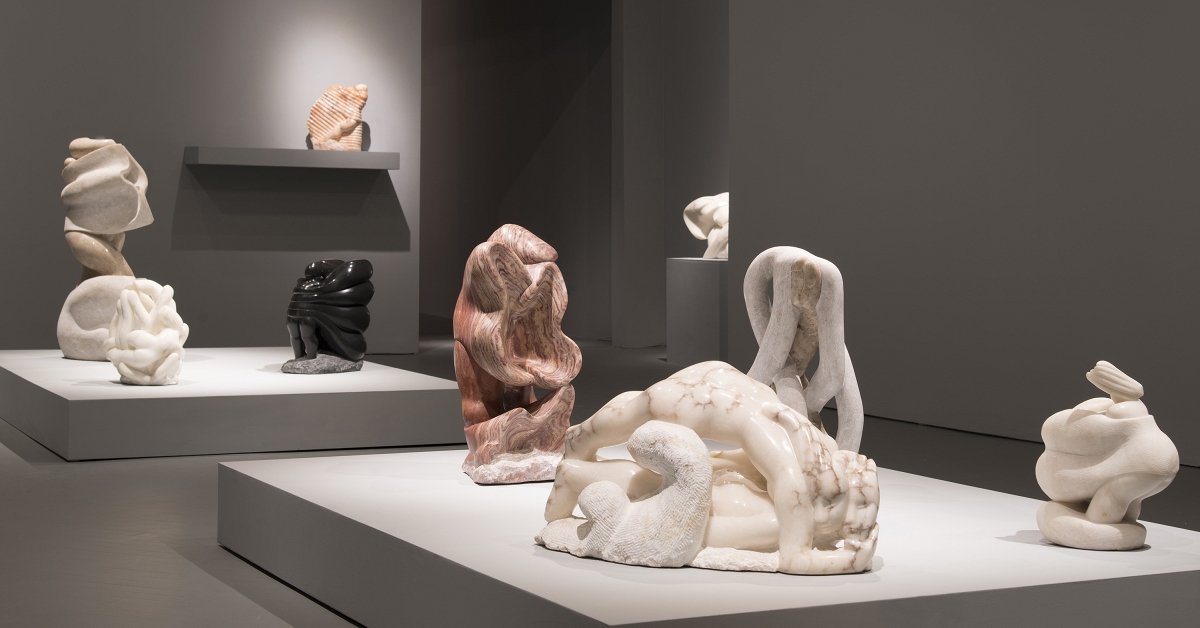 ---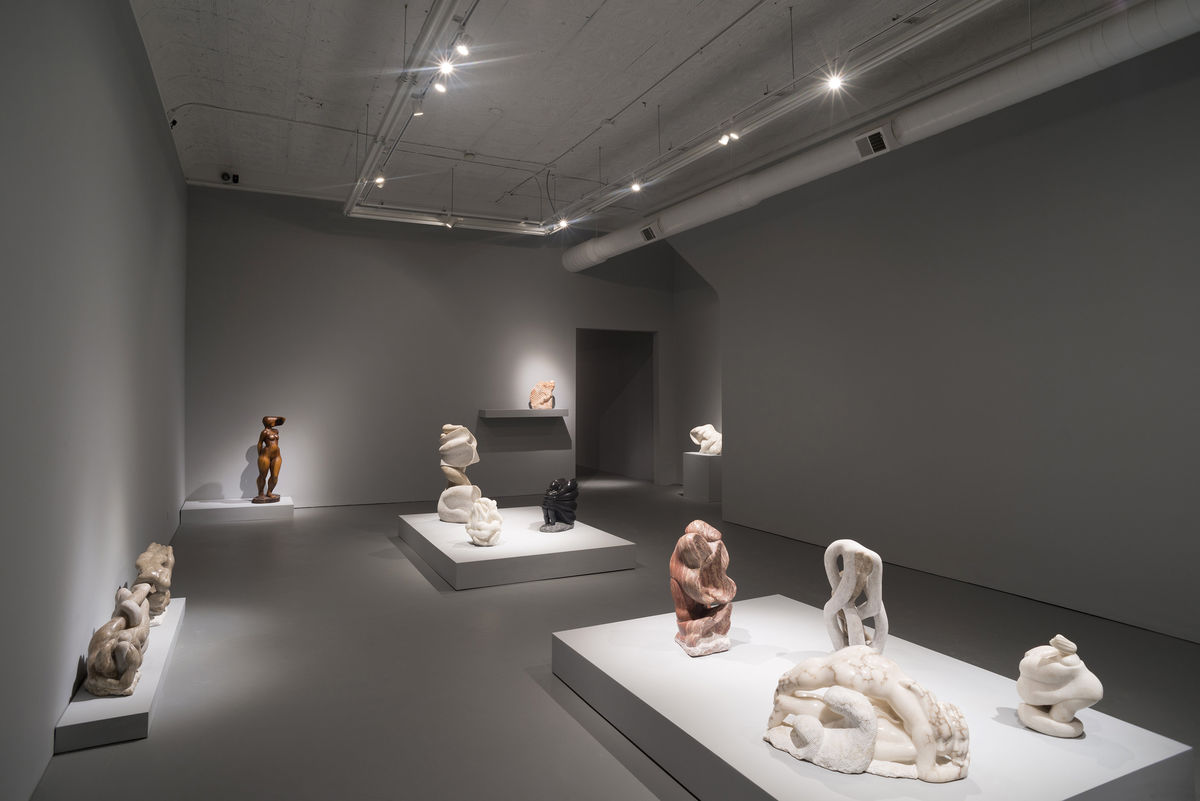 KAY HOFMANN
pour toujours
Jan26 - Mar9, 2019
Opening Reception: Saturday, January 26thfrom 5 - 8PM
PATRON is proud to present a solo exhibition by Illinois based artist Kay Hofmann. This exhibition marks the first solo presentation by the artist in a commercial gallery in over three decades. The exhibition will open with a reception for the artist on Saturday, January 26 and continue through March 9, 2019.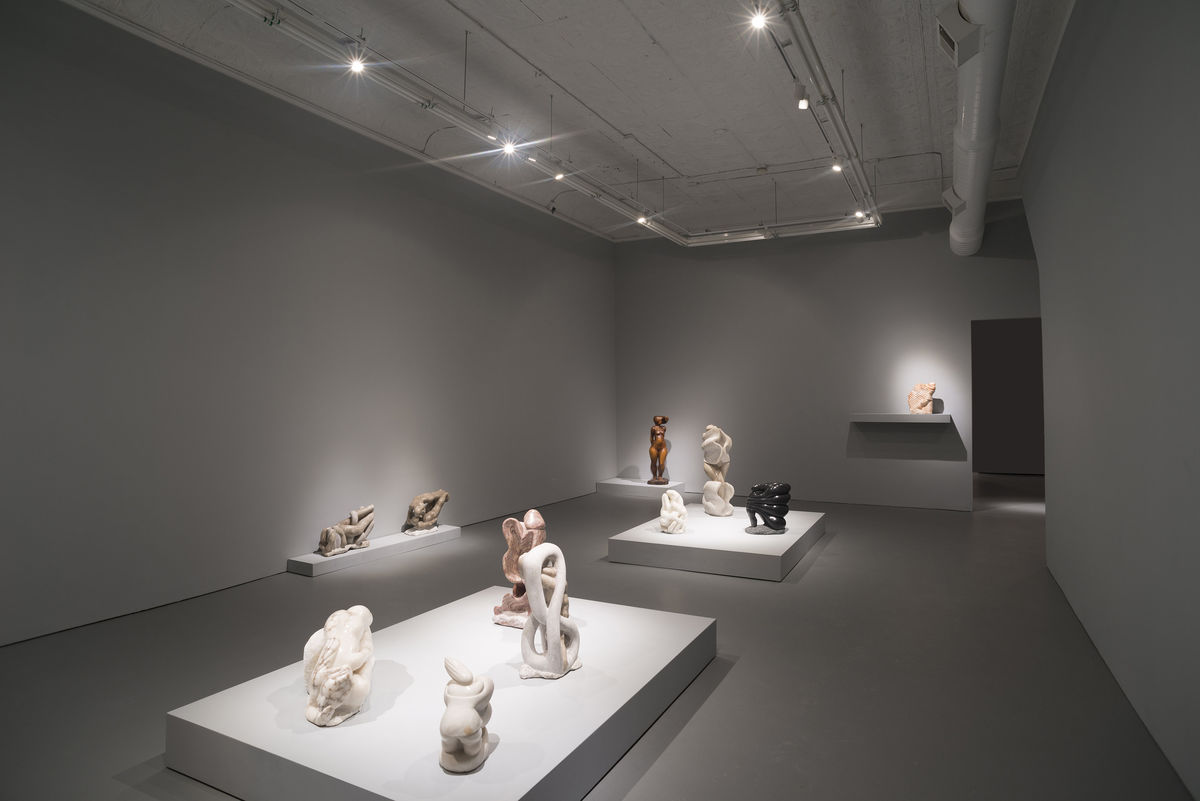 Kay Hofmann's
pour toujours
is an anthology of metamorphic chapters that span over several decades.
pour toujours
, which translates to "forever", traces nearly 60 years in the artist's oeuvre. From the earliest works dating back to 1956 to sculptures as recent as this year, this gathering of Kay Hofmann's works presents a timeline of the shifts, transformations, and ongoing focus on the figure through out the artist's career. Hofmann's fluidly anthropomorphic sculptures carved out of marble, alabaster, wood, and granite, capture figures in various states of movement. Ongoing references to draping, ropes, vines, marine vegetation, and the compositional incorporation of raw stone, place Hofmann's figures in states of deliverance. Each hand-carved figure is captured in a moment of release, fluidly moving between figuration and abstraction.
Born and raised in Green Bay, Wisconsin, Kay Hofmann grew up observing her father's own sculpting practice as a stonecutter who specialized in tombstones and monuments, an early influence that would serve as a foundation to her own relationship to stone in her artistic career. She attended the Art Institute of Chicago in the early 50s, where she began as a painter, but later found her way back to sculpture and stonework. Hofmann graduated in 1955 and received a prestigious fellowship in Paris, producing the work that begins the narrative of this presentation. Figure, 1956, created during this residency in Paris, was carved from a fragment of a horse-chestnut tree that she discovered after it was cut down along Champs-Élysées. Spiraling in and out of figuration, this work demonstrates the beginning of Hofmann's exploration with the delicate balance between figuration and abstraction.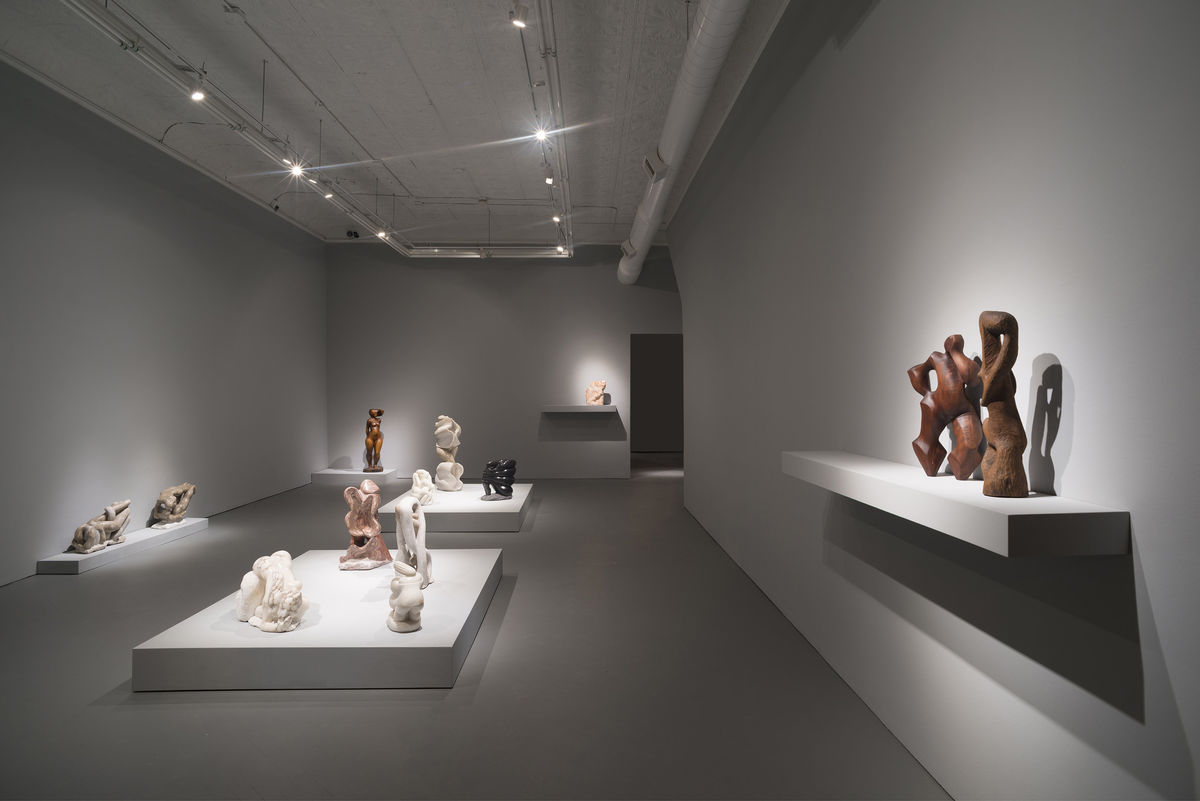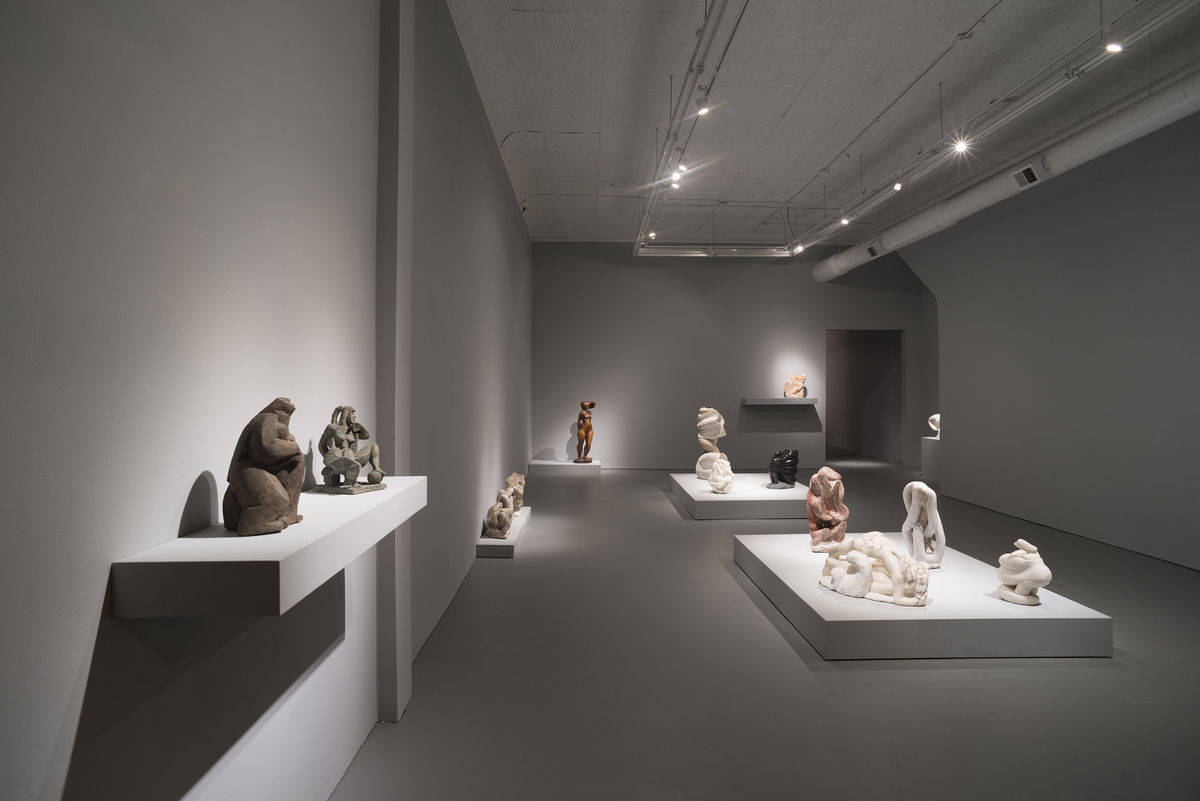 The female figure is at the core of Hofmann's practice. Though not direct self portraiture, as Hofmann's puts it - "I certainly see myself in every piece of stone, I began to think of myself as HER…", the work can be observed as more autobiographical in nature. A connective emotive thread, which speaks of freedom, unites the work across time. As you trace the development of Hofmann's sculptures, recurring motifs appear, such as figures shrouded in fabric, breaking free from the stone, intertwined with other forms, or swimming united with male figures, all of which nod to a manifestation of physical and emotional liberation. Though Hofmann refrains from any kind of universal statement in the work, one can feel the desire and necessity to create throughout her life within the collective pieces. In the black walnut work titled Pride/ with my tools, 1980s, Hofmann's direct reference to herself is evident in the title. This figure stands tall and proud while holding a set of stone carving tools in her hands. One statement Hofmann has continuously felt a connection to is "forever young", a sentiment carried though out the energy of her practice.
Installation of
pour toujours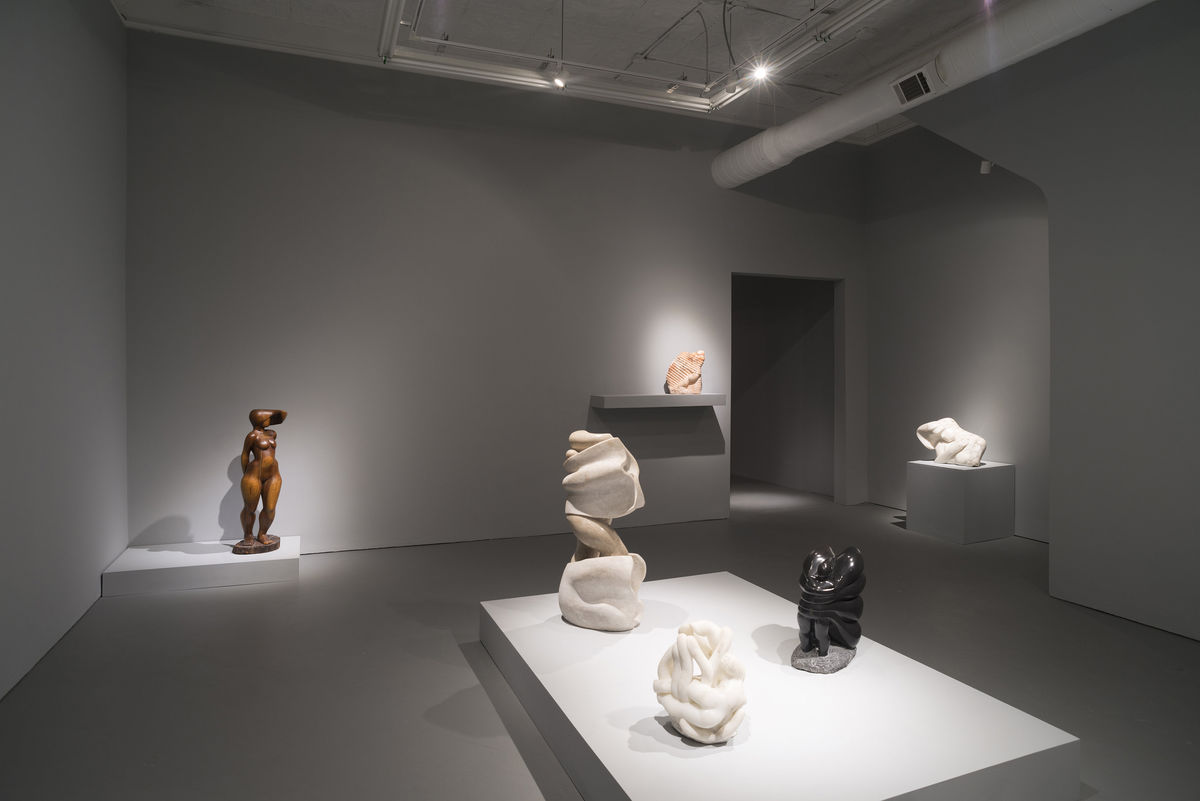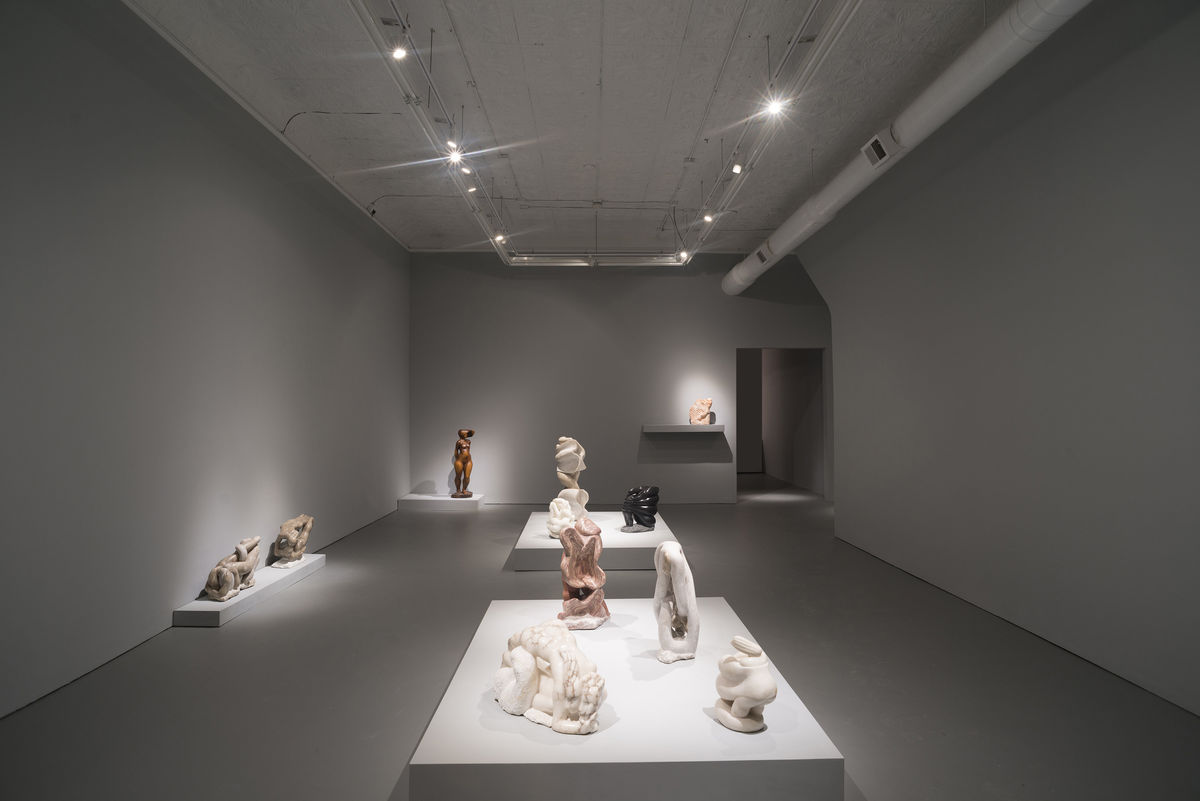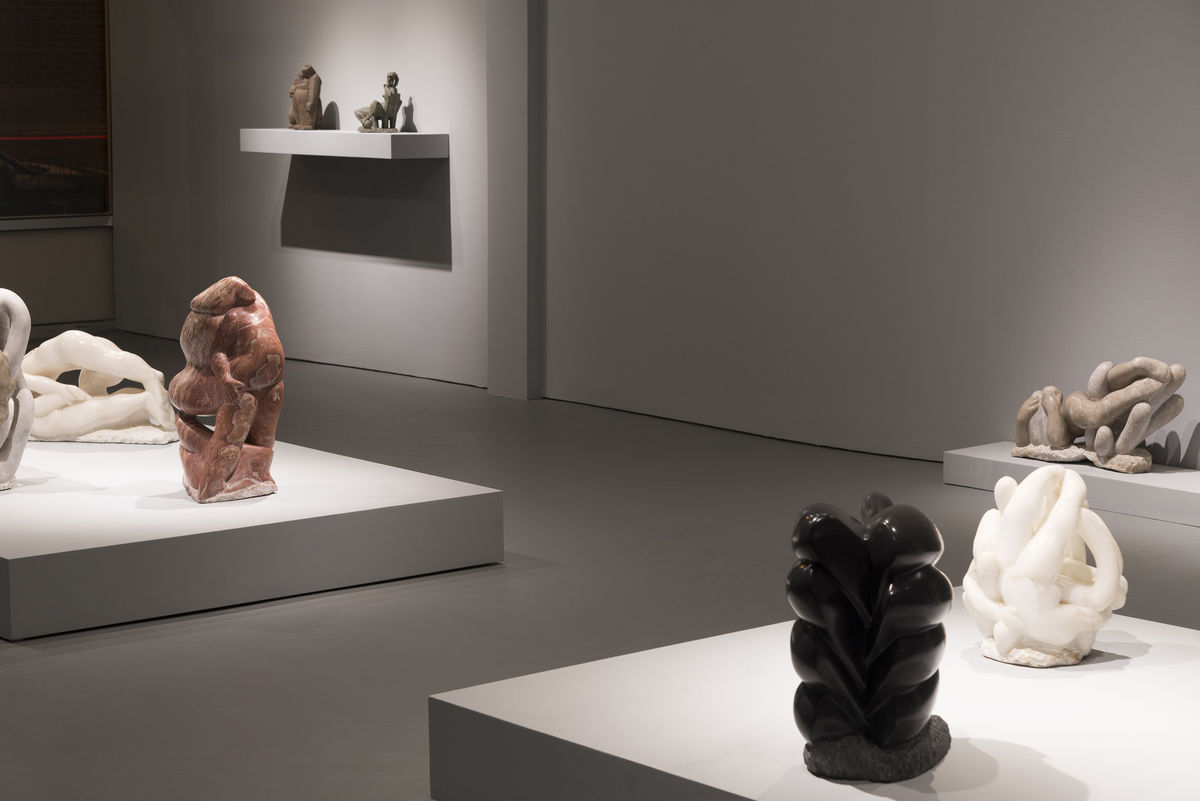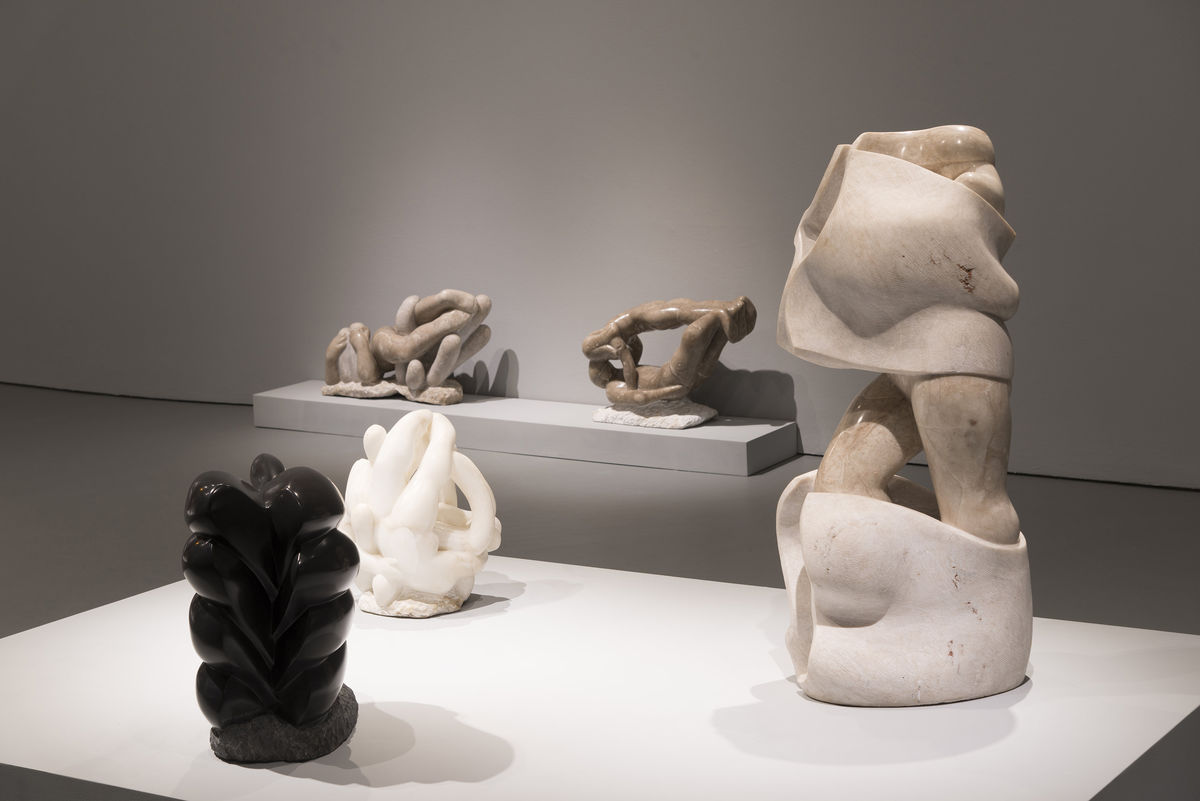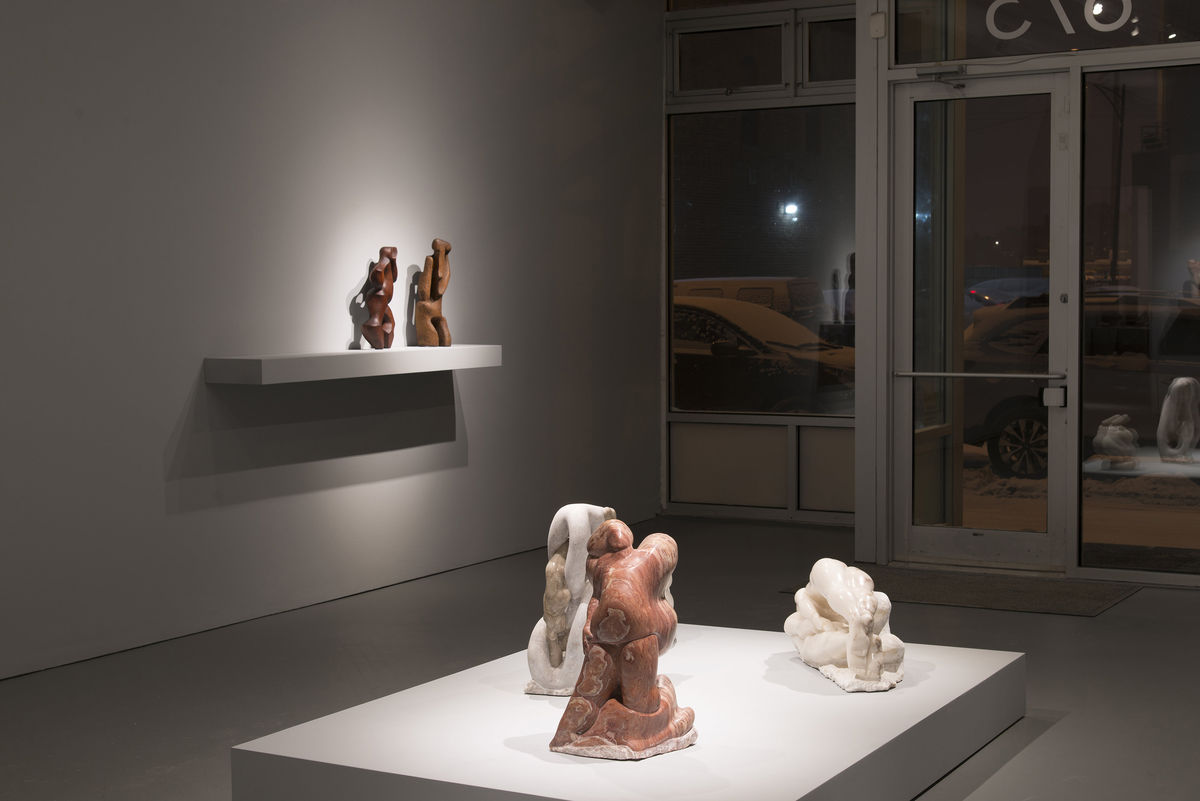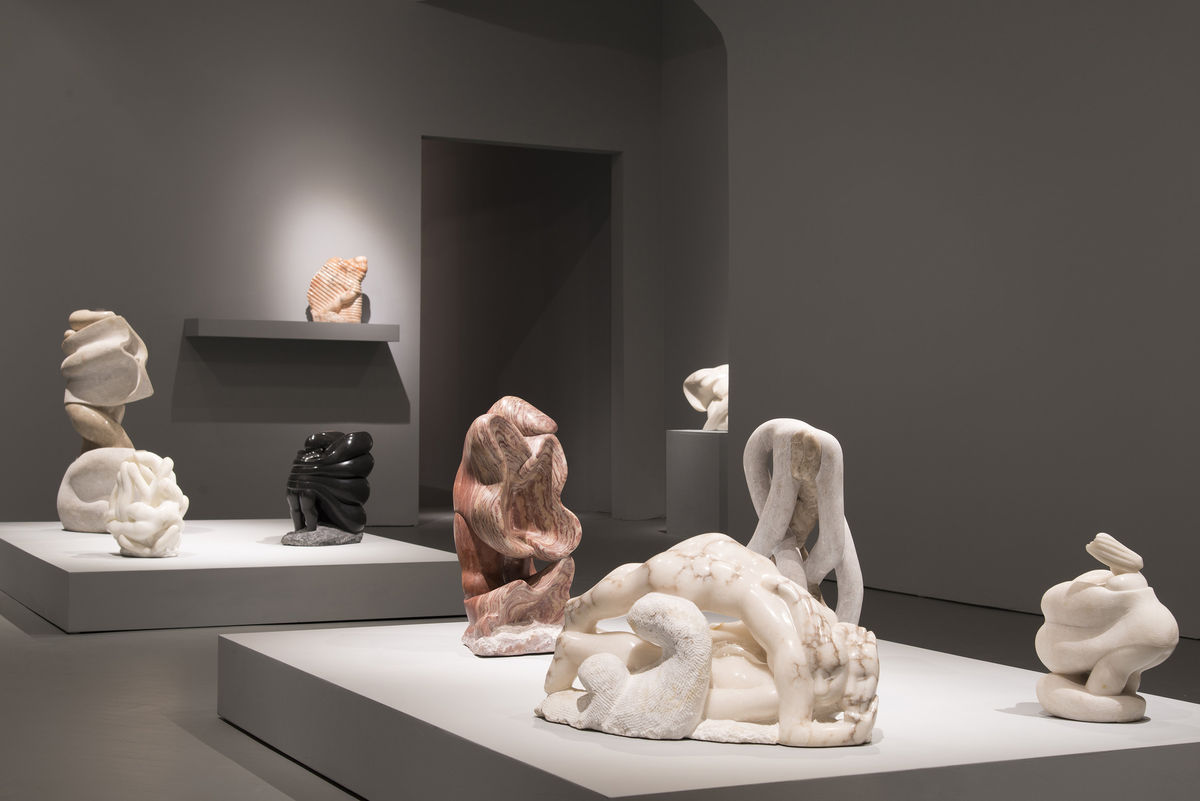 KAY HOFMANN (b. 1932, Green Bay WI) received her B.F.A at the Art Institute of Chicago, Chicago IL and studied with Ossip Zadkine at the Academia de Grande Chaumiere, Paris FR. Her work has been featured in exhibitions at the Art Institute of Chicago, Chicago IL; Lakeview Museum, Peoria, IL; Illinois State Museum, Springfield, IL; Foothill Art Center, Golden, CO; Raher-West Museum, Manitowoc, WI; Ballarmine College, Louisville, KY; Suburban Fine Arts Center, Highland Park, IL; Alverno College, Milwaukee WI; Peoria Art Guild, Peoria, IL; Chicago Public Library, Chicago IL; Illinois Institute of Art, Chicago IL; Peter Miller Gallery, Chicago IL; and Mindscape Gallery, Chicago IL. Her work is in the permanent collections of Michael Jordan Collection, Borg Warner Corporation, Hugh Hefner, Continental Hotel, Gonstead Medical Center, Mt. Horeb, WI, Arthur Answerson Associates, and Henry Marcus Collection among many other private and corporate collections.