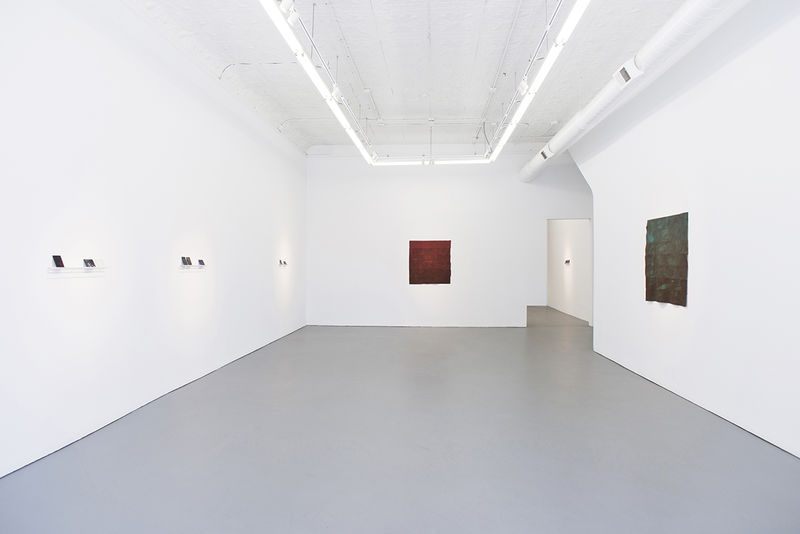 MYRA GREENE
Minor Chord
May 11 - June 22, 2019
Opening Reception: Saturday, May 11th from 5 - 8PM
PATRON is proud to present our second solo presentation of Atlanta based artist, Myra Greene. The exhibition titled, Minor Chord will open with a reception for the artist on Saturday, May 11th from 5-8PM and continue through June 22,2019.Ӭ
Intermingled in the space, progressing from one to the next, three bodies of work speak about similar ideas and work on distinct expressive parts of the same notion. Yet, they start to feel dissonant, like a minor chord.ӬӬ
Maybe it is more like hearing a song that takes an unexpected turn halfway through. You have an expectation of the arrangement, but the audio shifts its own understanding on itself. It takes multiple listens to figure out why and how decisions were made.Were they unsatisfied with the structure? Did the old form do all it could? Was the new form explored to generate something unique that the old form could not?Can the new reference the past while pulling small movements forward?
-Myra Greene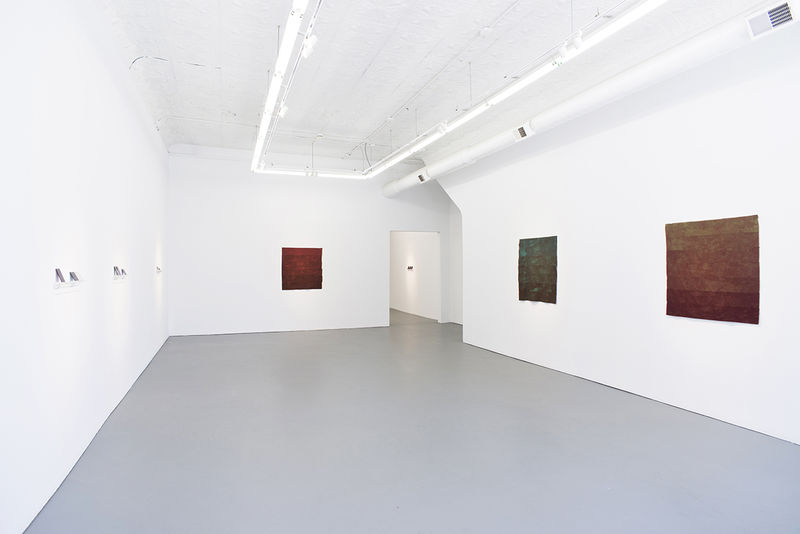 Myra Greene utilizes the media of photography and fiber to explore representations of race and the body. At the center of her practice is a consideration of how our understanding of color is completely dependent on context – materially, culturally, and historically.
Minor Chord
continues these interests, interweaving three different bodies of work that present a diverse yet unified consideration of our relationship to and interpretation of color, race, and identity.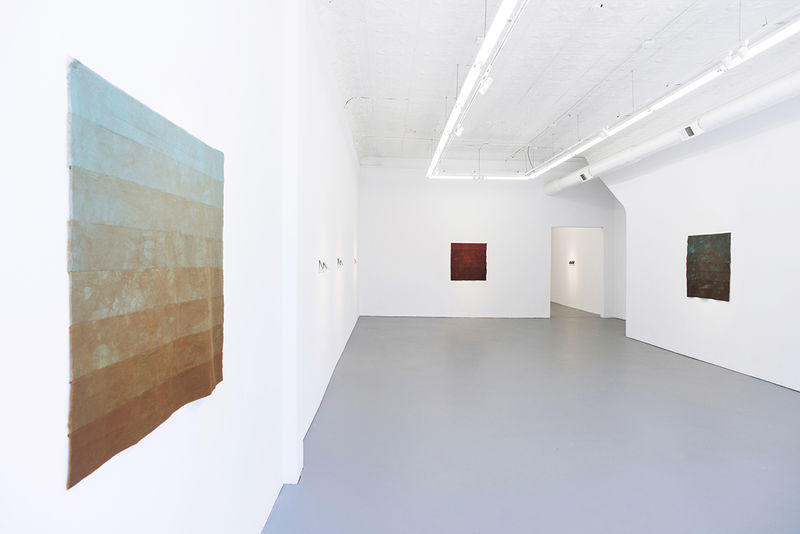 In her
Undertone
series, Greene returns to self-portraiture through her engagement with the historical process of Ambrotype photography, this time producing images on stained glass. In deep tones of violet, amber, and green the color of each plate is drawn from tones found in black skin. Previous installations of this work placed the photographs against black or white backgrounds, the color of their presentation deeply impacting the appearance and presence of the image. In
Minor Chord
, however, Greene has installed the photographs in compositions of 2, 3, and 4 nestled atop clear shelves. Light streams unrestricted through the images, casting color onto the gallery's surface. In this form the portraits are visible and invisible, colored and clear, all contingent upon the light and angle at which they are seen; context is pivotal.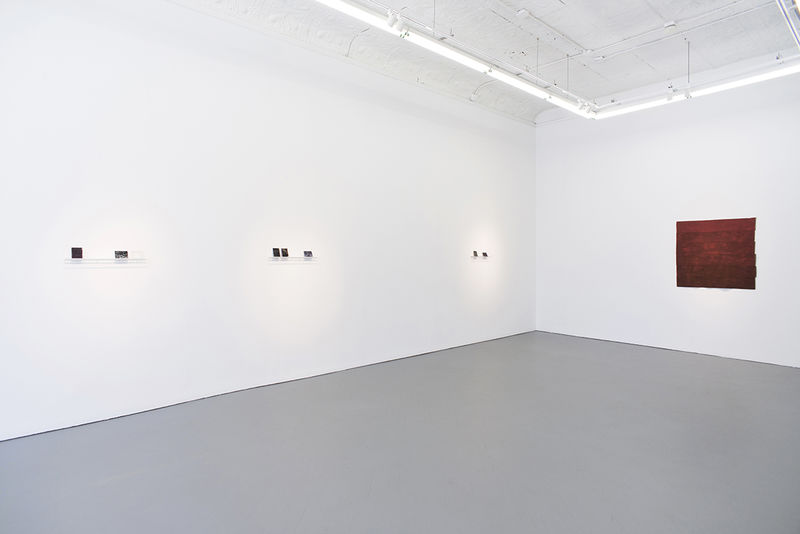 These installations are interspersed with
Mixed
, Greene's newest series of textile works. Referencing blackness without the body, each piece is a composition of hand-dyed strips of fabric that fade from rich tones of red, green, and orange to brown. Industrial cotton is cut into strips and then dyed its complimentary color, the final composition is a gradation that fades to brown and references the complexities of the layers that create a whole. The dye, like the color, is not uniform causing undulating, captivating textures on the surface of the work. Similar to the
Undertone
series, these works highlight the alluring, seductive nature of color, and address that the color brown is not a pure color, but a tone, a composite, and a beautiful blend of information.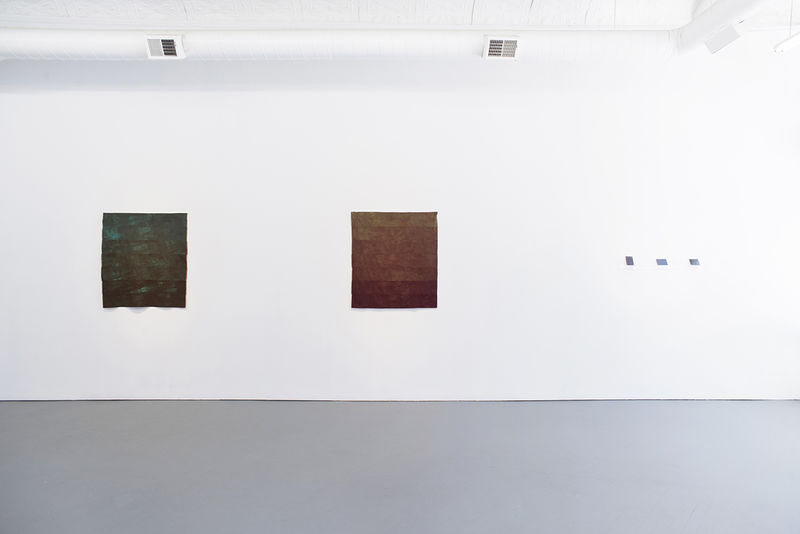 Greene's
Piecework
series examines black experience and culture through material compositions of shape and color. Inspired by traditional Dutch Wax patterns found on African textiles, Greene silk-screens original patterns onto fabric using metallic inks. The patterns, often overlaid, create a map-like motif with a sheen that evokes an experience similar to interacting with her
Undertones
. The term piecework refers to the idea of putting scraps of fabric together, as such, triangular "pieces" of fabric are sewn creating a complex composition of color, shape, and form. Laden with cultural and historical references, these works also emphasize the power of color and shape, and their ability to create an abstraction based in illusion.
Additional installation views: Myra Greene, Minor Chord