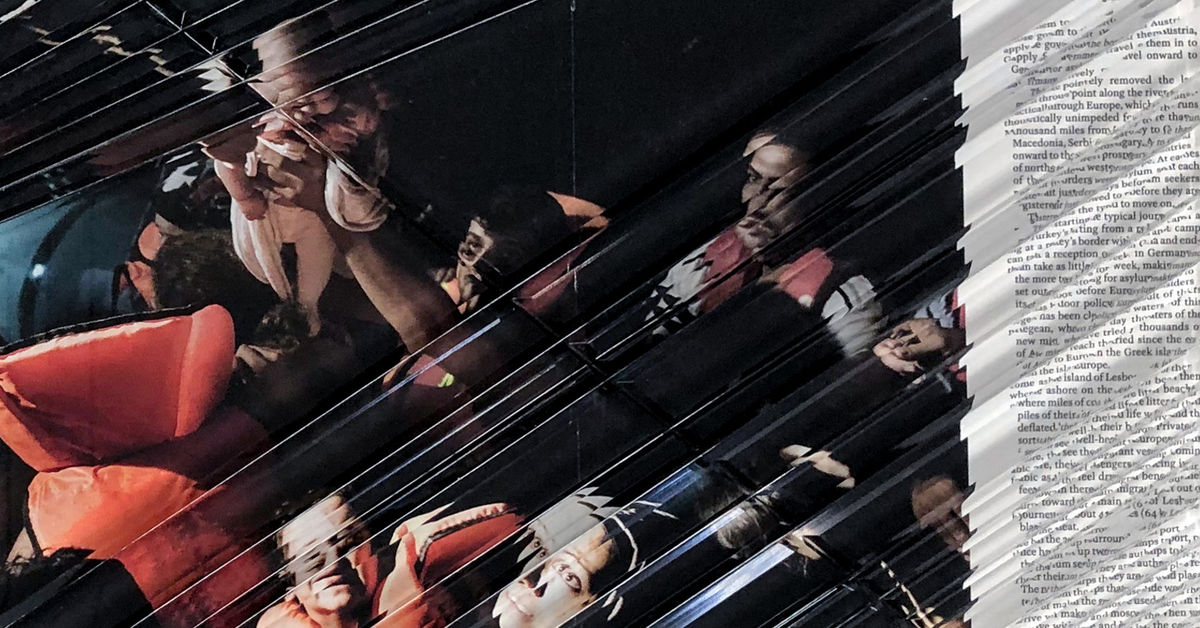 Featuring work by Samira Yamin
---
To View a Plastic Flower features new video and multimedia installations that engage themes of interconnectivity, perspectivism, and the poetics (as well as politics) of conflict.

The exhibition invokes Buddhist monk and antiwar activist Thích Nhất Hạnh's idea of "inter-being", meaning nothing can exist by itself and everything has to "inter-be" with everything else, and is central to the exhibition's overarching themes and inspiration for the title. The figure of the "flower" stems from one of Thích's well-known sayings, suggesting that by touching a flower one also touches the clouds and rain that were necessary to manifest the flower. Yet the descriptor of "plastic"—referencing both synthetic/natural materials and the ability to be molded or changed—alters the nature of the flower. We can then approach a plastic flower as a multiplicity of possibilities and perspectives that considers past and present modes of production and consumption of mass media.

In keeping with this approach, the exhibition presents three discrete installations that register the presence and absence of information, movement, and optics through each artist's point of view set within the theater of military engagement. Abigail Raphael Collins' experimental documentary and video installation, Out of Play, investigates the relationship between the entertainment industry and U.S. military, and the fictions constructed in the absence of information. T. Kim-Trang Tran's three-channel video installation, Movements: Battles and Solidarity, coalesces seemingly disparate events during the early 1970s in high fashion, labor unrest, and the Vietnam War by exploring the shared sociopolitical and physical "movements." The sculptural work in Samira Yamin's Passing Obliquely From One Medium Into Another examines contemporary war photography by manipulating the viewership of mass media through carved optical glass. Yamin's obfuscation of images challenges viewers to invest in new ways of seeing in order to reassemble refracted and misaligned information. These installations also offer an opportunity to consider and exercise site—whether within the civic space of Los Angeles Municipal Art Gallery, the image magic created by Hollywood, or the greater, postmodern landscape of the United States—and the material aspects of viewing and being.

Together, the works in the exhibition provide a multi-dimensional interrogation of the construction, representation and limitations of knowledge through media as a means to understand our socio- and geopolitical times.