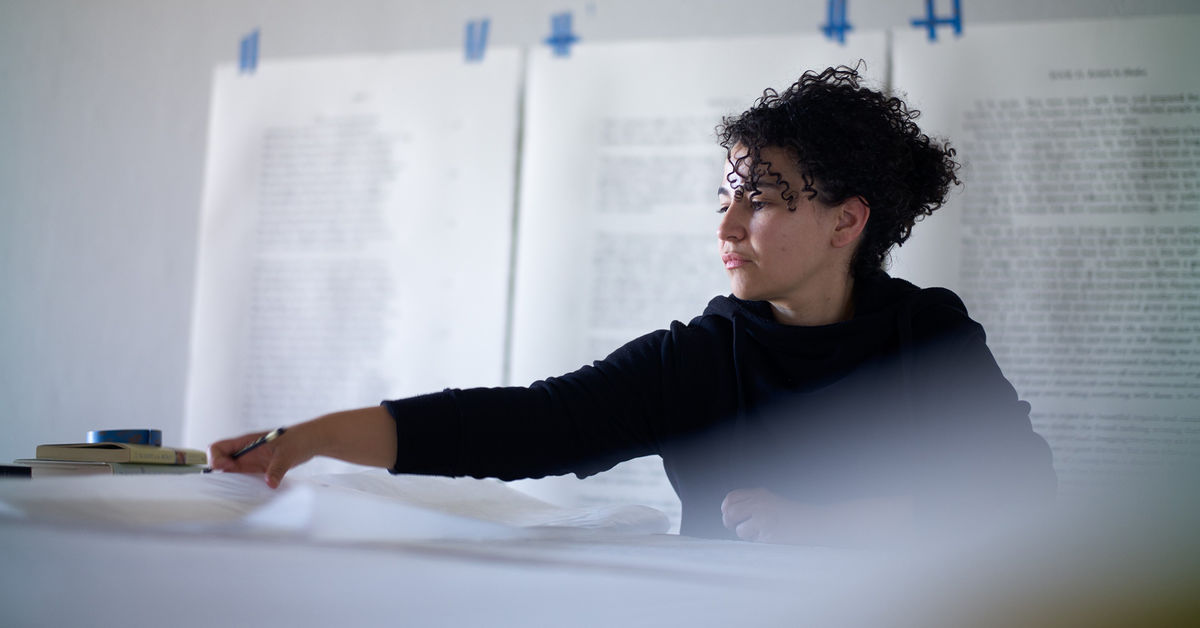 The Star Spangled Banner: A Hymnal
, a new artist's book featured in the exhibition
Bethany Collins: Evensong
, contains one hundred lyrical adaptations of "The Star Spangled Banner," originally written in 1814 by Francis Scott Key and the US national anthem since 1931. The alternate versions of the anthem, calledcontrafacta, share the same familiar melody, but their lyrics were rewritten in support of various social and political movements from the eighteenth through twenty-first centuries—from labor and suffrage to abolition and even the confederacy. The multiple reinterpretations of this song offer opportunities for reflection on patriotism, belonging, and individual position within national identity, a particularly resonant topic following a presidential election year.
Hear a new arrangement of this patriotic hymn'scontrafactaby Bethany Collins and Dave Ragland, performed by Inversion Vocal Ensemble. The performance incorporates styles of aleatoric music, polyphony, and polytonalism. It is through the resulting dissonance that the singers create familiar noise: dissenting versions with the same melody—a resonant metaphor in the wake of an election year.
This special hour-long program Sunday, September 12, 3:00–4:00 p.m. in the Gordon Contemporary Artists Project Gallery is free to members; gallery admission required for not-yet-members.
Born from a desire to showcase an array of talented friends, Inversion Vocal Ensemble brings an eclectic vibe to a variety of musical genres. Composed of classically trained students and alumni of Morehouse College, Oakwood University, Tennessee State University, Union University, University of Tennessee, and Vanderbilt University, Inversion performs classical, contemporary gospel, jazz standards, and inspirational music.
Chicago-based artist Bethany Collins (b. 1984) explores the intersection of language and race in her conceptually driven practice. She alters existing documents—such as the dailyBirmingham Newsfrom 1963 or the U.S. Department of Justice's report on the Ferguson, Missouri, police department—to critique the truthfulness and completeness of the official record. Since 2016, Collins has also examined translations of Homer's epic poemThe Odyssey, an ancient text of exile and homecoming, and familiarity and estrangement from one's homeland.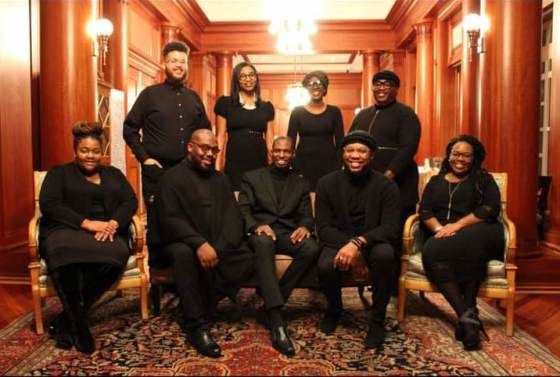 Also closing on September 12 isDesigning the New: Charles Rennie Mackintosh and the Glasgow Style,the touring exhibition co-organized by Glasgow Museums and the American Federation of Arts, in the Museum's Lower Level Galleries.
In conjunction with the Frist Art Museum's exhibition
Kara Walker: Cut to the Quick
,which continues through October 10, 2021 in the Upper-Level Galleries, a specialTeach-In: Ka I roswill be presented by Dr. Juan Floyd-Thomas, associate professor of African American history, Vanderbilt Divinity School, and Dr. Stacey Floyd-Thomas, E. Rhodes and Leona B. Carpenter Chair and associate professor of ethics and society, Vanderbilt Divinity School.
Kairos: a propitious moment for decision or action.This one-hour conversation to consider the work of Kara Walker within its unique historical and cultural context, from intergenerational, intercultural, interdisciplinary, and interreligious perspectives in which we reimagine our community will beon Saturday, September 11, 1:00–2:00 p.m. in the Frist Art Museum Auditorium free; first come, first seated.