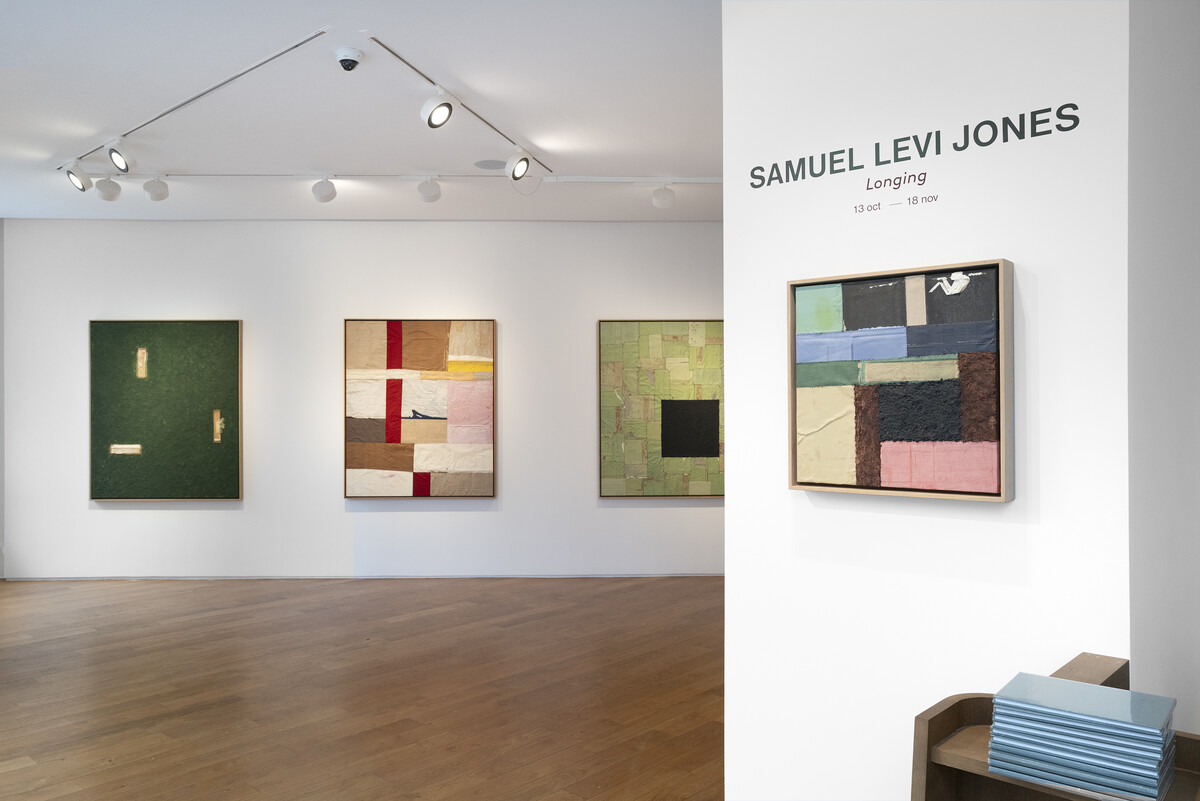 Longing
will present new paintings and works on paper by Samuel Levi Jones that see the artist continue to develop his practice of abstraction as a means of transformation. The exhibition critiques authoritative systems, featuring works made from pulped and deconstructed materials that hold an institutional history, including law and history books, encyclopedias, print portfolios, and US flags. Jones's use of pulped US flags in the painting
god and country
(2023) prompts an inquiry into the varied histories they represent as patriotic symbols, while the use of deconstructed print portfolios—sourced from the gallery's own archive—in a selection of new works creates space for a critique of the practices that created the exclusive Western cannon of Art History. As the artist explains, his practice is driven by "a desire to create a space where information, that encompasses all, coexists, without fear, so that the pendulum stops its violent swing from one extreme perspective and back again."
New paintings made from book covers are obscured to varying degrees; in a selection of works, only glimpses of book spines peak through from behind a layer of pulp. In the painting
Macon Bolling Allen
(2023), Jones covers the canvas with deconstructed law book covers stitched together into a geometric arrangement, punctuated by a single black rectangle. Composed of pulped Indiana history books, a reference to the artist's home-state, this rectangle is demonstrative of a recurring motif that has recently emerged in the artist's practice. Visually, the forms recall an early work by Jones,
48 Portraits (Underexposed)
(2012), which is comprised of a grid of portraits printed on recycled encyclopedia paper. For the artist, the recurring rectangles that populate recent works, though non representational, remain portraits, highlighting a common failure to acknowledge people and histories that have been underexposed or overlooked and sparking conversations about willful ignorance and the ways in which it pervades society.
A pair of new works on paper made during the artist's recent residency at Dieu Donné, the hand papermaking studio in Brooklyn, New York, will be on view. Comprised of pulped encyclopedias and law books, cotton, and abaca, the fluid, watery lines of handmade pulp are punctuated with partial book spines and rectangles of pulped book covers that seem to disperse into a space that transcends history and time.