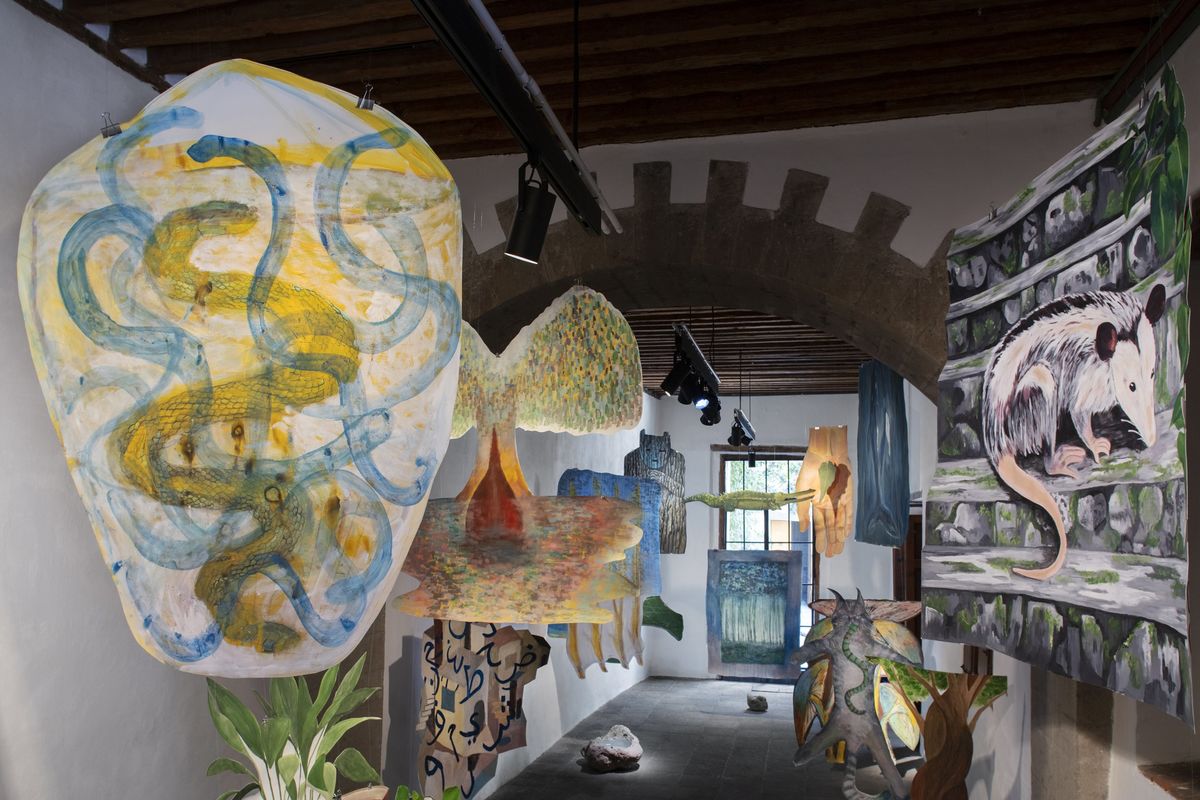 In Nahuatl, the predominant language spoken during the Spanish conquest and still spoken in Mexico today, the number 20 is a complete count, a one. Likely derived from the fact that we have 20 fingers and toes, this vigesimal method of measurement and communication foregrounds the body. For Noé Martínez and María Sosa, of Huastec and Purépecha lineages, respectively, the body is a conduit to investigate a pre-Hispanic past, dissecting the moment of contact between Indigenous Americans and Europeans, and consider the political potential of language and memory as decolonial practice. While their work often borrows archaeological and historical sources in conjunction with field research, in
Tepalcates de Sueños
or "sherds of dreams," a Swiss Institute off-site project hosted at Seminario 12 in Mexico City's Centro Histórico, they draw upon these methodologies to turn inward and use their dreams as source material.
Sharing a home since 2010, they dedicatedly swap and archive their dreams. Featured in the exhibition is a new suite of 20 paintings—ten by Martínez, which measure his height of 1.68 meters, while Sosa's measure her height of 1.58 meters, suggesting that through collaboration, their bodies form a complete count, a single yet multiplicitous whole. The paintings highlight the psychic dimension of their exchange, in which twin symbols appear—hands, trees, beans, water, snakes—though the ink text on the back denotes different interpretations in Spanish. Depending on one's vantage point, the series offers a literary or visual proposal for the dreams, exposing the gap between these modes of transmission and bridging different systems of communication—imagery, Nahuatl numerology, and the Spanish language.
More than a fragment or shard, a sherd or tepalcate is a broken piece of earthenware, a historical object. For the artists, it extends beyond this and represents corporeal and ancestral knowledge, a dream object. Situating these modes alongside each other within their practice, they include a series of carved volcanic rocks with pieces of obsidian, an Aztec stone. The sculptures hold water and form a constellation of pools across the gallery floor, a reference to Tlalocan, an Aztec paradise ruled by Tlaloc, the god of rains. The exhibition site at Seminario 12 thus becomes a bridge between the Aztec, colonial, and present-day Mexico and the dreaming and waking worlds. Built in the late 17th century on land that was once the sacred center of the Aztec Empire, Seminario 12 is the oldest inhabited house in Mexico City. It is positioned next to the ruins of El Templo de Tezcatlipoca and Plaza de la Constitución or El Zócalo, the main public square today. As a partially active residence, it is more than a historical site but also a domestic space and place for dreaming.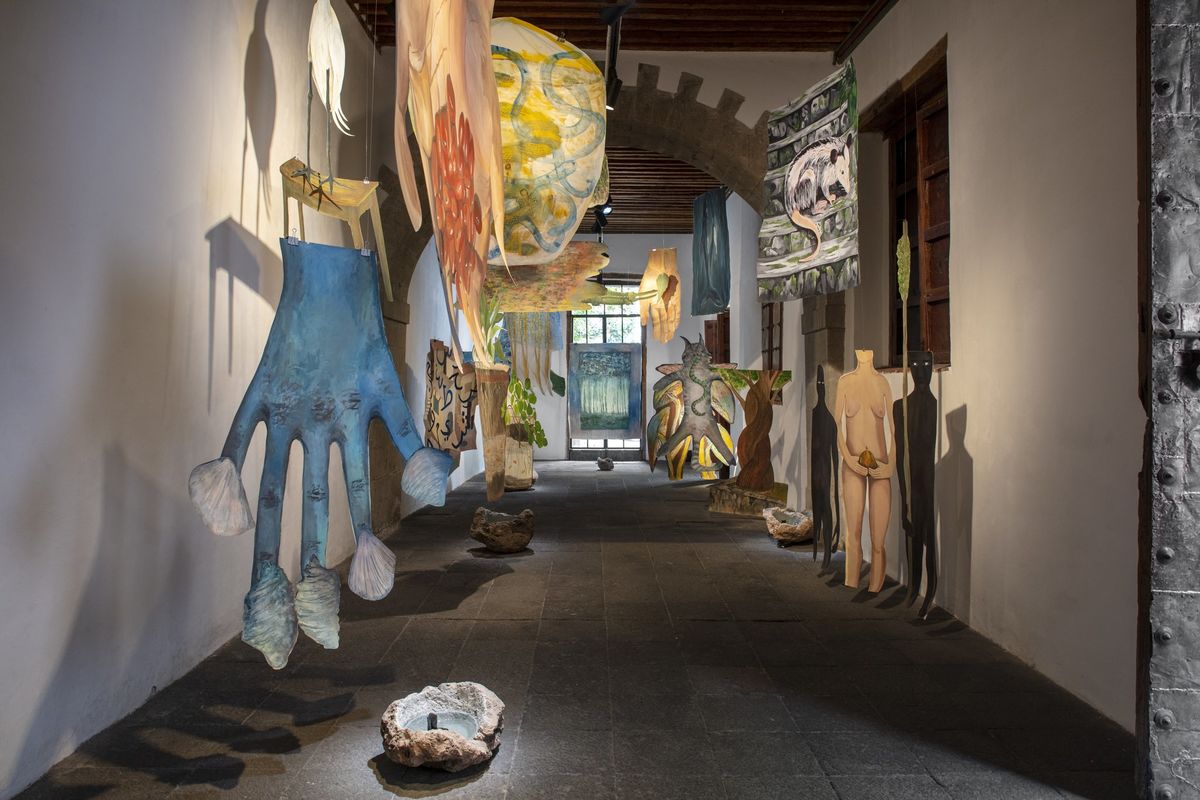 While dreams bridge time, serving as repositories of knowledge as a counterforce to colonial information systems, they also bridge species and form a link for interspecies connection. In the painted text, Martínez and Sosa recount encountering animals in their dreams and confronting themselves as animals—son manos acariciando un animal…con mi mollera animal…un animal te econtró hambriento (hands caressing an animal..with my head animal…an animal found you hungry), etc. In the stream-of-consciousness text that veers between sentences and words, animals help them to complicate different states of reality and consciousness.
For the artists, "la imaginación" or the imagination, an active form of consciousness is at risk of being subjected to ordered and colonial thinking—una trampa para creer que hombres y animales son distintos un puente sometido a la geomtria, a la existencia imaginaria la existencia sin experiencia (a trap to believe that men and animals are different, a bridge subjected to geometry, to imaginary existence, existence without experience). Whereas, dreams, an unconscious form of thinking, are a deeper and more embodied form of consciousness that has the potential to connect us with other beings and the earth.
A new two-channel performance video projected in the gallery space demonstrates the power of embodied dreaming. Here, the artists intuitively improvise their dreams, presenting movement as an alternative mode of communication beyond the complications and violence of language. This video is a teaser for a new in-person performance, Una Ballena, Una Serpiente, Frijoles Rojos y El Mar, that will be staged on-site. A second performance, El encuentro de los tepalcates, first shown on the Swiss Institute's roof terrace in New York in May 2021, following a virtual residency in 2020 due to the pandemic, will close out the exhibition. While Martínez and Sosa maintain their individual practices, it is through collaboration and the interstices between themselves, that they manipulate as a bridge rather than a gap to link transtemporalities and modalities.
by Samantha Ozer