HABITAT: KADAR BROCK
ARTNEWS / Jul 10, 2015 / by Katherine McMahon / Go to Original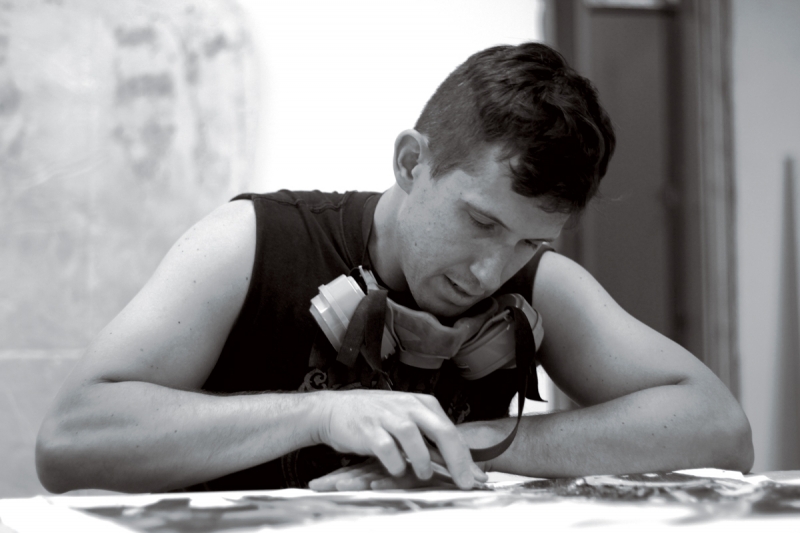 Habitat is a weekly series that visits with artists in their workspaces.
This week's studio: Kadar Brock, East Williamsburg, New York. "My daily schedule is Monday-Friday, 10-6," Kadar Brock said while scraping dried paint off of a work. "But Monday and Fridays my BFFs are in so we usually have lunch together. The rest of the week is just me working on stuff as much as I can. Then walking the dog. Then working on more stuff." The Cooper Union graduate is preparing for a few upcoming shows but seems to find the ideal work/life balance. While working, Brock listens to audio books (currently binging on Game of Thrones), podcasts, and more recently nerding out to the sounds of French composer Jean-Michel Jarre.
The artist is represented by Vigo Gallery in London and currently in a group show at Sperone Westwater. In September, he will be a part of the inaugural group show at Patron in Chicago. After that, Brock has a solo project with Almine Rech in Brussels in November. In the slideshow below, Brock takes us around his Brooklyn studio.
"In this corner … a couple 'dust pieces' nearing completion, my stash of wood, bins of saved materials, and some green through the window. Reject sculpture parts line the window sill. The resident studio squirrel usually hangs out on the other side."
"I just got these bluetooth headphones. I often wear headphones when sanding and scraping, and not having a wire is infinitely nicer. Also, bucket o' pens and markers for drawing. My hammock, and some actual finished arts in the background."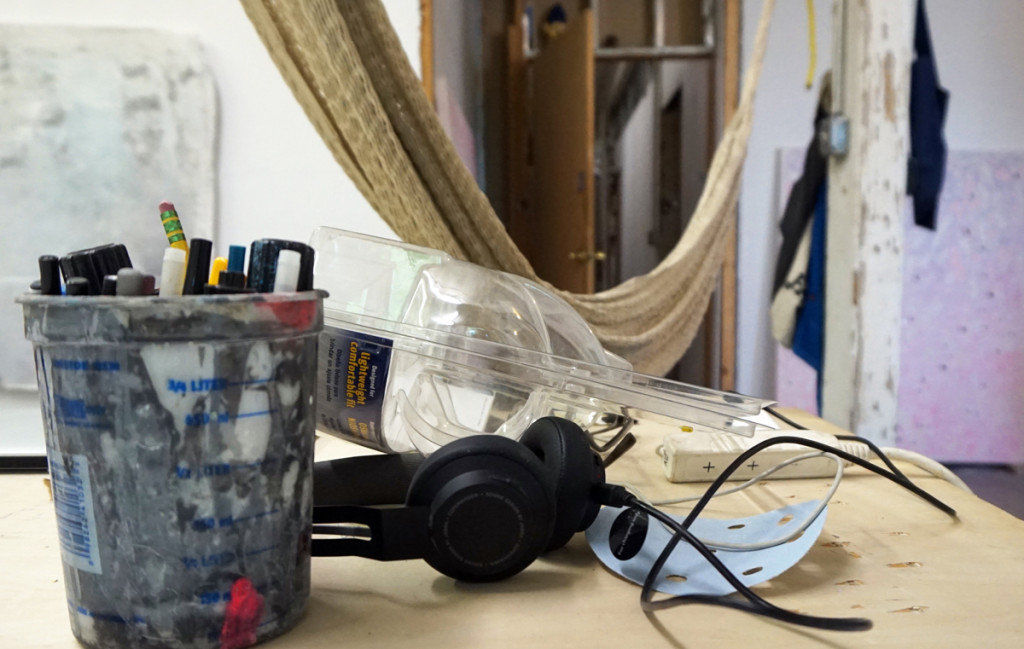 "My closest friends and I have a monthly Pathfinder session: we get together, roll dice, slay goblins and dragons, and otherwise eat pizza and have a blast. Seriously though, role playing games in general have had a huge impact on my studio practice. Early on it was just a source for titles from books like 'Dragon Kings,' later it was a system through which to translate chance into painting. The whole time it's been a way to analogize our relationship to art viewing and art making, and the roles and myths associated therewith."
"As a continuation of my nerdery, my friends and I play Magic: The Gathering. Magic, for those who don't know, is a trading card game that mixes parts of poker and chess with an ever expanding Lord of the Rings–like fantasy world. The card illustrations are amazing, and the game play is continually shifting and therefore increasingly complex. So, all those strings of numbers are scores from various games of magic that have been played at the studio. We just write on the table. I consider it an ever evolving long-term art collaboration. The razor blade though, well, that's what I undo paintings with."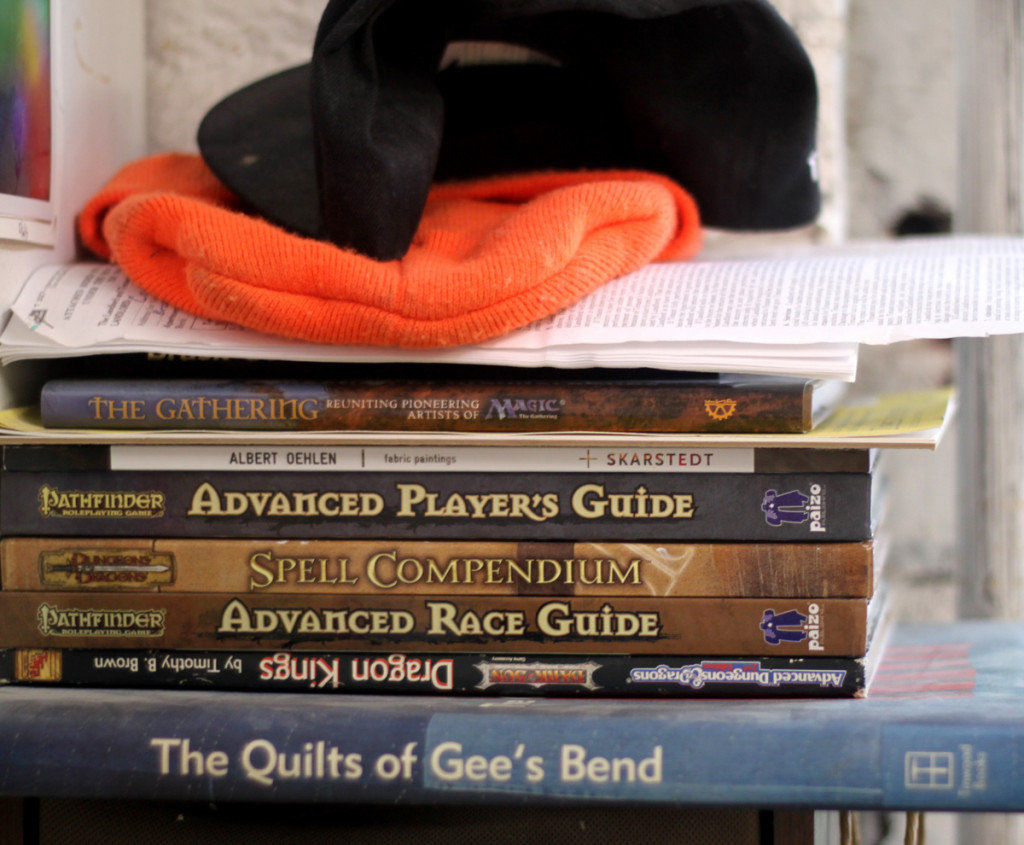 "Insert description of the artist's palette. Ha. I still make painty paintings. No one really ever sees them. They just feed the larger ecosystem of my art making."
"Yup. Scraping paintings. That's how all this stuff starts and i guess how other stuff ends."
"After scraping and sanding comes rolling. In the spray booth 'cause paints are stinky."
"Festool vacuum. Best $600 I've ever spent."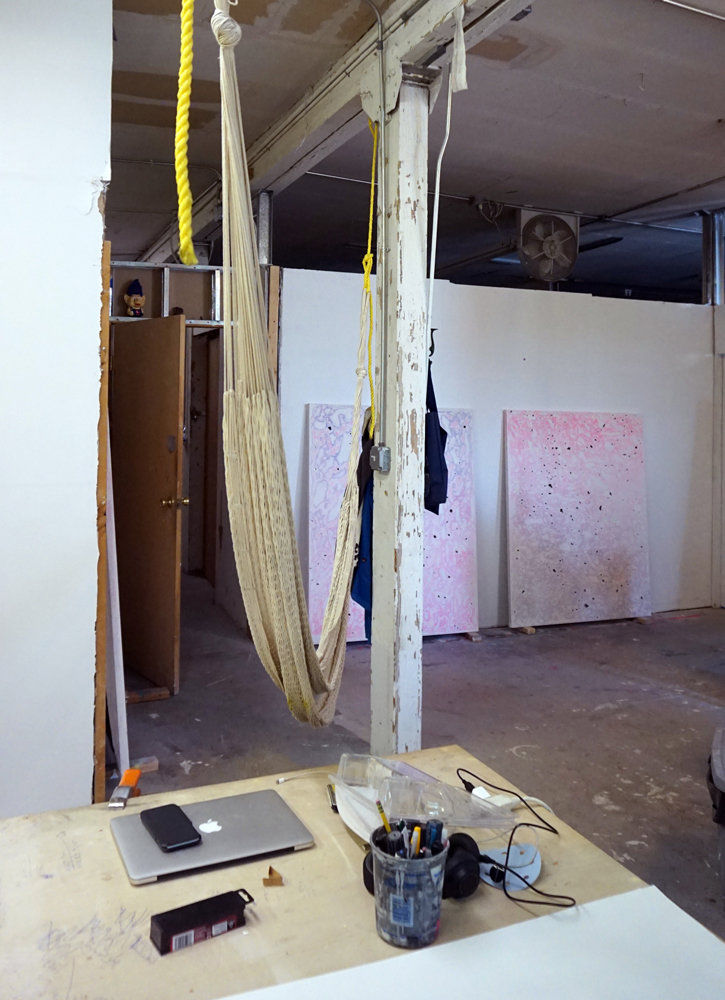 "Dust masks make for better living. Ha. My studio has a lot of dust."
"This is a detail of an in-process 'dust painting'—these works are made solely from the dust collected by sanding down other works. They're essentially reconfigured paintings."
"Inside the spray room. I keep canvas on the floor to collect information as I layer up works in here. That information helps me to make the next paintings … and keep the cycle moving."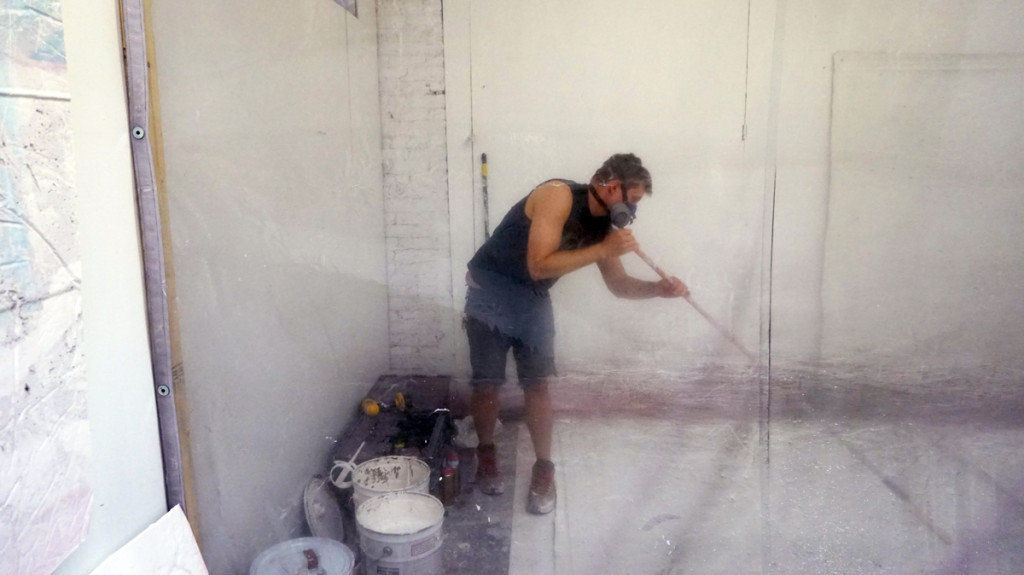 "Technology. Phone. Lap top. Headphones. And then of course a couple finished works in the back. Always satisfying to actually finish some paintings. More often then not I expect them to be done, only to realize they need to get layered up one more time. I can't tell you how long those two took—maybe 5–6 months each (and that doesn't include their previous existence.)"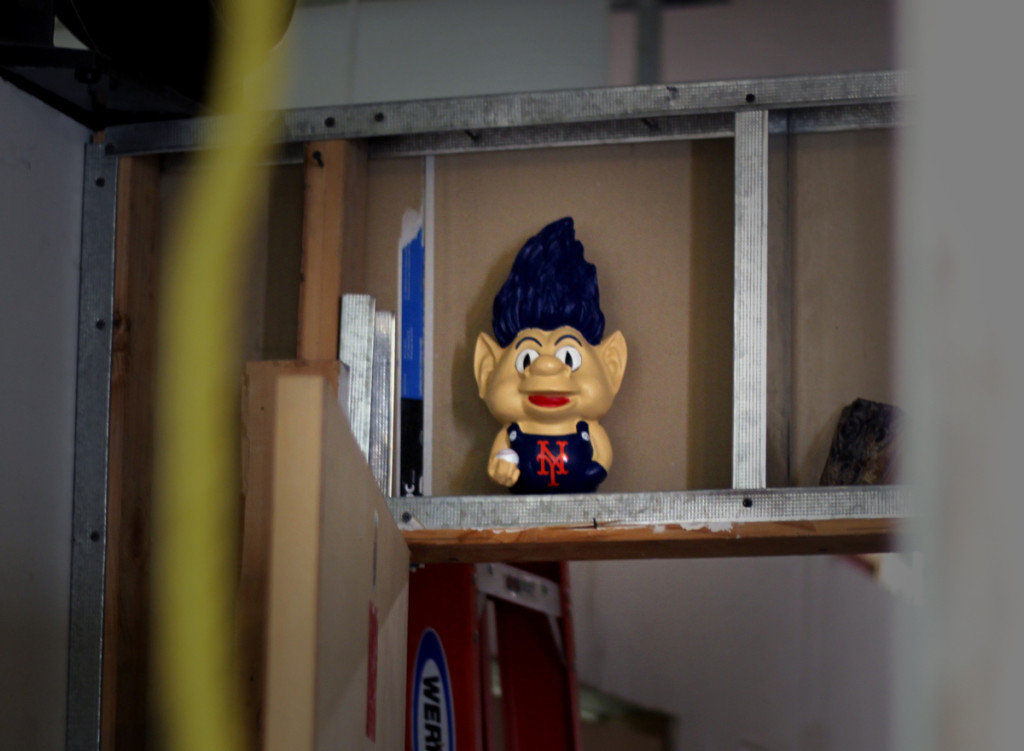 "The Mets troll. My best bud Matt Jones got this for me at a Mets game. Mostly as a joke, but also a sort of avatar. I'm the guy on all my Google groups who's always trolling."
---