Retrospective exhibition looks back at University Galleries' 50 years at the forefront of contemporary art
WGLT / Sep 6, 2023 / by Lauren Warnecke / Go to Original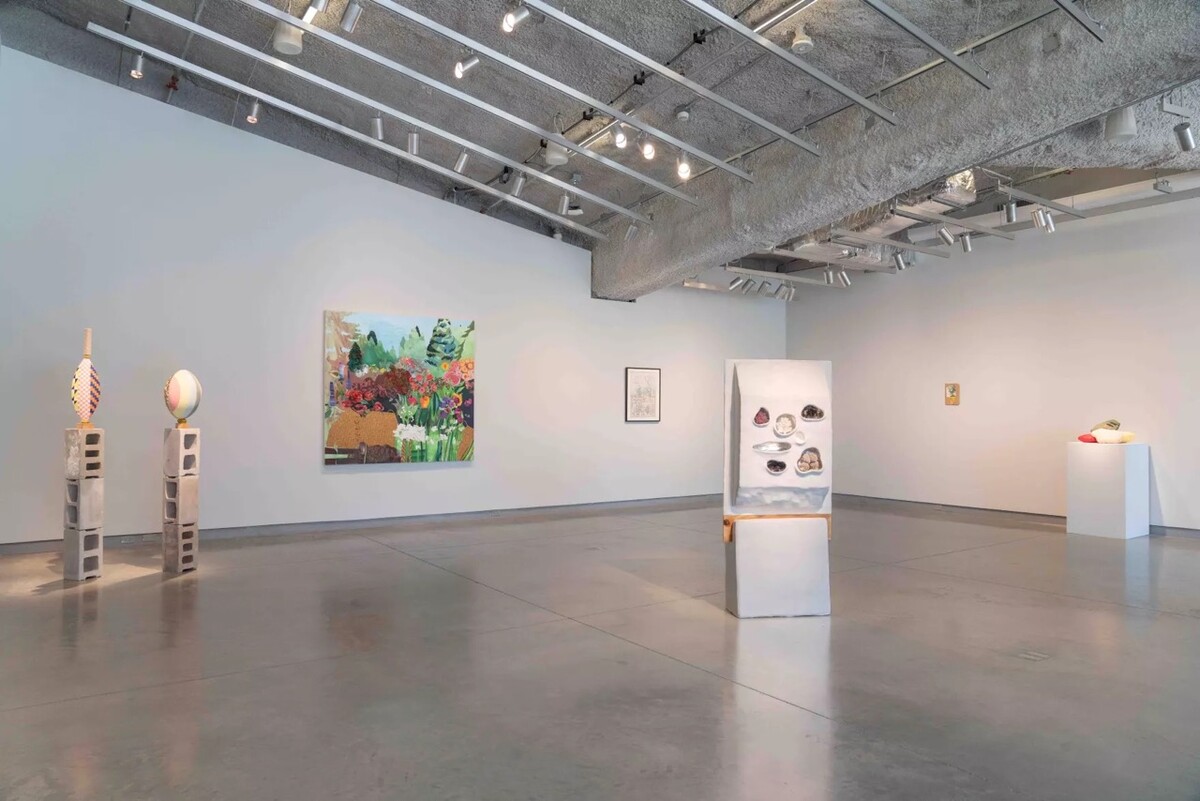 The art exhibition "All Hearts Beneath the Sun" enters its final week at University Galleries. The show, a retrospective featuring works from the permanent collection, kicks off the gallery's 50th anniversary year and fills every room in the oblong Uptown Normal space on Beaufort Street.
Director and chief curator Kendra Paitz presents each work — many from deep in the archive and rarely or never seen —with longer-than-usual descriptions detailing the artist's relationship with University Galleries and sharing little-known tidbits about the artist or piece.
"I've been involved with University Galleries for 20 years now," Paitz said in an interview. "Our former director Barry Blinderman was here for 31 years. There's so much institutional history that is just sort of swimming around in our heads."
An example: Camila Marianela was a student worker at University Galleries during Dianna Frid's solo exhibition in 2017. In "All Hearts Beneath the Sun," embroidered pillows illustrating aspects of Marianela's experience as a DACA recipient sit near to Frid's "From Before You Had a Name," a three-dimensional plaster edifice with shimmery cubbyholes holding rocks indigenous to Mexico.
"Those are details that, if you weren't here for the installation or working with those artists or students, could easily get lost," Paitz said.
QR codes printed on many of the gallery's labels take especially curious visitors to supplementary materials like prior press coverage or previously published books. But it's not hard to see the visceral connections that link each grouping by theme or aesthetic.
Straight ahead from the front doors on Beaufort Street is a large print from Carrie Schneider's "Burning House" series, from an exhibition Paitz curated in 2014. Beside it is another burning house, this one by David Wojnarowicz, that was spray painted on a wall in ISU's Center for Visual Arts (where University Galleries was located until nine years ago, when it moved to the current location in Uptown Circle).
David Wojnarowicz in the center gallery
This isn't the only piece of wall that was carved from that room. Wojnarowicz also painted one of his "falling men" at the base of a long ramp accessing the old CVA gallery. It is now framed and hung cheekily crooked as you enter the current University Galleries' echoey center room.
"As passionately as I feel about everything we've done here, I would always argue that David Wojnarowicz's survey here, and David's time in Bloomington-Normal is probably the most impactful," said Paitz.
An openly queer artist showing work in central Illinois at the height of the culture wars sparked national attention. Wojnarowicz died two years later of AIDS-related complications.
"While David was here, he really interacted with students," Paitz said. The opening reception to "Tongues of Flame" drew more than 700 people — an almost impossible number to imagine in the former gallery space. On the north wall, there's a TV screen playing guerilla-style footage of Wojnarowicz captured by a grad student just before they filed in.
"It felt important to bring him and his voice in," Paitz said. Nearly all of that room is dedicated to Wojnarowicz, including prints he made at Normal Editions Workshop. One wall, however, is reserved for prints created by two recent ISU alums during and about another pandemic — COVID-19.
Terry Adkins and William Cordova
"All Hearts Beneath the Sun" is not a chronological retrospective, though these sorts of pairings give you a sense of time and influence throughout University Galleries' 50 years.
One corner of the east gallery includes work by Terry Adkins and William Cordova. The latter sought out his late friend's haunts in 2017 during a residency in the Wonsook Kim School of Art at ISU. Cordova created a record from field recordings, video and photography created by Edra Soto, Luis Gispert, Barron Sherer and Paitz during an expedition to one of Adkins' former residences. One of just three vinyl LPs made for Cordova's 2018 solo show, "Kuntur: Sacred Geometries," was donated to University Galleries' permanent collection explicitly for this exhibition.
"Just in this corner, it illustrates the impact of one of our former students, how they've been a part of our exhibition history [and] how they've impacted all these amazing artists who are working today," said Paitz.
"All Hearts Beneath the Sun" continues through Sept. 17 at University Galleries, 11 Uptown Circle in Normal. Admission is free and open to the public; visit
---