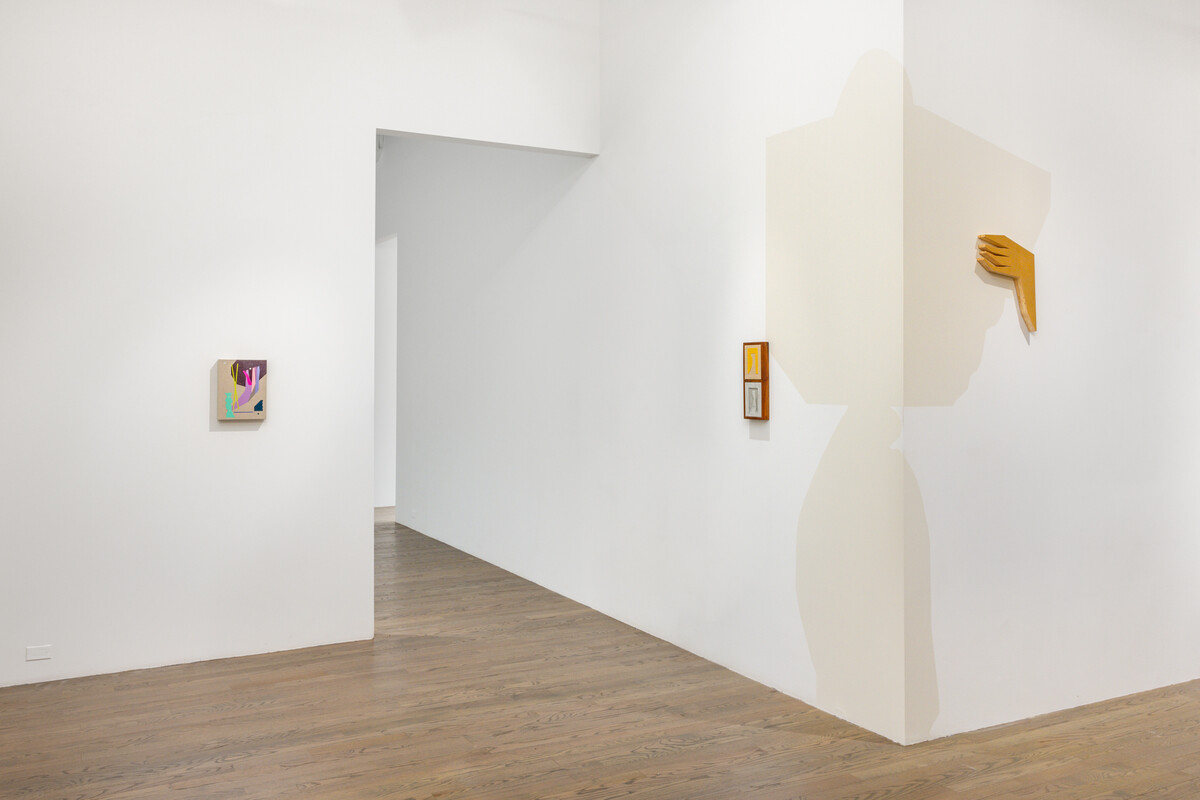 Opening Reception | November 11, 5:00 – 7:30pm
Ripples (after holding) by Sungjae Lee | November 11, 6:00pm
Performance by Airos Medill | January 26, 2024, 6:00pm
Dialogues
is a series of projects that highlight the work of Chicago's contemporary artists from the perspective of their colleagues and peers, celebrating and interrogating the ways in which generations of artists learn from and look to each other.
Dialogues
began as an invitation to five local artists, each of whom invited an artist, or artists with whom to exhibit.
Over the winter of 2023-2024, PATRON's five discrete spaces become containers in which intimate visual and practice-driven conversations are hosted, suggesting ways by which material, image, and research can be rethought, shared, and expanded. Organically resulting from years of mutual respect, or suggestive of forays into new contexts, the dialogues generated offer a current perspective on the diverse landscape of contemporary practice within Chicago today. The exhibition unfolds as a series on one-to-one visual exchanges, visual metaphors for the foundational connections of the creators and makers that together shape the city, and region, today.
Dialogues features work by:
Alex Chitty (with Richard Rezac, Diane Simpson, and Gordon Hall), Samuel Levi Jones (with Amanda Williams), Caroline Kent (with Nate Young), Alice Tippit (with Barbara Rossi), and Soo Shin (with Sungjae Lee and AiRos 頌恩 medill).
~~~~~~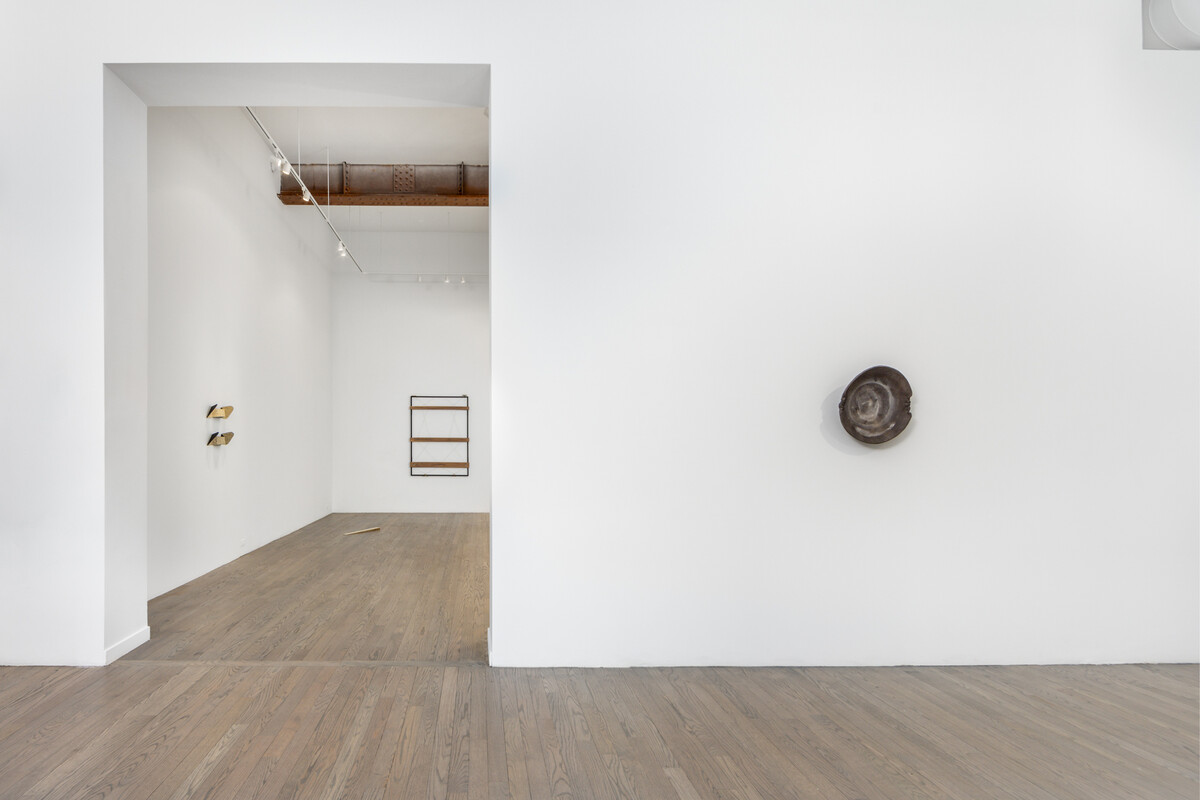 Soo Shin with AiRos Medill and Sungjae Lee
Holding Distance
, is one of an on-going series through which I explore how we embody the immeasurable distance between two homes and people where longing, connection, and care happen. With the exhibition,
Dialogues
, I think about how mutual ideas can bridge people and start new friendships.
Inspired by their ceremonial movements and poetic approaches to materials, I invite the movement based artists, Sungjae Lee and AiRos Medill, to activate the exhibition space and imagination with their gestures. Their movements create the moments to look closer at the ever-transient bodies of ours that are constantly weaving through points of time, space, and relations with others.
– Soo Shin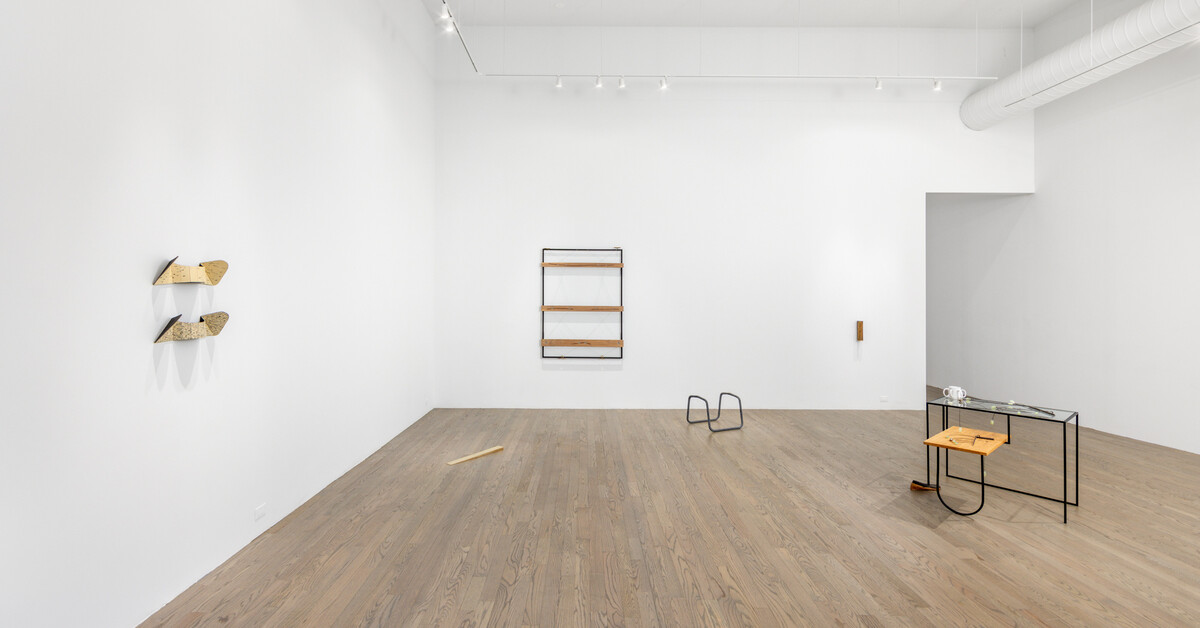 Alex Chitty with Richard Rezac, Diane Simpson, and Gordon Hall
While Diane, Gordon, and Richard are three of so many, and so much within and from Chicago, the choice was quick for me and the process of bringing the work into chorus has been a thrill. This work hovers steadily between categorical descriptors. There is no comfortable perch for external constructs because each artist has fluently cultivated an internal logic of their own devising. Beyond my adoration of the dedication and generosity they each give to what they make, it is this amorphous veil at the core [of their work] that I love. The objects in this room are hound dogs, they sniff and dig at treasure we don't see yet. When I look at these pieces, it is not what I am seeing with my eyes that is the actual work. The actual work is the sensations I feel in my body and the thoughts, or thought vacuums, that grow in response to what I see. This is the kind of work that "happens" to you. It invites you to look closely at seemingly inanimate things, and slams your personhood on pause while it unfolds, aches, antagonizes, flips belly-up, breaks you into bits, and then disappears in a poof only to reemerge and accompany you later in your day.
– Alex Chitty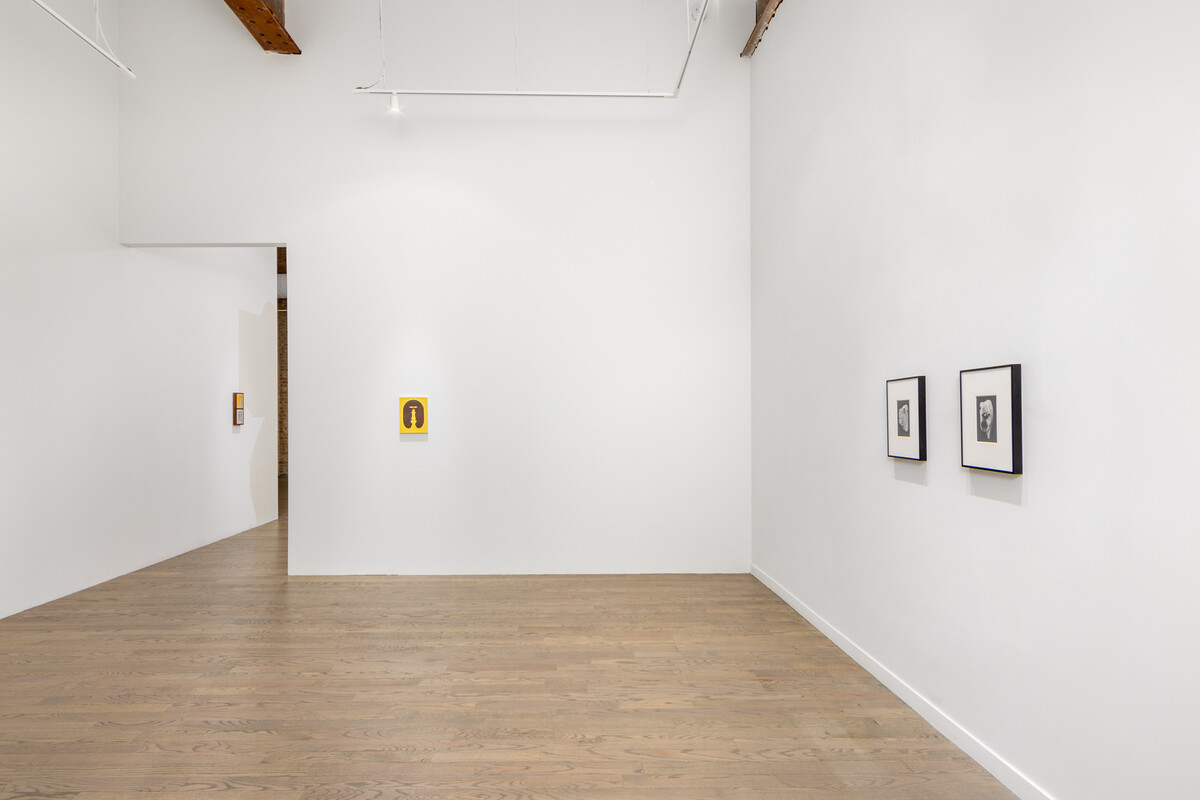 Alice Tippit with Barbara Rossi
When I think about Barbara's work—and I do, often—these simply staged photographs of driftwood hold a unique charm for me. As individual works they are all untitled, but when they were exhibited as a group at Corbett vs. Dempsey in 2018 there was a title, Slippers, that served as a signpost for the journey from mundane beach find to mysterious object. They are at once animal, vegetable, mineral, while also being none of these things at all, and filled with melancholy import. As a former student who was deeply affected by Barbara's teaching, I am saddened by her recent passing. I mark it thus.
– Alice Tippit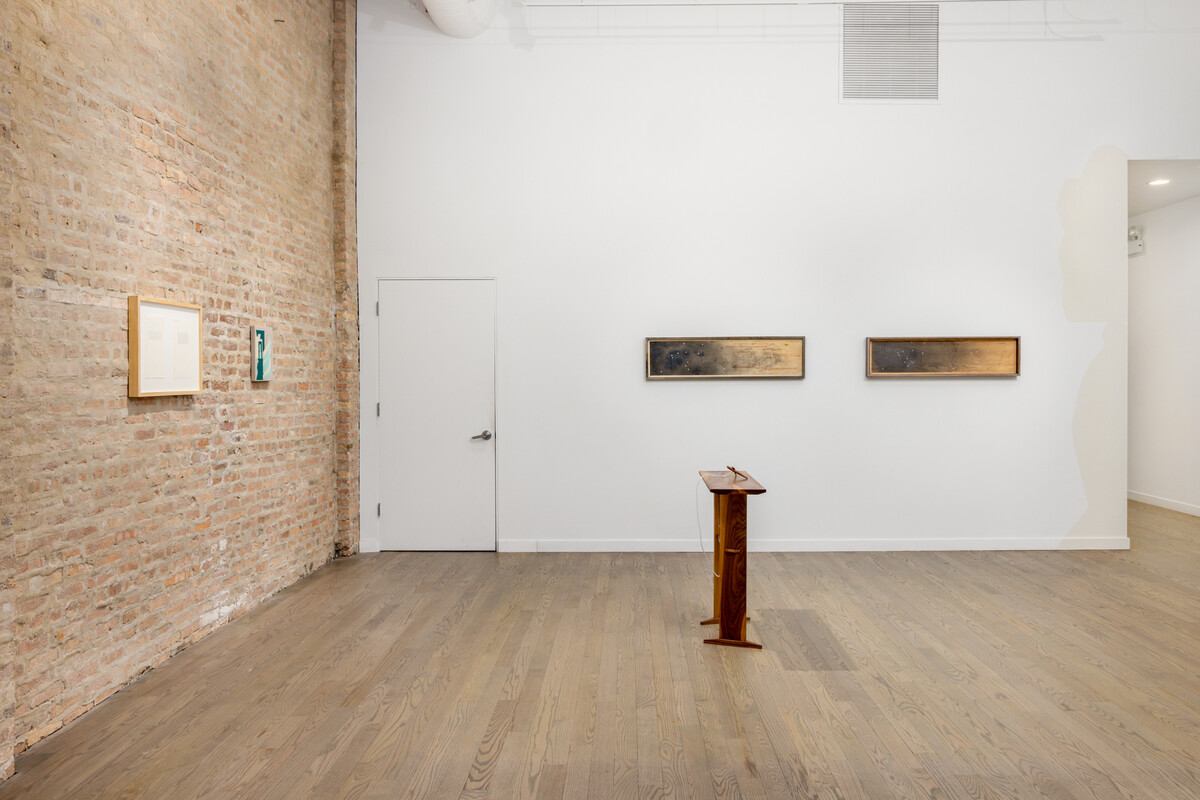 Caroline Kent with Nate Young
Nate Young's influence on my practice stems from a connection created through both of us employing text in our work. Our use of text came from different sources and had respectively different functions in the work, but we connected at this juncture. He uses handwritten, or drawn text borrowed from sources outside of himself: music lyrics, family history ( journals), historical writing. My text is invented, developed from my own voice.
Nate, as a conceptual artist, always accounts for every decision he is making in the work from material choices, to formal decisions, to the way the work functions. This process was one that I started to apply to my painting practice. I found that in making specific formal decisions in the work and considering how aspects functioned, broadened the work, changed the direction, opened up lines of inquiry and ultimately deepened my practice. Nate started learned the craft of wood working to advance his own practice. His graphite drawings on paper being materially combined with large heavy hand-crafted wood gave a kind of permission for me to consider where I would see materials coming together in the world. It's no secret that his beautiful hand crafted objects were something I wanted to marry my own paintings into. It started with him creating a small wooden diptych frame for a cement work and a painting. From there it grew to other expressions of wood and painting coming together.
We have no desire to stay in tradition , choosing to break it instead.
— Caroline Kent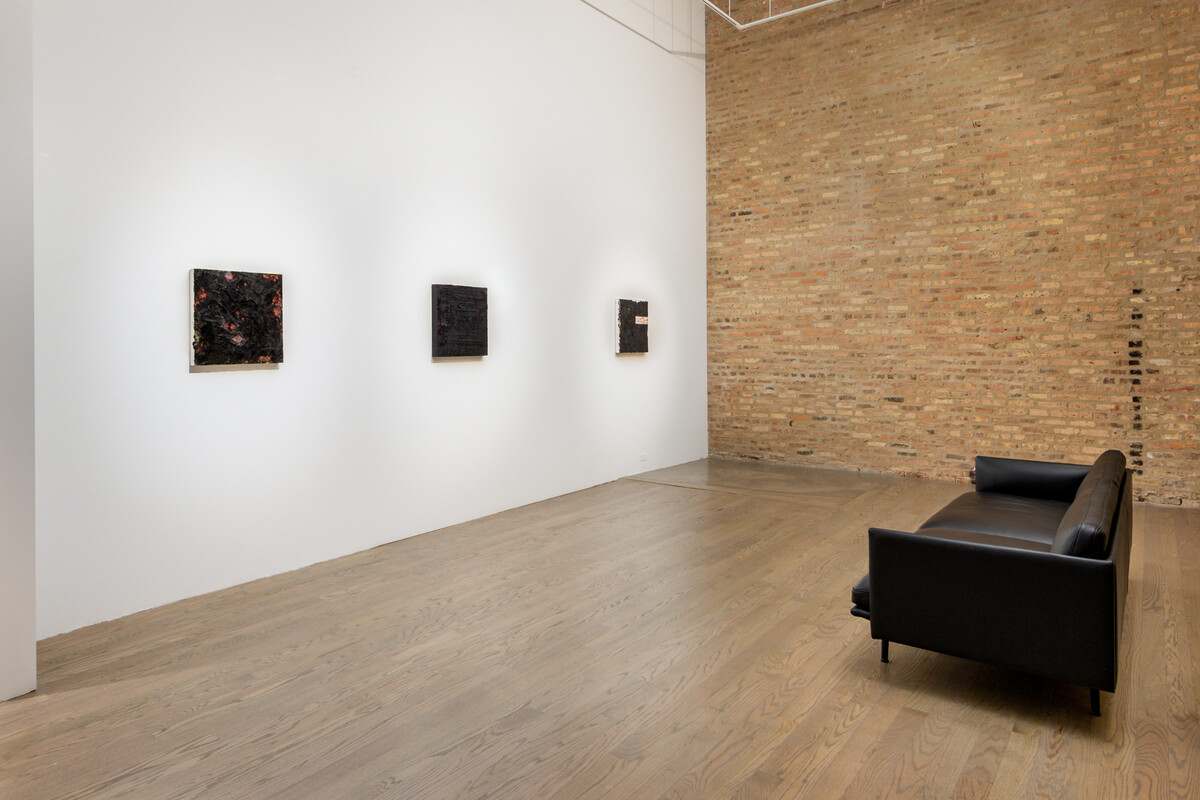 Samuel Levi Jones with Amanda Williams
My connection to Chicago began in 2015, and that was also when Amanda Williams and I became friends. Over the years our discussions have ranged from topics on parenting to our respective arts practices. In our work there is a definite intersection around the matter of Black bodies navigating space, and space navigating Black bodies – from a global perspective to the walls of the institution. Amanda is someone with whom I can always count on to exist not just as an artist, but as a human with true depth and sincerity.
– Samuel Levi Jones
Gordon Hall
Sungjae Lee
AiRos 頌恩 medill
Richard Rezac
Barbara Rossi
Diane Simpson
Amanda Williams
Nate Young