For the Former OHWOW Gallery's First Outing, A Provacative Show (Nick van Woert)
The New York Times Style Magazine / Sep 2, 2015 / by Janelle Zara / Go to Original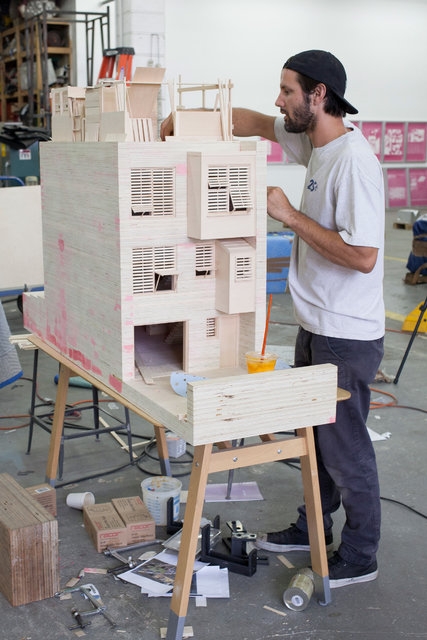 The artist Nick van Woert culls inspiration from the past, frequently remixing artifacts and evoking history to build his art. His latest, "Just Dropped in to See What Condition My Condition Was In," on view starting next Saturday at Moran Bondaroff, the just-rebranded L.A. gallery formerly known as OHWOW, borrows its title from a well-known 1968 Kenny Rogers hit.
"Out of context, the words are self-referential, taking a look at 'my condition,'" van Woert says in the office of his Brooklyn studio. Confronting the dark history of American institutional violence, the show homes in on themes of marginalization and forced evacuation by way of twisted sculptural effigy. Van Woert has taken a handful of Native American statues of the typical cigar-store variety and resculpted them to feature the faces of the U.S. presidents he considers the worst offenders when it comes to cruelty to indigenous people. He's also built an architectural model of a Philadelphia townhouse that was once occupied by the black-liberation, hunter-gatherer society MOVE, then bombed and set ablaze by the Pennsylvania state police. The model is set on the floor, so that viewers can see it through what van Woert calls "the executioner's gaze." And the soundtrack slated to play in the gallery is exceptionally sinister: It's comprised of tracks once used by the FBI in an attempt to force the Branch Davidians out of their Waco, Tex. colony, including the cacophonous sounds of rabbits dying and a cover of Don Von Tress's "Achy Breaky Heart."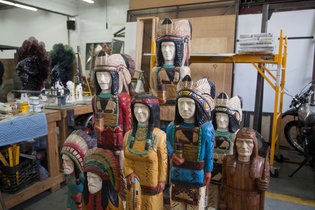 Sculptures by van Woert. Cigar store-style statues of Native Americans have had their faces recarved in the likeness of U.S. presidents whom the artist considers to have been especially cruel to indigenous people. Credit Joe Leonard, courtesy of the artist and Moran Bondaroff, Los Angeles
Better versed in traditional sculpting methods, van Woert made his first foray into outsourced production while creating work for this show, employing 3D scanners and CNC milling machines — plus the lower-tech help of vinyl record producers based in the Czech Republic — to take his work in new formal and sonic directions. "I've had these ideas for a while. But what would have taken me 10 years to do by hand, you can now do in 10 seconds," he says.
As for the name on the door, van Woert's show is the gallery's first under its new Moran Bondaroff moniker. Aaron Bondaroff, Al Moran and Mills Moran, who founded OHWOW in Miami in 2008, say that the rebranding signals not an abrupt shift in programming, but rather the evolution of the gallery's focus. "We chose OHWOW in the beginning because it was vague," Al Moran recalls of the gallery's Miami heyday, when OHWOW ran the annual "It Ain't Fair" group shows during Art Basel Miami Beach from 2008 to 2011 and art media referred to the gallery as "an artist clubhouse," a "youth-cultural experiment" and a "producer of special projects." That vagueness "afforded us a lot of freedom to do whatever came our way," Moran says. "But as the gallery started representing artists, it became clear that that was what our focus was going to be, and that's when we felt it was time to change its name."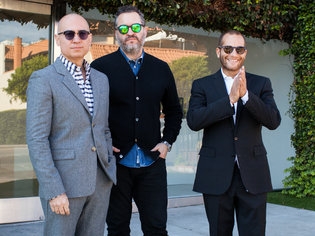 The OHWOW Gallery founders, from left: Al Moran, Mills Moran and Aaron Bondaroff. Their Los Angeles-based gallery has since been rebranded as Moran Bondaroff. Credit Brandon Harman
Moran Bondaroff plans to refine its focus on building its roster and mounting exhibitions by gallery-represented artists, which currently include van Woert, Diana Al-Hadid, the estate of Robert Mapplethorpe, Terry Richardson, Jacolby Satterwhite, David Benjamin Sherry and Agathe Snow. They'll keep Know Wave, their New York-based radio show, and add a new artist residency starting in an abandoned Detroit church, which will travel to a different city every year. Letting go of their old name wasn't easy, but "the spirit remains the same," Bondaroff says. "There's still that uncontrollable reaction, that, 'Oh wow,' that's not going away."
Nick van Woert's "Just Dropped in to See What Condition My Condition Was In" is on view Sept. 12-Oct. 10 at Moran Bondaroff, 937 N. La Cienega Boulevard, Los Angeles, moranbondaroff.com.
---