Disciplined Evolution: A Review of Caroline Kent at Patron
Newcity Art / Oct 10, 2022 / by Jacqueline WayneGuite / Go to Original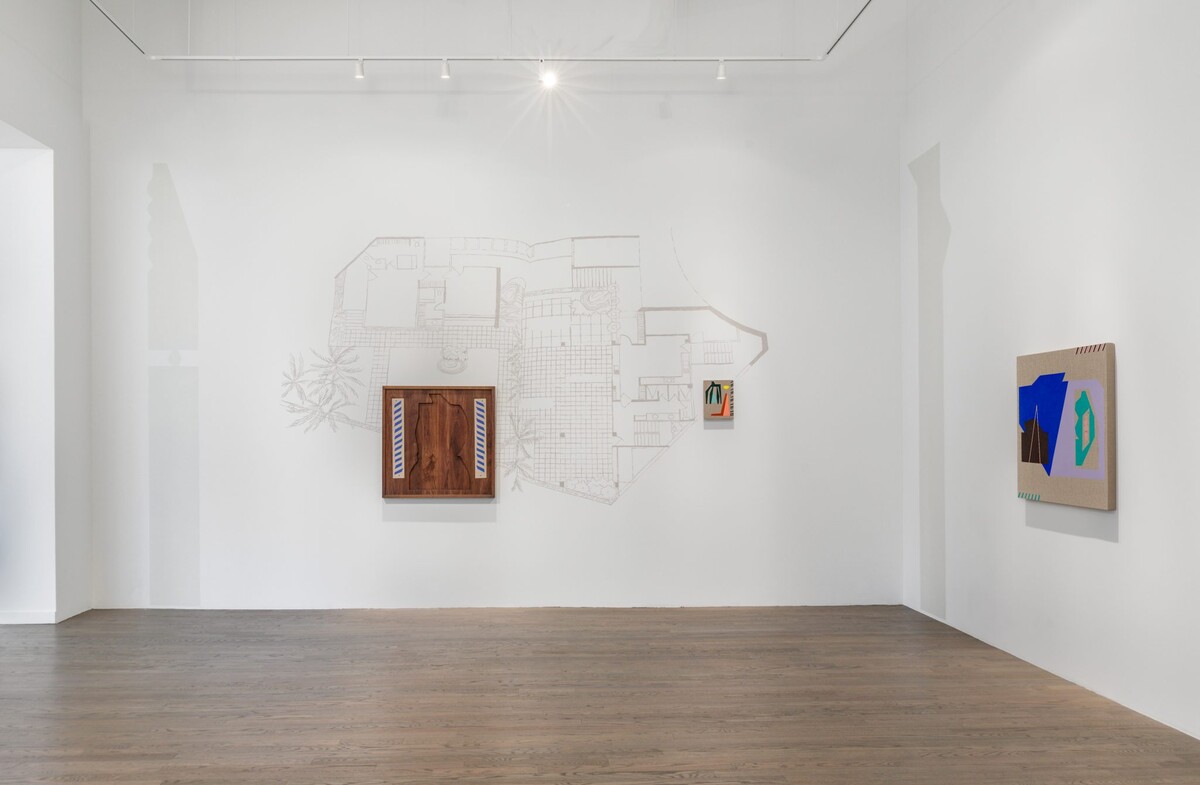 In Caroline Kent's first solo show for Patron Gallery, "Space | Shadow | Script," the artist eloquently commingles abstract painting, art objects and installation. The exhibition draws from the languages of interior spaces and modernism. Along with geometric abstract paintings, Kent has painted floor plans of domestic spaces from traditional Mexican homes directly onto the gallery walls. Particular details, which she's enlarged and abstracted into modernist shapes, push the installation further—these are sometimes painted onto the walls, sometimes transformed into hybrid objects of wood and paint.
Entering the gallery, you meet Kent's large square piece "
The small hours
" (2022), a work dominated by the color salmon, with abstract figures of pink and black and details in shimmering copper. This painting and the others in Kent's series leave the ground bare, a departure from the dark backgrounds she's worked with in the past. These chromatic paintings are created with precision and fully saturated color. In many, the colors seem to glow right off of the naturally brown Belgian linen.
Moving into the following two spaces of the gallery, Kent introduces domestic interior wall paintings and wood wall objects to the paintings. Thoughtfully installed to overlap the soft gray floor plans, the pieces are not hung at traditional gallery height. They create a layered tableau. You naturally find yourself hunting between painting and floor plan, attempting to discover reference points between the two. None seem to emerge too quickly, yet they live together in symbiosis.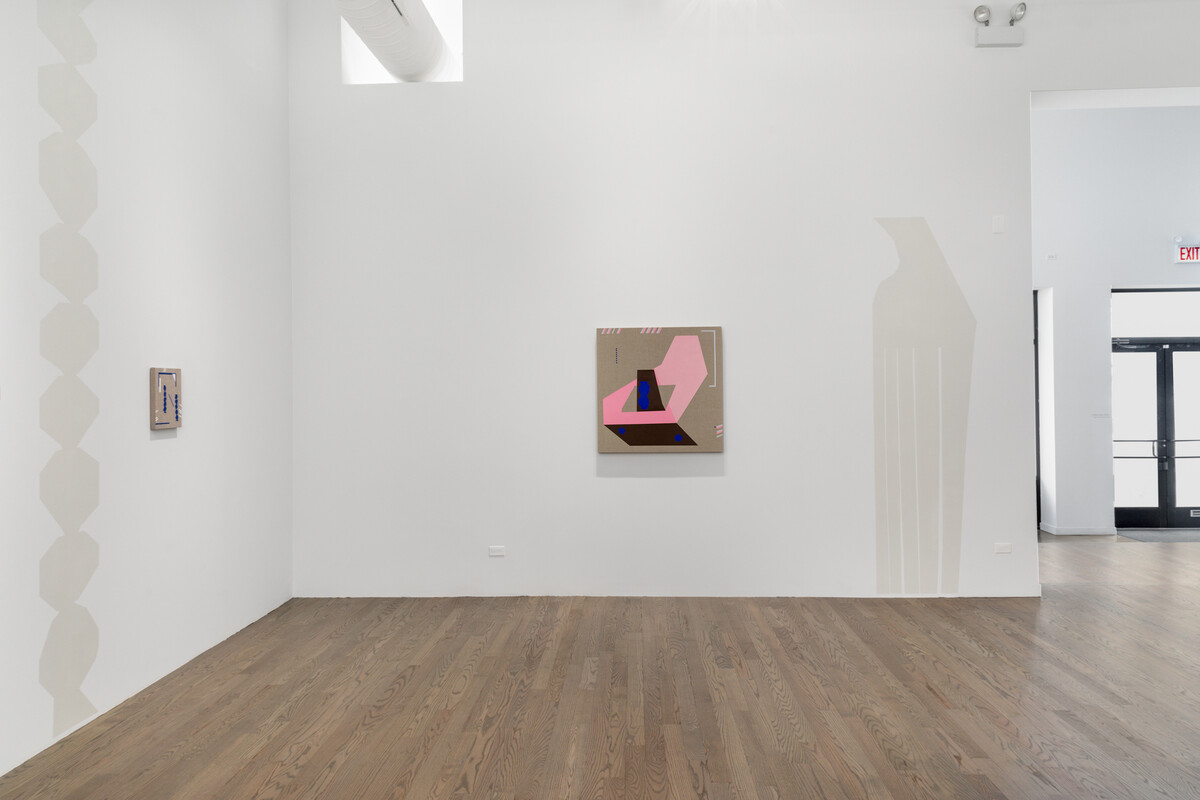 Two hybrid pieces made of wood are the most fascinating works in the show. The richly stained smooth walnut surfaces have geometric shapes cut out, where Kent has inserted linen canvas to fill them. "
A memory I have from a letter you wrote…
" (2022) features two vertical rectangles of canvas adorned with diagonal blue stripes of acrylic paint. Between them is a recessed abstract shape. The wood grain flows seamlessly across the surface and the expertly routed-out section. "
The secret that only comes out in a whisper
" (2022) also includes two vertical rectangles of canvas and a third canvas shape that approximates an irregular triangle—if the top was lopped off and one side turned into a wavy line. These canvases are more sparsely decorated with forms in bright green.
This series highlights a new sense of restraint on Kent's part. Her choice of colors and their rich saturation mesmerizes against the natural linen. The works here are clearly rooted in the history of geometric abstraction yet develop into something wholly Kent's own. She turns the gallery into the site of a multifaceted conversation about abstraction, modernism and interior architecture. This exhibition reveals a disciplined evolution in Kent's work.
"Space | Shadow | Script" is on view at Patron Gallery, 1612 West Chicago, through November 5.
---