'Drum Listens to Heart': Images, Words and Sculptures, Bound by a Beat
The New York Times / Nov 30, 2022 / by Jonathan Griffin  / Go to Original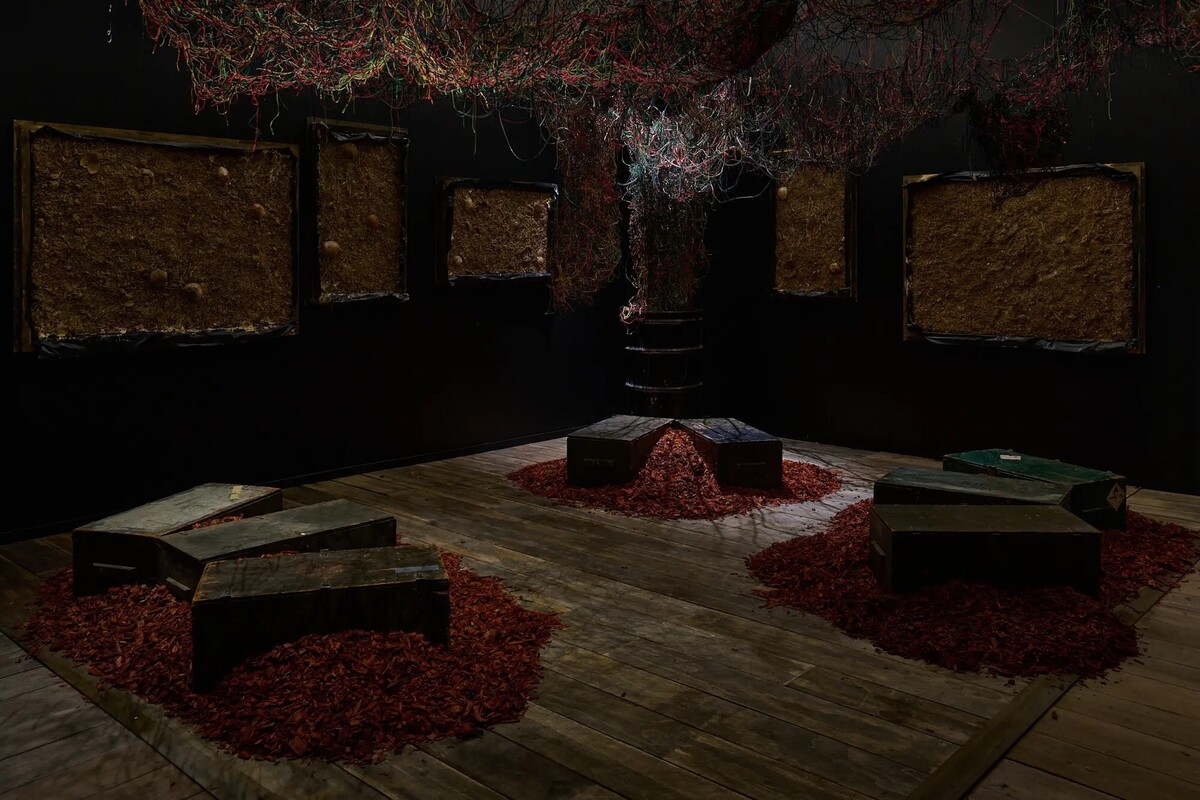 A three-part exhibition at the Wattis Institute in San Francisco explores the many sides and sounds of percussion.
SAN FRANCISCO — The curator Anthony Huberman was already toying with the idea of an exhibition about percussion when, in 2020, people in cities around the world started banging pots and pans outside their windows.
This nightly ritual, meant as a gesture of support for health care workers during the pandemic, poignantly confirmed something, for Huberman, about percussion in all its forms: It can mark a protest as well as a celebration, communal cohesion as well as individual dissent. Soon after, people across the nation were beating drums at demonstrations against police violence toward Black people.
His plans for the exhibition quickly swelled in scope and urgency. "Percussion reaches far beyond the drum," Huberman wrote in his exhibition guide.
"Drum Listens to Heart" is the title of Huberman's ambitious, three-part exhibition at the California College of the Arts Wattis Institute in San Francisco, where he is the director. It opened Sept. 1 and runs until March 4, 2023; currently on display is Part II, featuring videos by Theaster Gates, the Otolith Group, Francis Alÿs and Lucy Raven.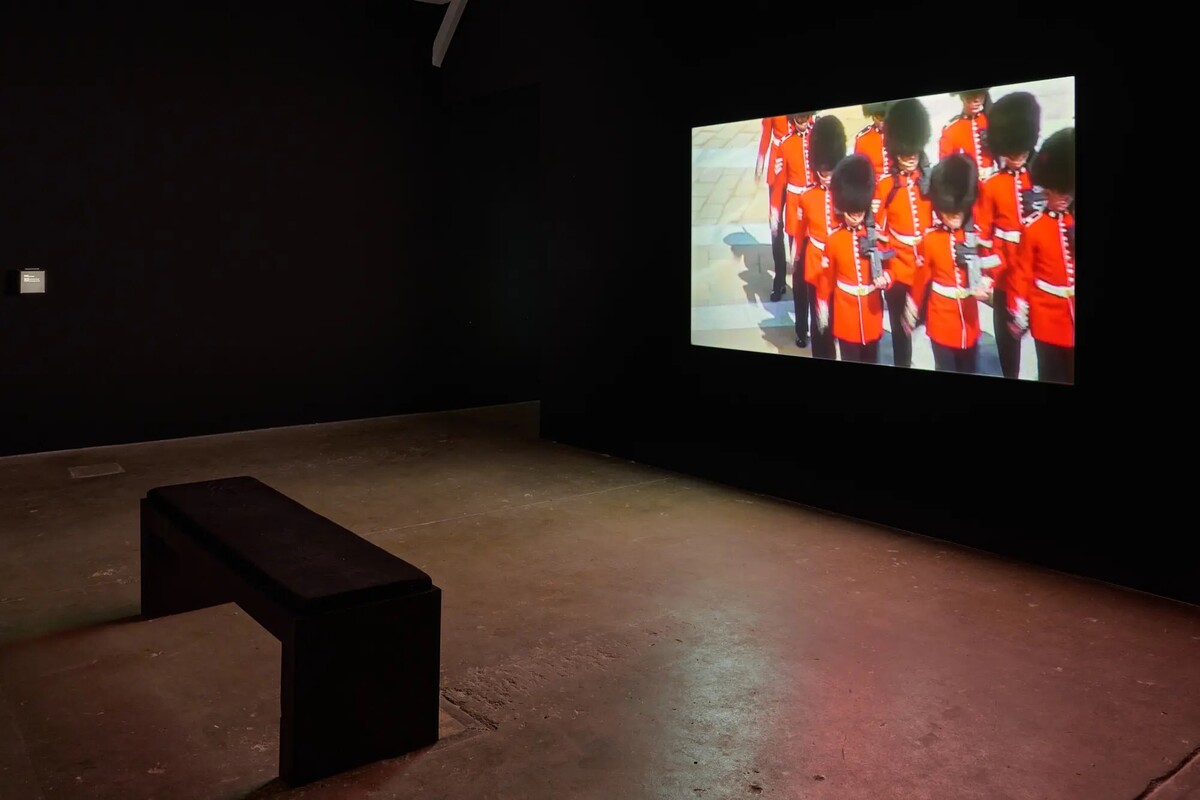 The expansive project — which also features live music and art performances, lectures and a pop-up record shop — is typical of Huberman's eclectic programming at the Wattis since he joined it in 2013. This nonprofit art center is part of the California College of the Arts, and leans heavily on the pedagogical, the participatory and the discursive.
Before mounting "Drum Listens to Heart," Huberman's yearlong programs of lectures, reading groups and seminars ran separate from the Wattis's exhibition program. Each "season," as Huberman called them, explored in depth the work of a single person. Past seasons have been devoted to the work of figures like the conceptual and performance artist Lorraine O'Grady, the filmmaker and theorist Trinh T. Minh-ha or the writer Dodie Bellamy.
Now Huberman has paused that series for the first time to direct all the Wattis's focus toward "Drum Listens to Heart."
"Let's begin with the drum, but move away from it, bit by bit, until all that is left is the feeling of its presence in the room," says an introductory text, printed on the gallery wall of each of the three exhibitions.
Part I of the exhibition did indeed begin with a drum — two, actually: one, a West African dùndún (or talking drum), the other an Inuit qilaut frame drum.
The dùndún was slung over the shoulder of a human skeleton, part of an extraordinary wire-strewn assemblage by the free-jazz drummer Milford Graves. (Written in Sharpie on the drum's skin was the phrase that Huberman borrowed for his project's title.)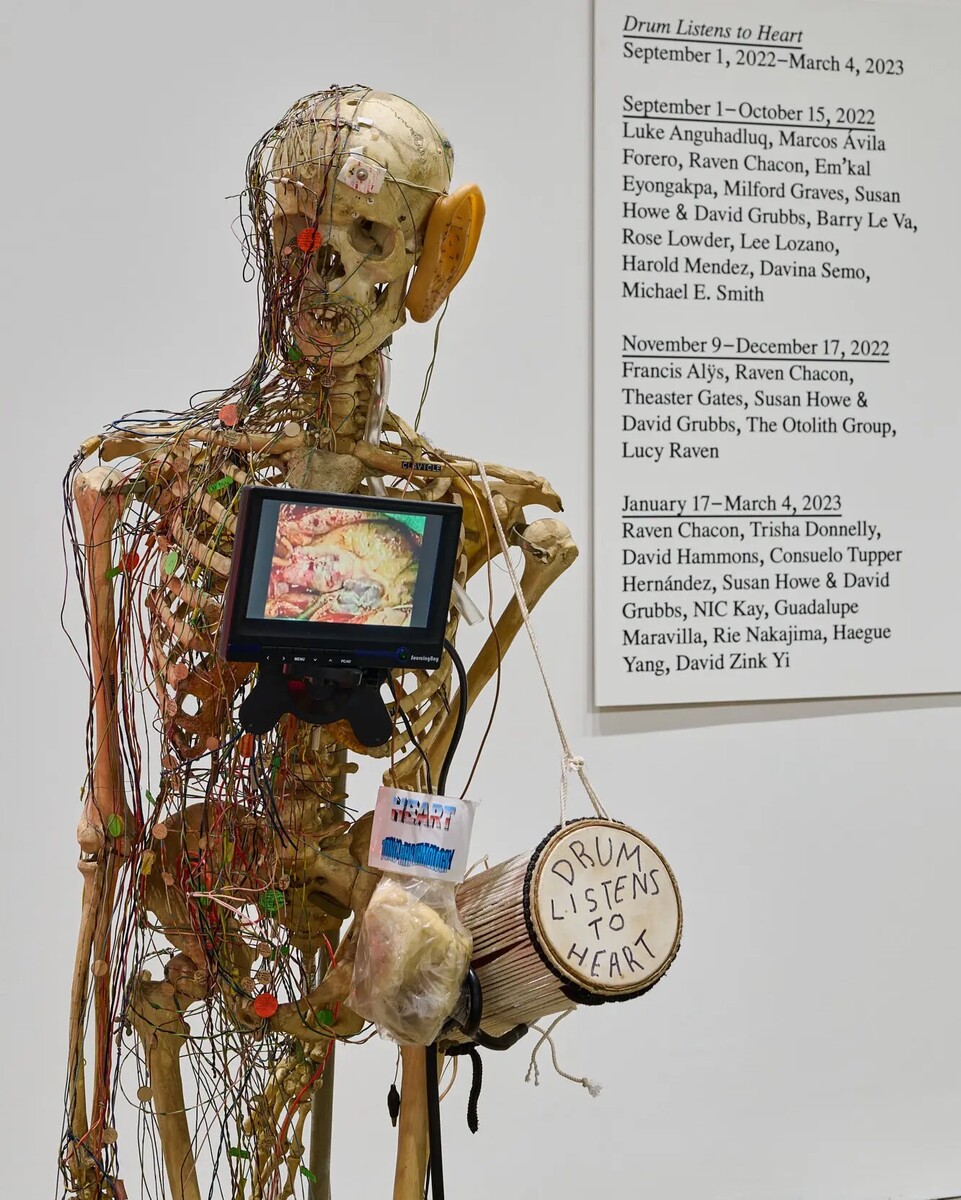 Alongside his work as an artist and musician, Graves studied martial arts and non-Western medicine. He recorded heartbeats — including his own arrhythmias — and asserted that free-jazz polyrhythms were more "natural" than metric rhythms because they more closely replicated the varying beat of the heart.
"Pathways of Infinite Possibilities: Skeleton" (2017) is one of a series of artworks Graves made in his later years. (He died in 2021.) Nearby, other creations by Graves — part jury-rigged home science experiments, part occultist altars — included religious figurines, medical models, electrical audio gizmos, and tangles of wires and pipes. Attached to the skeleton, in a plastic bag, was a real preserved heart — species unknown, possibly human.
On the walls hung stone cut prints by Luke Anguhadluq, the respected Canadian Inuit artist. Flattened figures were arranged around central disks — a motif representing the traditional frame drum in Inuit dances. Nearby, a knot of wood grown around a bent steel post — a found-object sculpture by Harold Mendez titled "but I sound better since you cut my throat" (2016) — evoked a spine and a heart.
Between these works, one quickly construed an idea of the drum as a heartbeat, an essential motor that is also vulnerable to irregularities, even breakdown.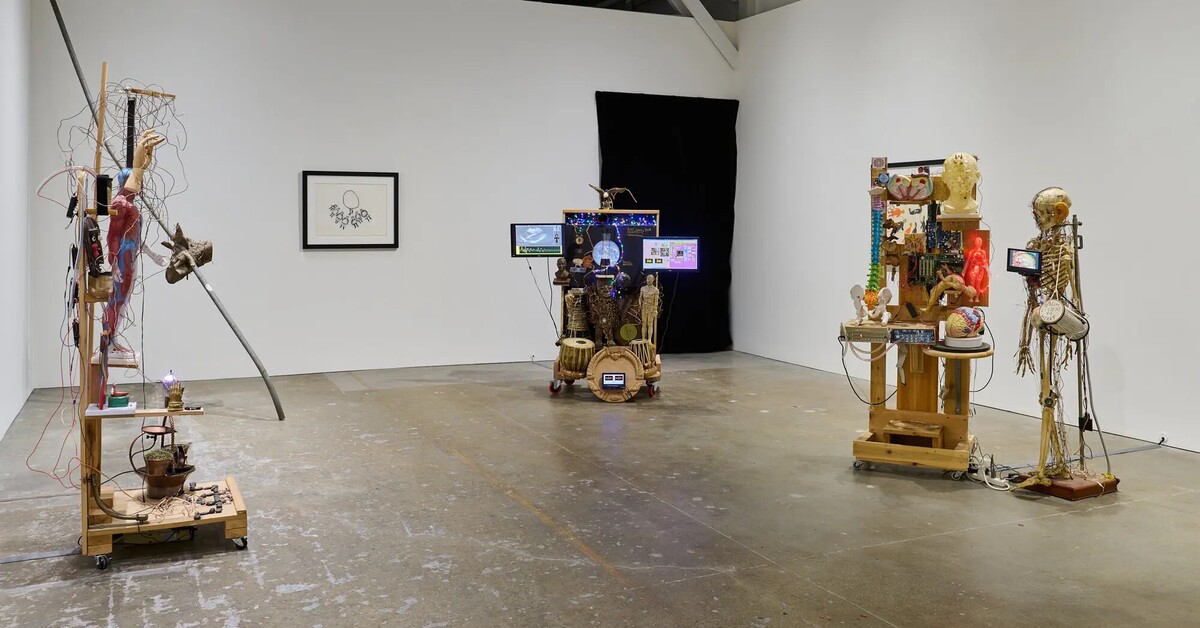 In a darkened gallery, webs of yarn sagged from the ceiling in an astonishing, immersive installation by the Cameroon-born artist Em'kal Eyongakpa. Water ran through clear pipes to an oil drum, where a microphone amplified its constant trickle. A sign invited visitors to sit on wooden ammunition crates arrayed on the floor; inside the crates, soundless transducer microphones generated vibrations.
The work, Huberman told me, was partly inspired by the caves where people in Cameroon sought shelter from fighting during periods of unrest. Eyongakpa sees his installation as a healing space, Huberman said, intersecting with the body's natural vibrations in the manner of sound baths or singing bowl meditations.
"Drum Listens to Heart" is not a political show — at least not in the sense that it pushes any particular argument. Its ethics, however, are inclusive, straddling creative disciplines while paying particular attention to Indigenous and non-Western viewpoints.
Alongside works by the canonical American artists Lee Lozano (an untitled painting from 1963 of a three-headed hammer) and Barry Le Va (a sculpture made from a stack of sledgehammered glass) was a video by the French-Colombian artist Marcos Ávila Forero. Titled "Atrato" (2014) after the river in northwestern Colombia, the video showed a group of people practicing water drumming, originally a West African technique believed lost among African-Colombian communities. Ávila Forero collaborated with ethnomusicologists to reteach this practice — which involves slapping the surface of the water with one's hands — to local people around the Atrato, in a region that often echoes with the sounds of guerrilla warfare.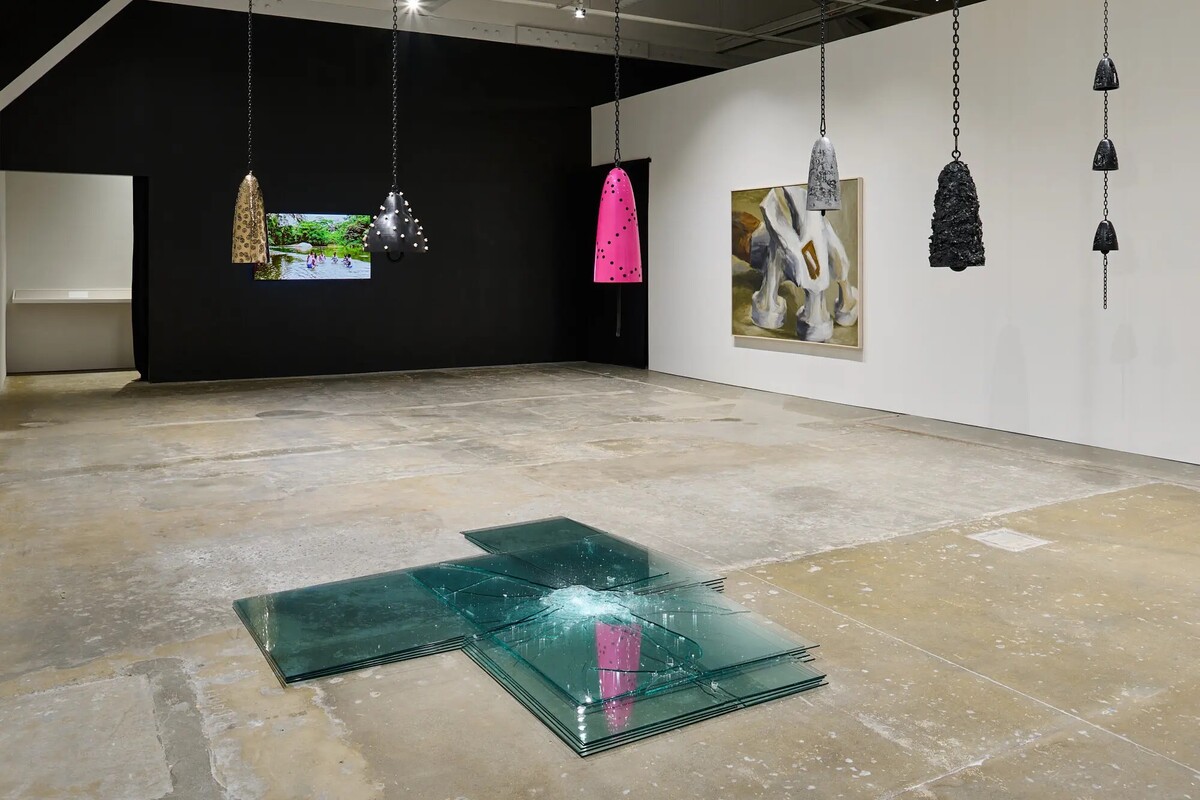 Percussion can often be militaristic, Huberman acknowledges. Part II of his exhibition features the video "Guards" (2004) by Francis Alÿs, in which solitary Coldstream Guards march around London, rifles shouldered. When the soldiers cross paths, they snap into ranked formation and gradually their brisk footsteps crescendo into a single massed beat.
As if to temper the ominous associations of "Guards," the Navajo artist and composer Raven Chacon organized a performance of "Drum Grid" on Oct. 29. Drummers stood on street corners in Potrero Hill, the San Francisco neighborhood where the Wattis is located. When one drummer heard the beat of their neighbor, they responded in imitation, their beats iterated (and sometimes changed) by drummers farther out on the grid.
While "Guards" represents the near-mechanical adherence to rules to bind a group together, "Drum Grid" embraces change and progression while maintaining a community of participants.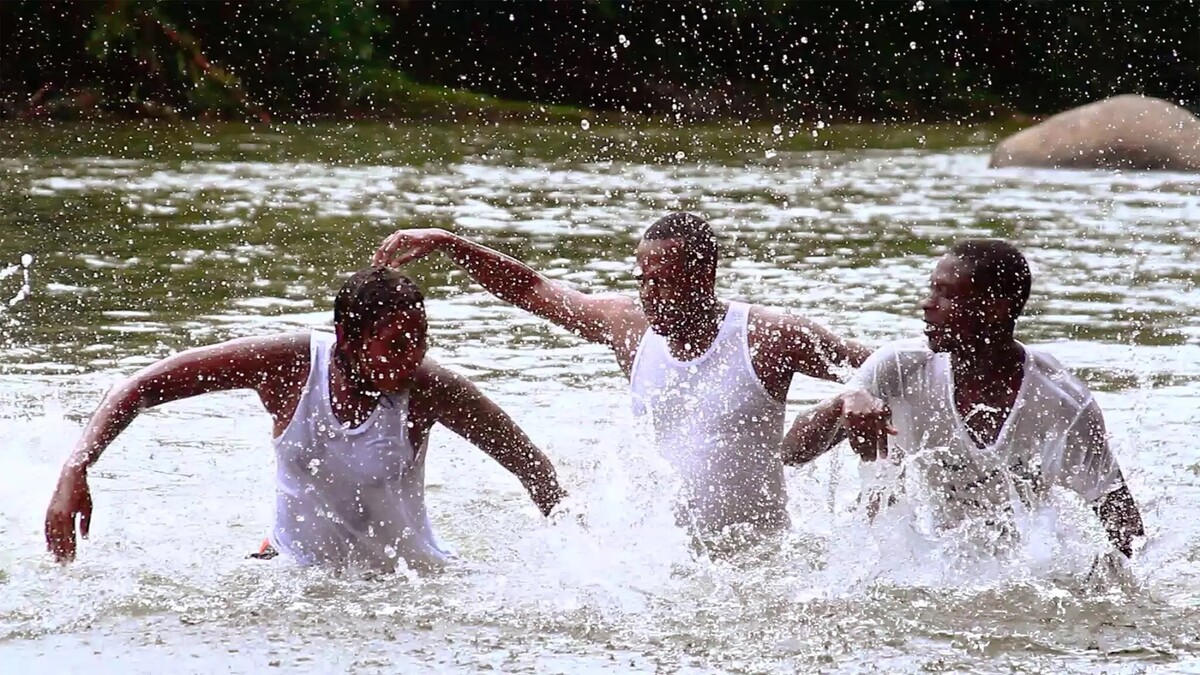 Those same principles might be said to apply to "Drum Listens to Heart" as a whole. It evolves. It lays out a polyrhythm of events and exhibitions, but rarely repeats itself. (One exception is the cycle of spoken word pieces by the poet Susan Howe and the musician David Grubbs, which will play in the gallery every 15 minutes throughout the project.)
The scope of "Drum Listens to Heart" might seem so broad as to risk losing focus. Where is the line between rhythm and any repeated noise? If a vibration counts as percussive, then why not any sound, instrumental or otherwise? Huberman is not a pedantic, encyclopedic curator, however, but an enthusiast and an explorer, willing to let his theme lead him where it may.
Over the course of the project, Huberman hopes that visitors will make their own explorations, returning, perhaps, to view subsequent chapters of the exhibition or to attend one of the percussion-based musical performances. On Saturday, Dec. 17, the venue will host Moor Mother Ensemble, led by the Afrofuturist composer Camae Ayewa (Dennis).
In September 2023, the Wattis will resume its regular rhythm of yearlong research projects and solo exhibitions. Where Huberman's meandering lines of inquiry will lead it next, for now, is anyone's guess.
---