PREVIEW: Dianna Frid, "pre-knowing / un-knowing" at Patron Gallery
Bridge Journal / May 29, 2023 / by Kristin Mariani / Go to Original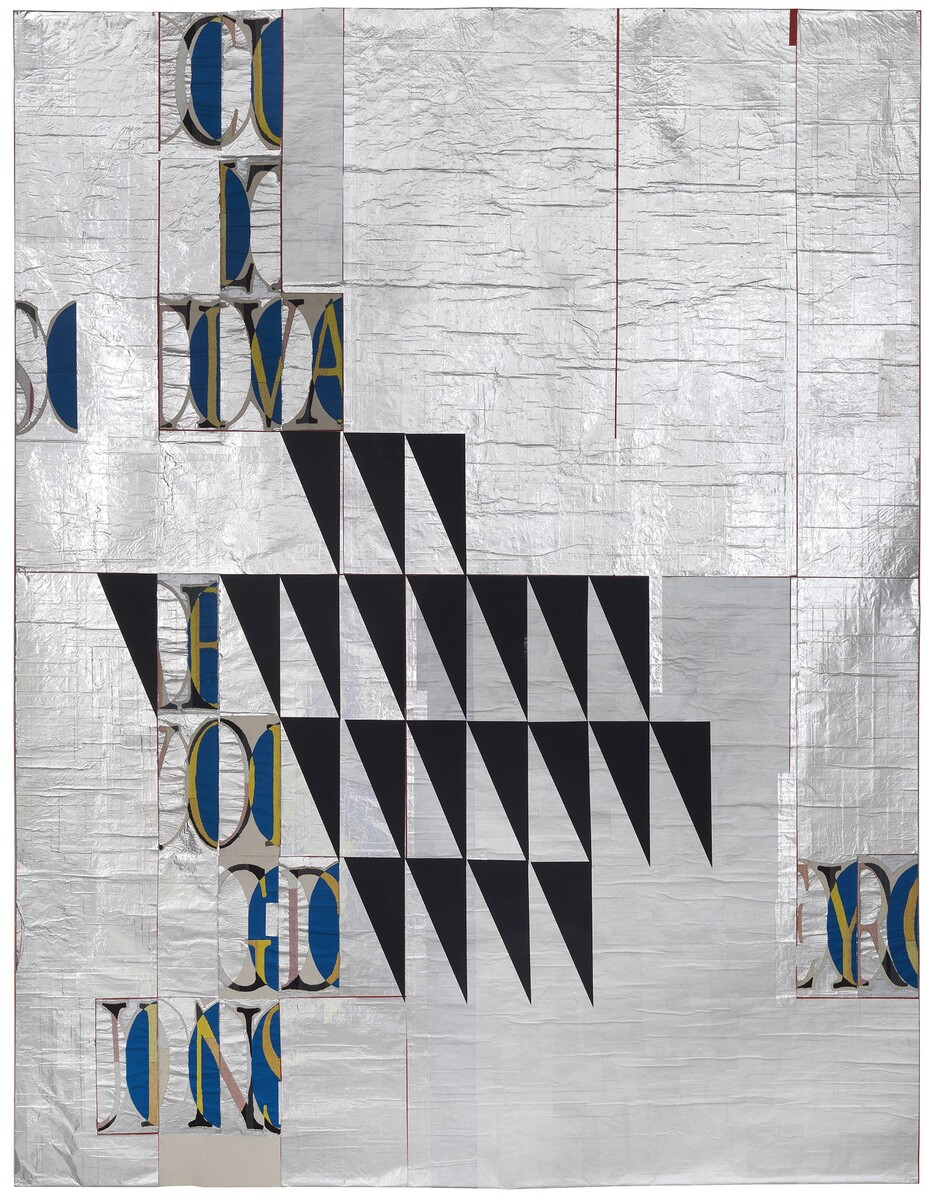 Woman must put herself into the text-as into the world and into history — by her own movement.
Hélène Cixous, The Laugh of the Medusa
I am in Dianna Frid's South Lumber Street studio in Pilsen. She stands before a wall draping a body-sized, black canvas letter A against her body. Her figure frames a canvas work in progress behind her. She leans into her studio ladder, and smiles at me as I take her photo.
I am making a custom dress for Dianna Frid. It is our first fitting session, and we are developing a design prototype, draping various orientations of the letter A on her body. The figure of this letter and word implies singularity. Frid's gestures with the canvas letter pluralize it. The dressmaking process is an impetus for a larger conversation between us about sewing, textiles, texts, and wearing cloth. We discover a mutual admiration for Clarice Lispector's writing. She tells me about her grandfather, Leopoldo Fuchs, who was a custom tailor in Mexico specializing in women's wear.
All around me in Frid's studio are bodies of works from various series:
Words from Obituaries, Materias, Arcroliths, Overflows
, and
Evidence of the Material World
. On her tabletop rests a palette of threaded needles puncturing the surface of taught muslin, which is pulled across the round frame of an embroidery hoop like the skin of a drum. Prepped for sewing, these implements are loaded with future rhythms for the crafting of her next stitched text. She shows me her sketchbooks and an artist book from her Wave series. Frid crafts with conceptual fluidity, and her works flow into each other from every surface of her studio. Her texts, materials and processes are in a constant state of permutation and transfiguration from the framework of an embroidery hoop, to the framework of a book, to the framework of a wall.
I write this preview for Frid's upcoming show at Patron Gallery,
pre-knowing / un-knowing
, choosing my words carefully to describe how the works shared with me in her studio flow into the works to be exhibited. Two of the works on view are from Frid's
Overflow series: We Have No Word in English For This
and WEAVE. The format of these large scale rectangular works is of the page, not the portrait. Many of Frid's large scale works are rooted in her bookmaking practice.
The exhibit will also include a large wall-mounted installation,
Evidence of the Material World #10
. Created from a mass of the artist's hand-drawn graphite membranes, Frid will transfigure the gallery wall with dark luminosity. Rubbing graphite into the surface until it is saturated, multiple frames will dissolve into an irregular grid, a satiny substance. The installation itself will be "a host" to her piece,
Notations #5
.
The works We Have No Word in English For This
and
WEAVE
will be hung unframed. Each layer contributes to the edge of each work, and the edge of each work is determined by its content. A fold of aluminum wraps around the top edge. A fold of painted paper is creased around the bottom edge. The tiniest sliver of fringe reveals the Canvas under layer. An unexpected swatch of orange mesh highlights the side margins. The entirety of material content is the surface. The entirety of material content is the frame. The material complexity is directly experienced by the viewer. The weight of the work is sensuously calculated, with a thickness translated from the pages of her artist books.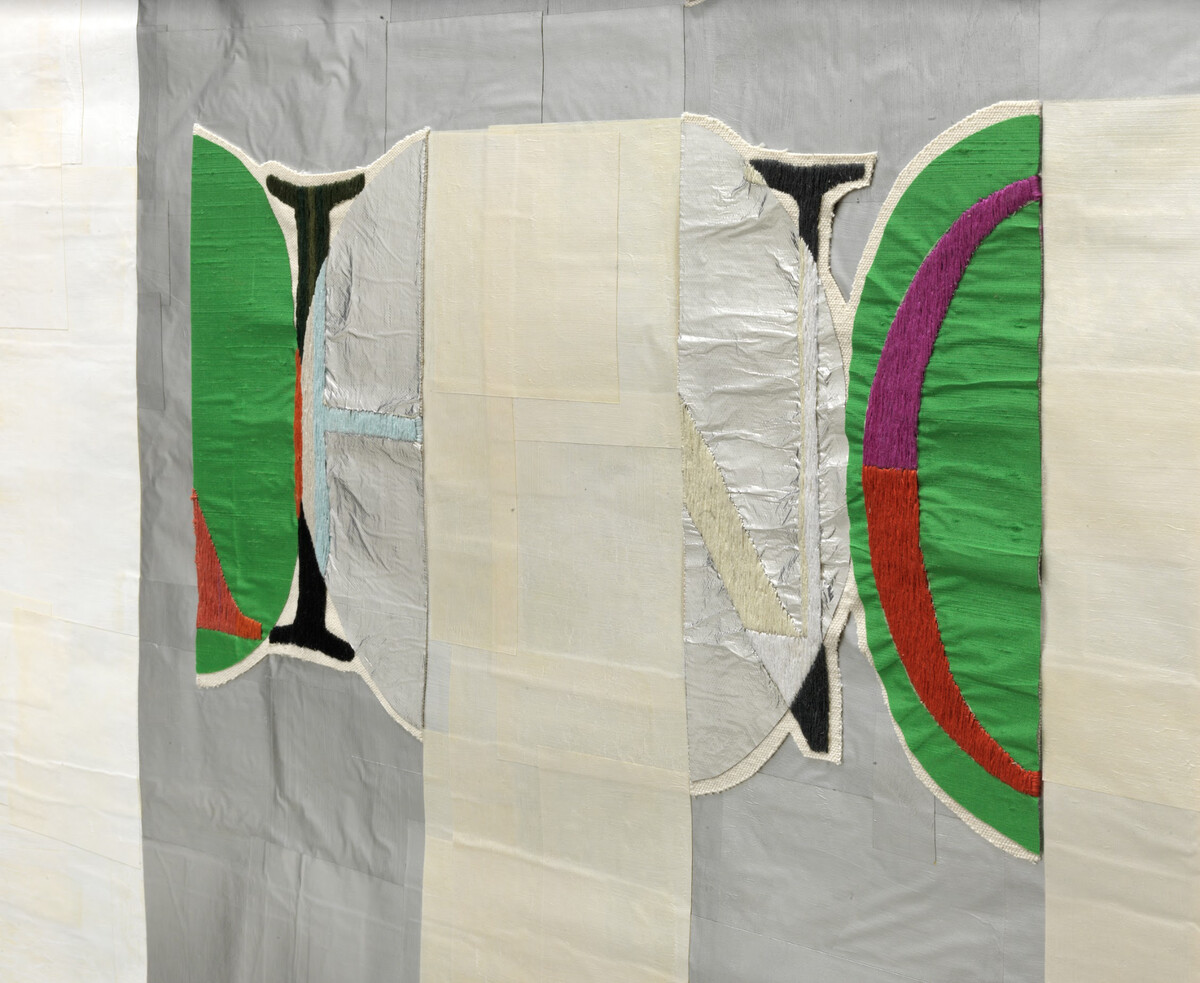 Informed by her encounter with Mexican textiles as a child, and the writings, diagrams, and weavings of Annie Albers and others, each of these two works have a distinct palette and their own compositional code that is exceeded by their own action. There is no hierarchy in the layers. Each material shapes and shifts the surface. Frid touches the temporal tenses — past, present, future — in a compositional play where linguistics and light bounce into each other. Any hierarchy gets washed away with the intersecting layers rising above and below the surfaces. Slits reveal, cloth obscures, stitches integrate, and light bounces from aluminum to painted, opalescent surfaces. Frid's compositions are made with sensorial foresight.
With each repeat, Frid touches the unknown. In our conversations Frid describes a degree of unknowing in her craft. Her knowledge of an embroidery stitch yields the next stitch, yet it is the cumulative total of stitches, amassed by the repetition of a gesture, that transgresses the very border filled.
Dianna Frid chooses her words very carefully.
---