PATRON is proud to announce
A Tapestry of Lost Architectures
, a focused two-artist presentation of works by Caroline Kent and Noé Martínez for EXPO Chicago's EXPOSURE section. Both artist's works speak to cultural fragments from a distant and not so distant past.
Noé Martínez's sculptural practice is informed by the stories of his ancestors, the Huastec people—Mayan Indians of Veracruz and San Luís Potosí states in east-central Mexico. His ceramic works are a reinvention and reactivation of traditional ceremonial artifacts that "History" has largely forgotten.
Tlacuache
(2022) (or possum) is a ceramic vessel the artist created based on artifacts and oral histories of the Huastecs. Possums in many Mesoamerican cultures were symbols of transcendence between the land of the living and dead, reality and dreams. Martínez envisions his artistic practice as a call "upon now to call upon the past."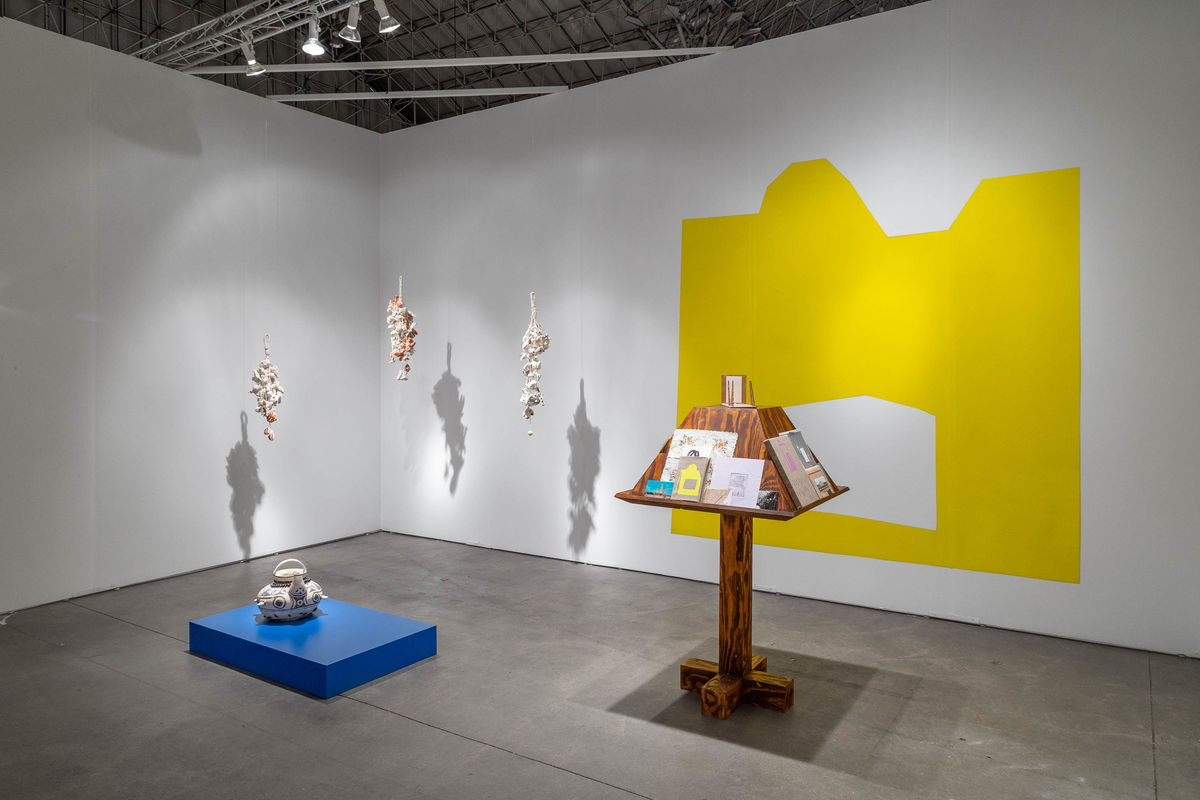 Also presented are three of his
Racimo
(2022) (or cluster) sculptures inspired by unearthed artifacts found in tombs of buried indigenous enslaved people in the Mexican city of Pánuco. Pánuco was a site used during the transatlantic slave trade to traffic people throughout Latin America and the Caribbean. Each Racimo in this presentation represents a slave route, specifically Pánuco to Cuba, Pánuco to Santo Domingo, and Pánuco to El Seíbo. Some of the ceramic objects suspended from each
racimo
include clay rattles within them. In Huastec culture, the spirit world is expressed through sound, or in other words, sound is where spirits exist. Figuratively speaking, the rattles in these works carry the spirits of enslaved people from the ground to the universe of spirits.
Caroline Kent's engagement with painterly geometric abstraction investigates form, color, shape, and scale as a means of language-building. Language is created through conceptual frameworks that are presented in the form of drawings, paintings, sculpture and performance. Within this presentation, Kent has chosen to paint her forms directly on walls. These moments of color flank
A site of study and reflection
(2021-ongoing), a work intended to be a site for investigation. The design of this reading/seeing stand references a similar structure encountered in the home of Mexican architect Luis Barragán. It references traditional Mexican forms, in this case Ziggurats or step pyramids often found in Mexico and Central America. Placed on the upright table shelf are a collection of small paintings on linen and paper, family memorabilia, old postcards, reference images, typed works, collages, and handwritten notes. She keeps the stand in her studio to work through ideas and discover points of connection. Being partially of Mexican descent, Kent's patchwork of images and objects compose missing parts of her past and heritage. More recently, she has been interested in imagining domestic spaces as sites for secret communication.
For the artists, abstraction–in its various forms–has the potential for new meaning-making.