Harold Mendez
Artforum / Jan 12, 2017 / by Daniel Quiles / Go to Original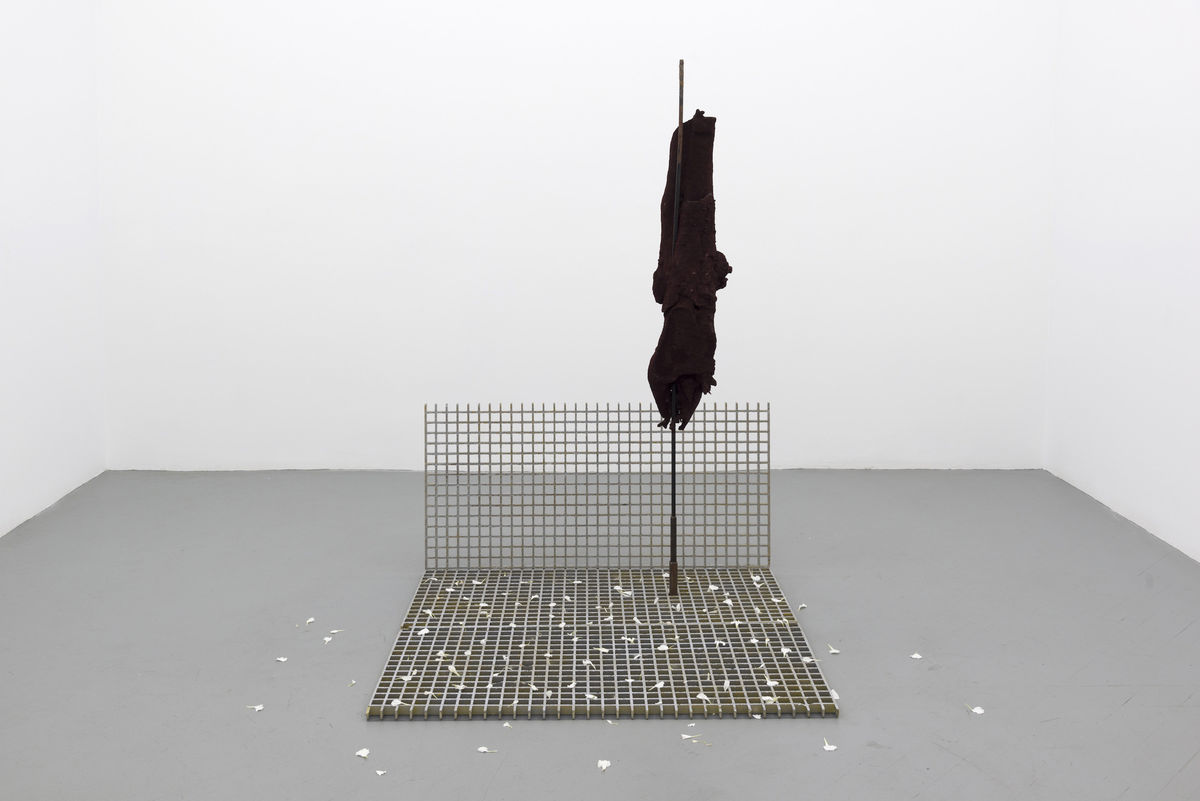 Harold Mendez's American Pictures, 2016, consists of one gridded industrial mat, sprayed with a fine layer of enamel paint and laid flat on the floor, against which another painted mat is propped at a perpendicular angle, creating a sort of stage for the work's focal point: a tree trunk impaled on a wrought-iron rod. The gnarled trunk has been covered, almost beyond recognition, with wine-red powder made from the crushed bodies of cochineal insects, while white carnation petals have been sprinkled on the base of the construction. White Carnations are used by indigenous Mexicans to commemorate the dead - but whose funeral were these intended for? One's immediate impression of the ambiguously figurative shape, too small to be an adult body, was nonetheless of a torso, perhaps the charred reminder of an unspeakably gruesome act. Yet on closer inspection one was struck by the tension between this form and its delicately crafted surface, rather than by overt horror.
"At night we walk in circle," which was the artist's first commercial solo exhibition in his native Chicago, has established Mendez as a thoughtful and meticulous assemblagist and photographer who arranges diffuse multimedia objects to suggest networks and associations between them. The Gallery's first room featured three sculptures, a photograph, and a mixed-media photographic work - and at every turn, the level of detail rewarded sustained looking. In the gallery's front window was Margarita, 2016, a faux-indigenous feathered headdress made from a batting helmet's foam stuffing strewn with feathers and leaves collected from the El Astillero mountains of Zacatecas, Mexico. This crown of sorts was propped high on an elegant steel base that contrasted sharply with the rusted iron of American Pictures. Its quasi-anthropological display was echoed by the suggestion of a shrunken head in I did not become someone different/That I did not want to be, 2016, a coconut shell covered with moss and Kool-Aid, which sat atop another reclaimed iron pole curved slightly at the top as if listing under it's own weight. The verticality of both works conjured absent bodies, evidencing Mendez's signature manipulation of materials to achieve an effect somewhere between violence and preciousness. Let us gather in a flourishing way, 2016, anchored the center of the room with a large slab of travertine rock, more petals, and an oxidized copper reproduction of a per-Columbian death mask, the original of which resides in the Museo del Oro in Bogotá, Columbia. The reproduction rested upside down on the travertine sheet, its cuplike recess filled with water so that the distorted features in relief shimmered. The visual potency of this work-which may be intended as a memorial to the horrors of conquest-lies in its very brutality, which is revealed gradually by means of these telling details as one parses the contextual underpinnings of its components.
It is in Mendez's photography that such references become more indexical and specific. If they are not fears, they're contritions If they are not doubts, inabilities (After Melitón Rodríguez), 2015, appropriates a preserved negative of the Colombian photographer. Rodríguez was known for his street views of Medellín and Antioquia taken during the late-nineteenth-century, during which the cities underwent dramatic modernizations. Mendez laboriously transferred Rodríguez's image, which depicts a mirror inside the artist's studio, from a Xerox print onto an aluminum lithographic plate, to whose surface some pulp remained adhered. The tears in the transferred image (the result of the physical stress of Mendez's manipulations of the archival document) are visible. Elmina Castle, 2016, a photograph mounted low on a nearby wall, features the artist's shadow obscuring the floor of the titular colonial-era Ghanian gold- and slave-trading post. a ltino artist of both Colombian and Mexican heritage, Mendez is less interested in overt autobiographical references than in creating an atmosphere. His work conveys, in equal measure, funereal calm and the dread of remote yet atavistic atrocities.
---