Kara Walker, Juliana Huxtable, and More Challenge False White Recordings of Black History
Creators, Vice / Apr 12, 2017 / by Antwaun Sargent / Go to Original
"If you walk up through Harlem and along the Bronx River, you come to a space beyond the boundaries of GPS software," writes the DJ and artist Juliana Huxtable in her work Untitled, (Causal Power). Causal Power presents a prose poem that alludes to the cultural history of black life in America. Huxtable uses poetry referencing 90s hip-hop and literary figures like Octavia Butler to record small, hidden, and forgotten histories, which she researches and connects to as touchstones of her cultural identity. Causal Power is on view as part of Excerpt, an exhibition of printed matter by 15 artists including Kara Walker, Glenn Ligon, Sadie Barnette, Krista Franklin, and Samuel Levi Jones. Hosted by The Studio Museum in Harlem, Excerpt challenges the power of dominant written knowledge in the construction of black identity, culture, and history.
"There was a lot of artists across our collection who were working with texts, printed matter, and physical books," explains Adeze Wilford, the exhibition curator and Curatorial Fellow at both The Studio Museum in Harlem and MoMA. "One of the major themes of the exhibition is defining oneself by using one's own words to create an exploration of identity as a way to understand where one comes from, who actually gets to decide what is historicized, and what kind of information is deemed worthy to be put into something like an encyclopedia or into a research document."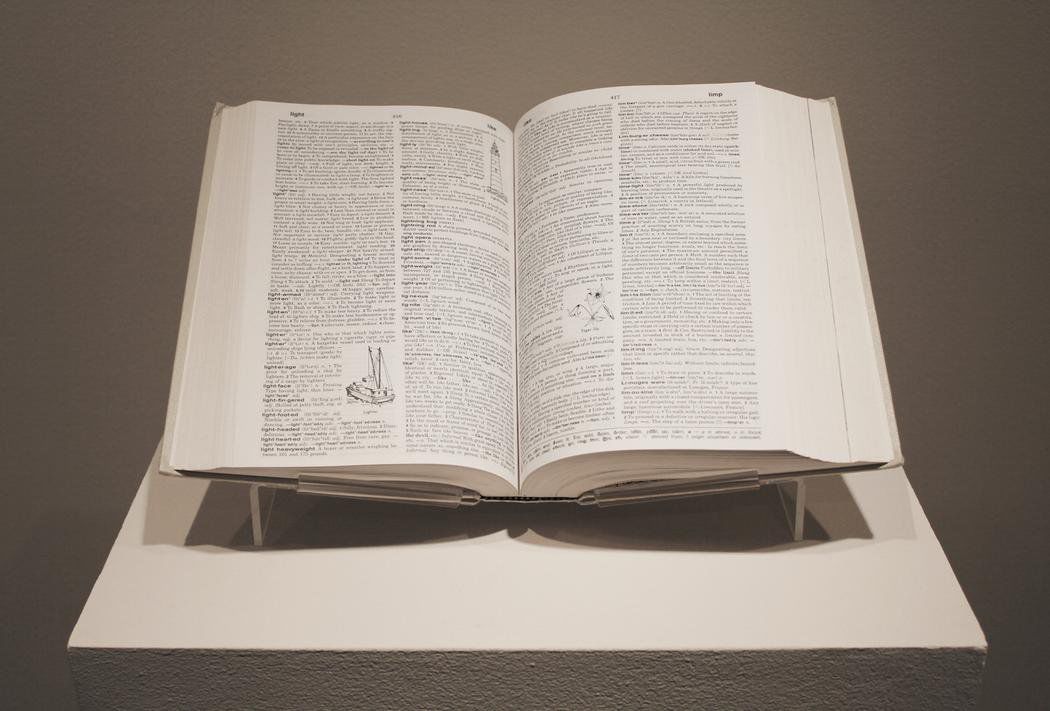 Bethany Collins' Colorless Dictionary and Samuel Levi Jones' Inordinately and Too-Too, are found object works that physically alter dictionaries and encyclopedias to question knowledge production and remembrance. Collins' annotates a Webster dictionary by removing all references to the word "white."
"She's interested in what language can do to either constrict or open up levels of conversation," explains Wilford. "Her work is based on words and their meaning and unpacking what they can do, unpacking how people use language to either impose or to expand [power and racial histories]." The gesture also acts as commentary on the erasure of people of color narratives from American popular culture and history.
Jones' two encyclopedias covered in black and red pulp also focus on eschewing traditional textuality. In burying encyclopedic knowledge, Jones alludes to the ways organized information has historically constructed misrepresentations of non-dominant cultures. Krista Franklin's …to take root among the stars, a deconstructed artist book of handmade paper and archival materials informed by surrealism and Afrofuturism, also explores "what gets to be considered worthy of being memorialized" and how often black people have to create narrative frameworks for understanding themselves, according to the curator.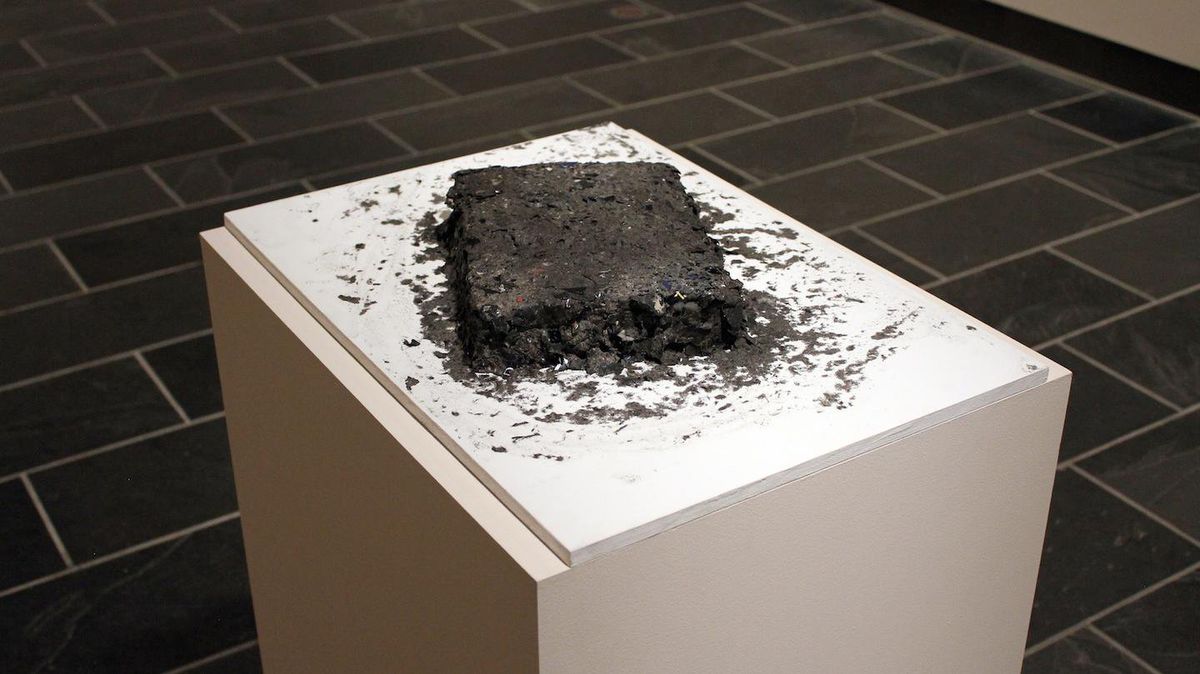 "I think in this current moment, the way we historicize information, the way that we process information, and the way that we dictate what gets said about ourselves is going to be increasingly important especially when there's so much misinformation around," says Wilford. "I think that physically having your own voice being represented and being able to articulate what it is that you're trying to explore in terms of your identity and explore in terms of pushing back against stereotypes is just so crucial." She says, "These notions are the cornerstone of what I was trying to explore in this exhibition."
---