At CVA: Beyond the news bubble, a personal kind of Mid East politics
Feb 24, 2017 / by Rubert Jenkins / One Good Eye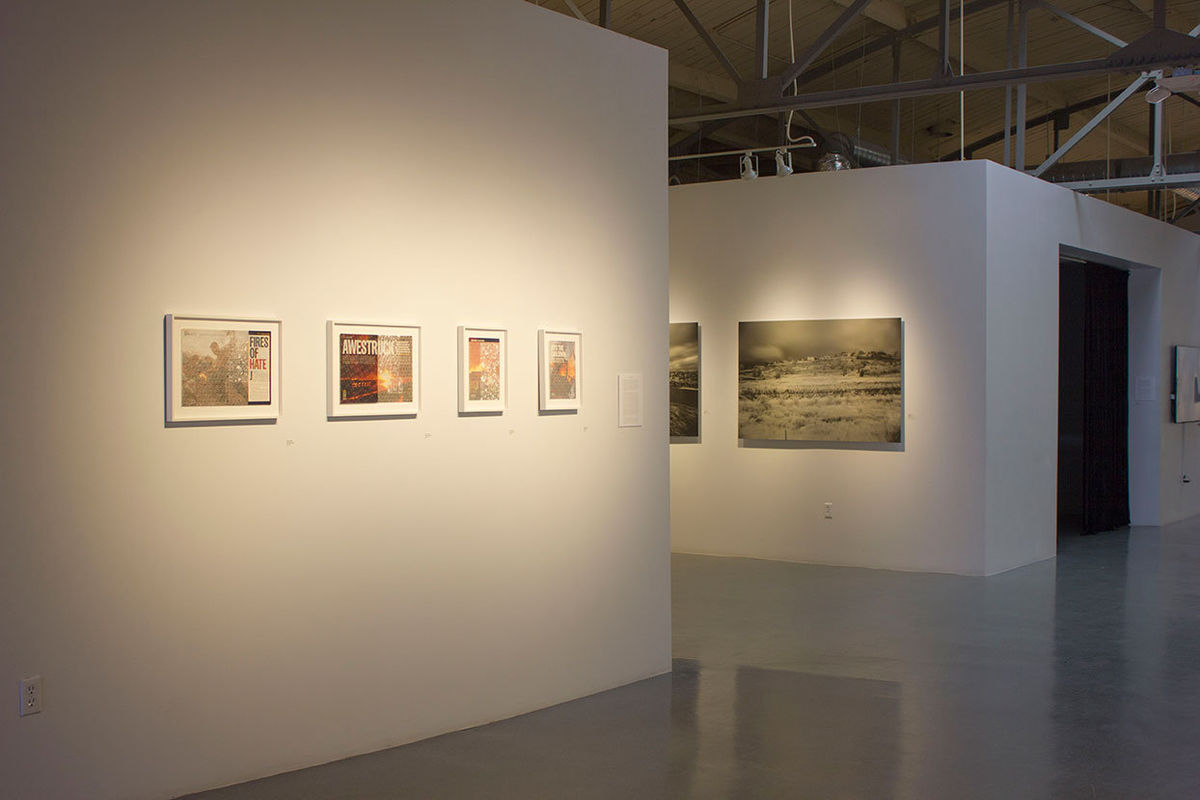 A word of warning — don't visit "Presence: Reflections on the Middle East" expecting to see a protest show railing against hot button political issues. What you'll discover instead is a nuanced exhibition built as much on identity politics as it is on remembrance and displacement.
Paradoxically, given its title, the exhibition places a strong emphasis on absence. As curators Cecily Cullen, Leila Armstrong, and Natascha Seideneck note, there is little disagreement about photography's power in relationship to memories and the past. "Often," they write, "a presence is felt most acutely through its absence. Photographs, either directly or indirectly, contain the trace of what came before." This is something the artists in "Presence" use to great effect throughout the show.
What often happens as one enters an exhibition is a confrontation with a gigantic image representing the show's leitmotif. Were CVA designed as such, I would have chosen one of Sami Al Karim's turbulent seascapes for the job. Conceived of during his incarceration under a death sentence in Iraq, Al Karim's cinematic "Dream" images represent his belief that, like nature, individuals can renew themselves and thus survive even the worst extremes. They are quite glorious to perceive.
Sami's brother, Halim, would have been another candidate for leitmotif, especially his subversively dreamy "Lost Memory 6," which up close is an indistinct yellow blur but from a distance emerges from its Richter-like haze as a woman's face of spectral intensity. Evoking a theme shared by other artists in the show — Samira Alikhanzadeh, for example — Al Karim's series, as his statement points out, "recalls 'the beloved' and a universal connection to those who have come before"
Alikhanzadeh's constructed portraits juxtapose blurred family album photos with Persian carpets embedded with mirrors. This is not nearly as incongruous as it sounds. The mirrors cast a soft reflection across the floor — a metaphor for spirits reaching out across generations, creating a dialog with viewers, her statement says, "who presently exist but will eventually be gone." Like other culturally symbolic pieces in "Presence," these are works to be unraveled and revealed over time.
The Middle East, in the context of this show, is very much "home" to its 12 artists, even though more than half of them now live in or were born in North America. Rula Halawani's contemplative series of infrared landscapes is a photographic remembrance made during visits to historic Palestine. "Returning to these places I now feel like a stranger in my own home," she writes in a poignant letter to her late father that serves as an introduction to her series.
The mood of introspection is lightened by Shadi Ghadirian's witty "Like Everyday" — a series of staged portraits made in response to the ancient Sharia, or Islamic, laws that reduce women to strictly subservient positions in society. Here, Ghadirian critiques the role of the traditional housewife. Using gifts she received at her own wedding, Ghadirian photographed women covering their faces with household objects. Just as the "hidden mothers" in Victorian photographs were reduced to anonymous cloth-covered baby receptacles, so Ghadirian reduces her sitters to absurdly anthropomorphic stereotypes, albeit wearing vibrant patterns Sharia code would never allow.
Tulu Bayar and Arwa Abouon are both North America-based artists whose works grapple with biculturalism and cultural identity. Bayar reclaims ancient materials, techniques, and forms such as Erdu, a Turkish marbling technique developed in 15th century Persia, which she incorporates into a stagey video, using herself to critique notions of Orientalism and otherness. Calligraphic script and Islamic architectural motifs reoccur throughout the show. Where Bayar integrates Arabic script and obsolete roll film into an adjacent series of wall sculptures, Abouon overlays patterns suggesting Islamic architecture onto photographs of an elderly couple, who I presumed to be her parents. Like Bayar, self-portraiture and duality function throughout her work, as in a pair of reflected self-portraits showing the artist in traditional and modern dress.
Breaking the two-dimensional surface, Laleh Mehran's "Entropic System" is an interactive installation dominated by a gold pendulum slowly inscribing Persian patterns into glittering dust. A real-time display screen shows a satellite-like view of the emerging geometric forms. Mehran's work is technologically intriguing and seems apolitical, yet a subtle critique of systems of power is there to be discovered outside the darkened room, where a kaleidoscopic video montage of international currency suggests regimes and economies colliding at light speed.
Samira Yamin and Golnar Adili offer collage of a different kind. Yamin appropriates "sacred geometries," to use her term, cutting them into TIME magazine pages that obliterate articles about Middle Eastern wars and conflicts. Her process, outside of its ideological intent to obscure one systematic informational system with another, is extraordinarily intricate. Adili's panoramic collages make the concept of living between two worlds visually specific. Perhaps accidentally, a series of Ruscha-like streetscapes pasted into diaries alludes to, yet also elides, ideological conflict. Their chronology begins on September 26, 2001. Leafing through the pages, it slowly dawned on me what had happened just days earlier that same month, on a clear blue day in New York City…
Tarek Al-Ghoussein and Javid Tafazoli are the show's "straight" photographers. Tafazoli's B&W images are essentially modernist records of daily life in Iran. One outstanding image, taken from behind, of women grouped in prayer is reminiscent of the films of Shirin Neshat, in which symmetry and ritual coalesce within a potentially chaotic space. In contrast, Al-Ghoussein concentrates his lens on the interiors of buses, peering his lens into the front windshield. What he reveals is a colorful micro-universe of personal items — a collective portrait without a human subject in sight.
In the context of Trump's updated "Axis of Evil" campaign, "Presence" is obviously timely. For anyone wanting to step out of the media news bubble, it's a welcome opportunity to grasp the complexities not so much of the Middle East, but of what it means to be Middle Eastern. I'm keen to discover more Month of Photography exhibitions that match its curatorial ambitions. Two years ago, CVA's MoP show of photography from South Africa was a slam-dunk success; not to mix metaphors, but here's to a Triple Crown in 2019.
"Presence: Reflections on the Middle East" is on view at MSU Denver's Center for Visual Art, 965 Santa Fe Drive, through April 8, 2017. Golnar Adili will be speaking at the Center at 6pm on Wednesday, March 29 (free).
More information is online at msudenver.edu/cva. The show is presented in conjunction with Denver's Month of Photography. Details and listings of all the MoP shows and events are online at mopdenver.com.
Rupert Jenkins is a writer and curator who lives in Denver. His company, Durrington Edits, specializes in arts-related editorial projects, exhibition planning, and consulting, with an emphasis on photography and the photo-related arts. rupertjenkins.com.