7 Artists Making Waves in Frieze LA's Focus Section
Cultured / Feb 17, 2023 / by Annabel Keenan / Go to Original
The 2023 Frieze LA Focus section features 19 emerging galleries taking on global issues, and artists you'll have to keep an eye on.
All eyes are on Frieze Los Angeles, which returns for its largest edition today at the sprawling Santa Monica Airport. Providing one of the best opportunities to discover rising stars is the fair's Focus section, which features emerging artists and galleries. Curated for the second year by Amanda Hunt, along with new associate curator Sonya Tamaddon, this year's selection highlights BIPOC artists, as well as those dealing with social issues and current global events. With 19 exhibitors compared to last year's 11, there is no shortage of talent. Here are seven standout artists to note in this year's Focus section.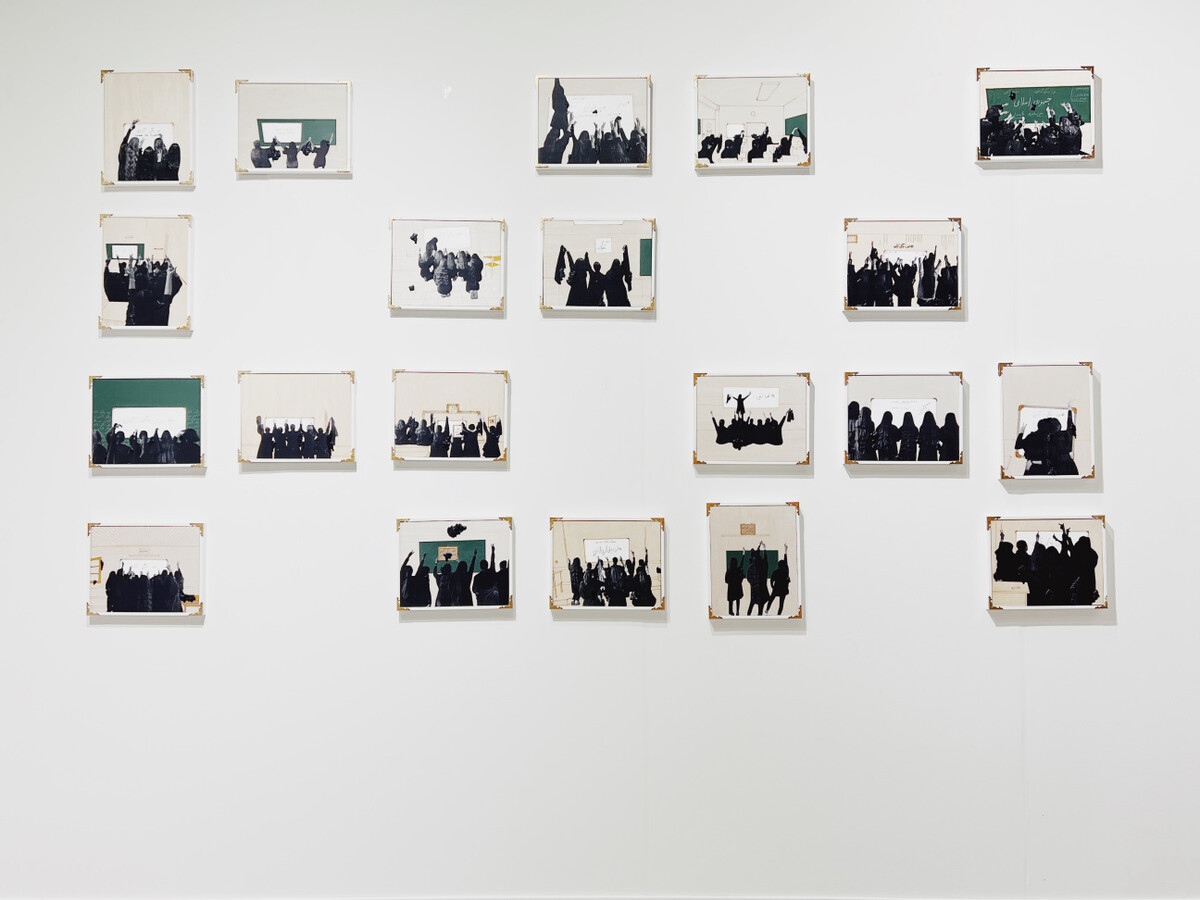 Mojdeh Rezaeipour

Chela Mitchell Gallery, D.C.
Exhibiting at Frieze for the first time, D.C.-based Chela Mitchell Gallery is showing new mixed media works by Larry Cook and Mojdeh Rezaeipour. Born in Iran and now working in D.C., Rezaeipour uses her art to tell personal and collective diasporic stories. Since the death of Jina (Mahsa) Amini in September, the artist has focused on the protests in her home nation.
Rezaeipour's works on view at Frieze LA repurpose images of Iran's Woman, Life, Freedom Movement, and pay homage to the young female activists who are fighting for women's rights and joining anti-establishment protests against police brutality. Rezaeipour sources her imagery from social media, a tool that has become crucial in information-sharing and documentation, as well as in the creation of a world-wide call for support of the protesters. Part of an ongoing series titled "On Matters of Resilience," Rezaeipour has chosen to portray an aspirational view of women in Iran, showing images of women and young girls removing their hijab and collaging them into various school settings. With their backs to the viewer, the identities of the women are all hidden, emphasizing the collective nature of the uprising. Some women pose in celebration and strength, while others take more overtly resistant stances with their middle fingers raised high. A percentage of sales of Rezaeipour's work will go toward creating a fund to support the people of Iran and the ongoing movement.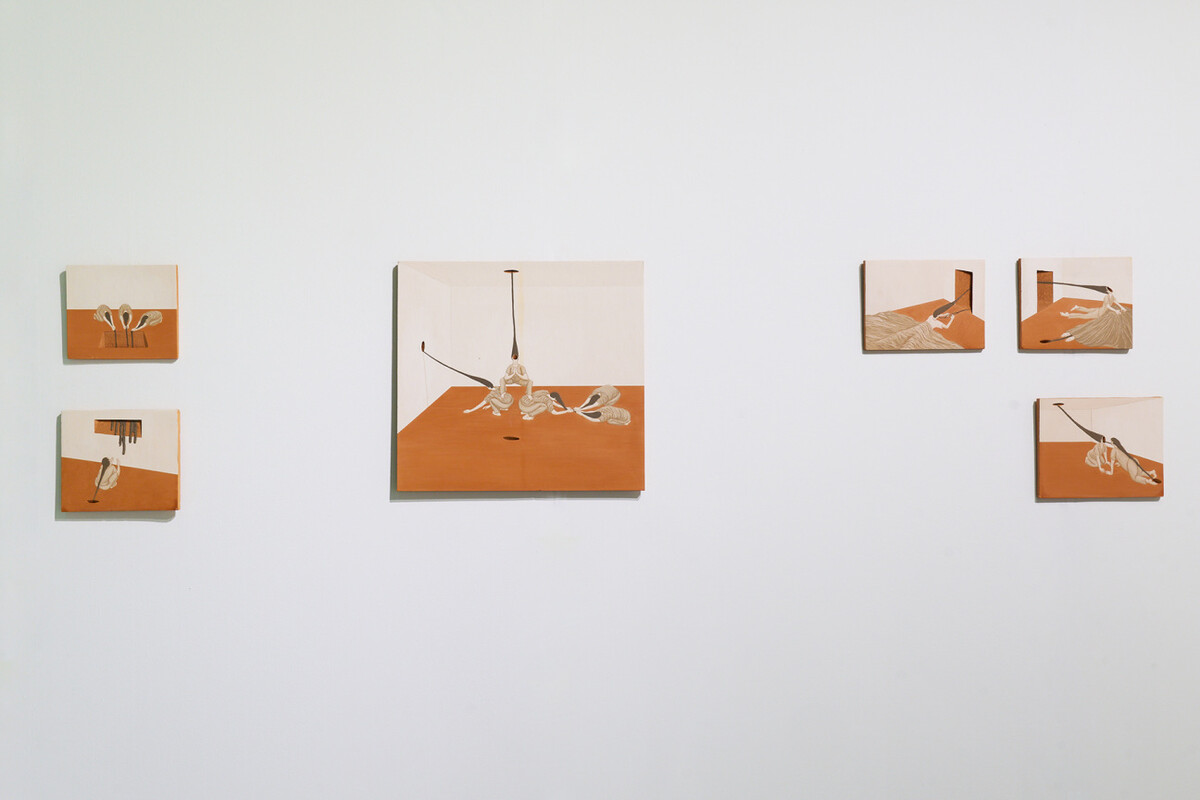 Roksana Pirouzmand
Murmurs, Los Angeles
Los Angeles-based gallery Murmurs is presenting mixed media sculptures by Ruben Ulises Rodriguez Montoya alongside ceramic wall paintings by Roksana Pirouzmand. Born in Iran and now based in LA, Pirouzmand uses her multidisciplinary practice to explore the human body as both a receiver and performer, highlighting the ability of art to communicate and create connections.
Pirouzmand's new ceramic wall paintings are all titled I was praying at home while you were dying on the streets, 2022 and relate to the artist's experience of being an immigrant abroad while protests and civil unrest spread through her home nation of Iran. Psychologically powerful, the works feature women with their hair loose, free of hijabs. The figures' long hair is seen pulled by some invisible source into holes in the ceramic surfaces and painted voids. The women are all faceless, either from turning away from the viewer or a result of their faces having been removed and replaced by empty circles. They are all in positions of prayer or meditation, their bodies jumbled and piled on top of one another, a reference to the unity and support women have been providing for one another in Iran, in particular in the wake of Jina (Mahsa) Amini's death.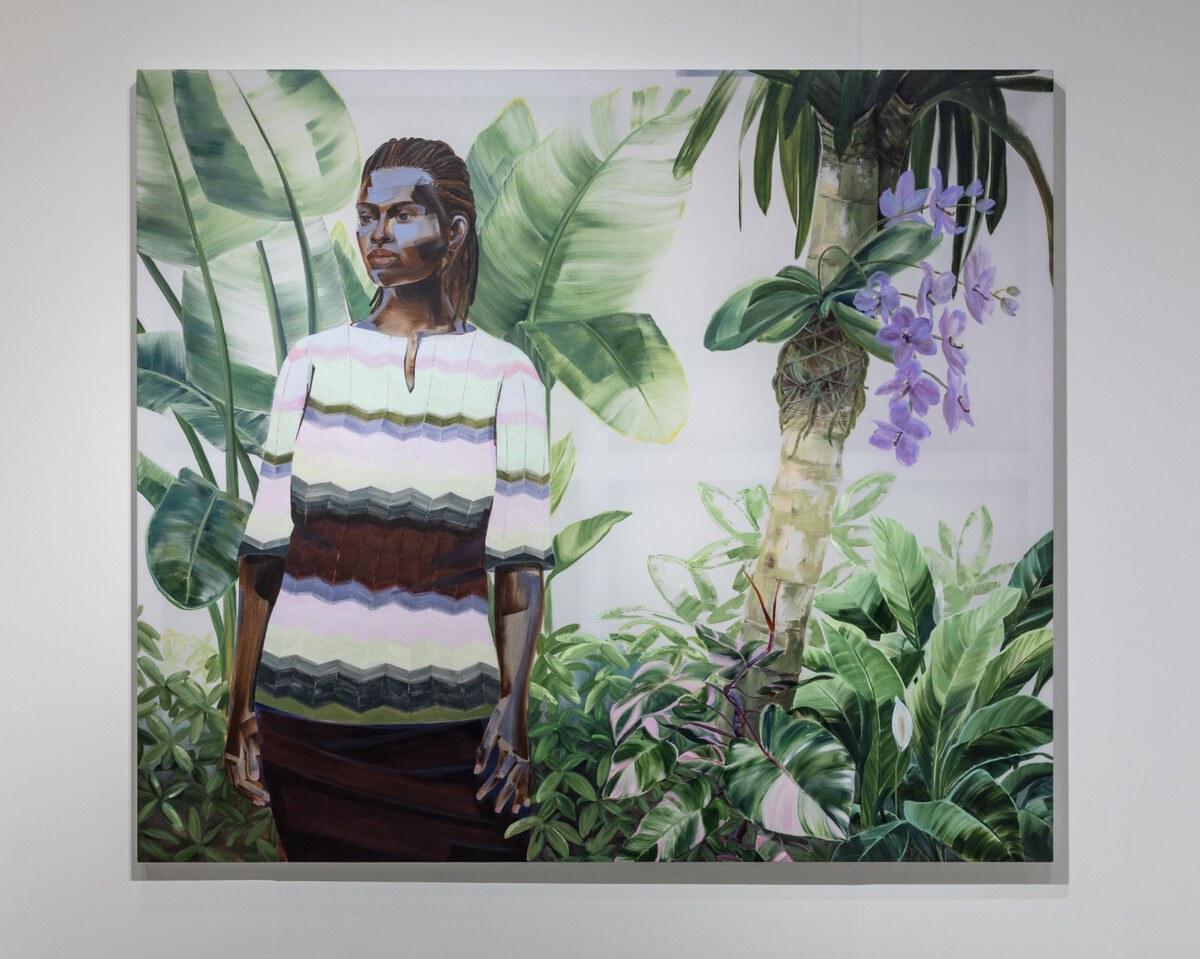 Greg Breda
PATRON, Chicago
Chicago's PATRON is presenting a solo booth of intimately cropped portraits by Los Angeles-based, self-taught artist Greg Breda. The paintings on canvas and vellum continue Breda's "Hei" series, 2018-ongoing, a reference to the fifth letter in the Hebrew alphabet. With broad interpretations, the letter can be taken to signify the presence of something, as in "behold," as well as a spiritual revelation or a threshold, translating to "window," "opening," or "fence." Breda's subjects are all in states of meditation, as if contemplating something greater than themselves. In lush, verdant settings, the figures appear in harmony with the natural world around them. Ethereal light streams behind many of the subjects and titles like Foresight and Visions allude to spiritual awakening. Apart from the trees and flowers that surround them, little context is provided, allowing the viewer to narrow in on the figures' expressions and the quietness of the settings.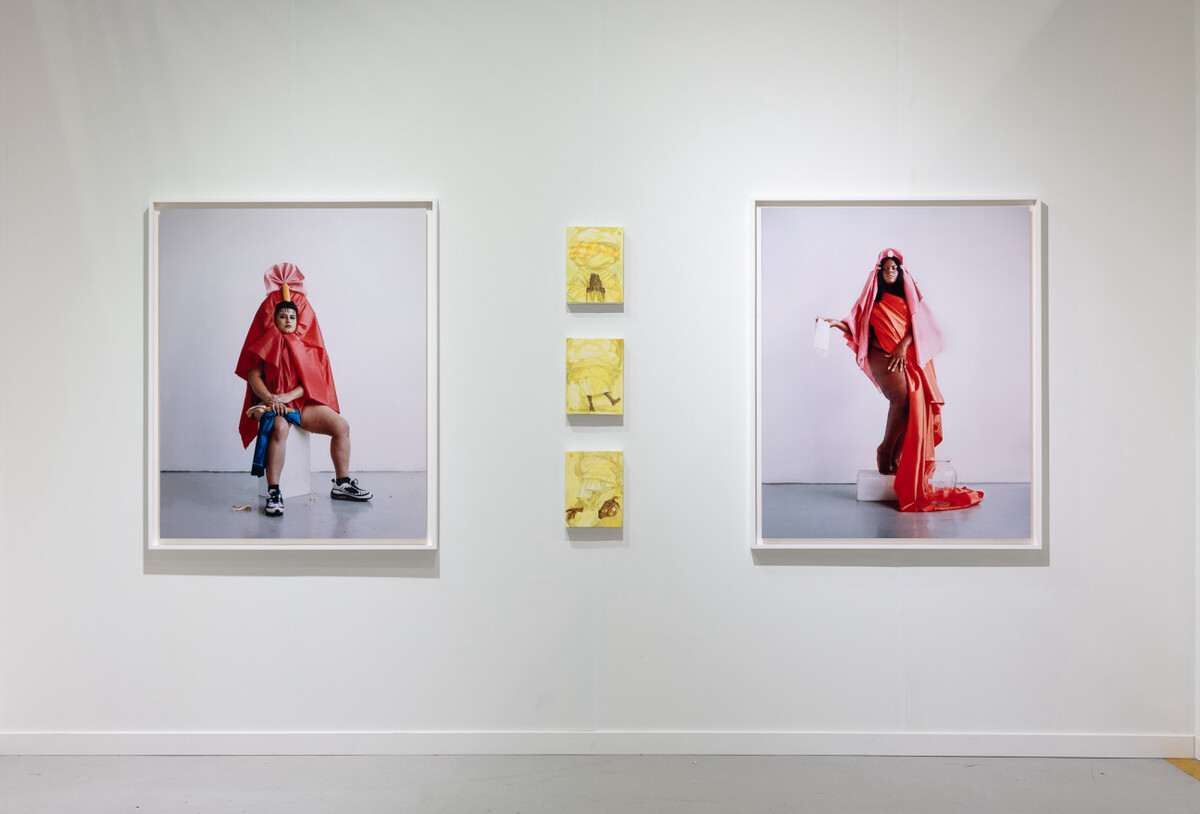 Camila Falquez
Hannah Traore Gallery, New York
Fresh off of its one-year anniversary, Hannah Traore Gallery is celebrating its Frieze LA debut with a duo-presentation of photographer Camila Falquez and painter Moya Garrison-Msingwana. Centering on the millenia-long use of drapery in art to both conceal and reveal messages to the viewer, including signifying wealth and beauty, the two artists offer a contemporary reading of the motif and challenge viewers to reconsider how and by whom drapery can be used.
Sensual, red drapery features in Falquez's photographs of trans people and activists. Facing the viewer straight on and holding bold poses that resemble contrapposto gods and goddesses of antiquities, Falquez's subjects command the viewer's attention and reverence. Her figures exude beauty and a regal energy that is confident and empowering. Falquez has positioned her subjects on pedestals, some of which resemble marble bases of classical statues and others take a more contemporary, urban approach, using everyday objects like a bucket to elevate the figure. Falquez proposes an image of beauty and power that knows no limitations.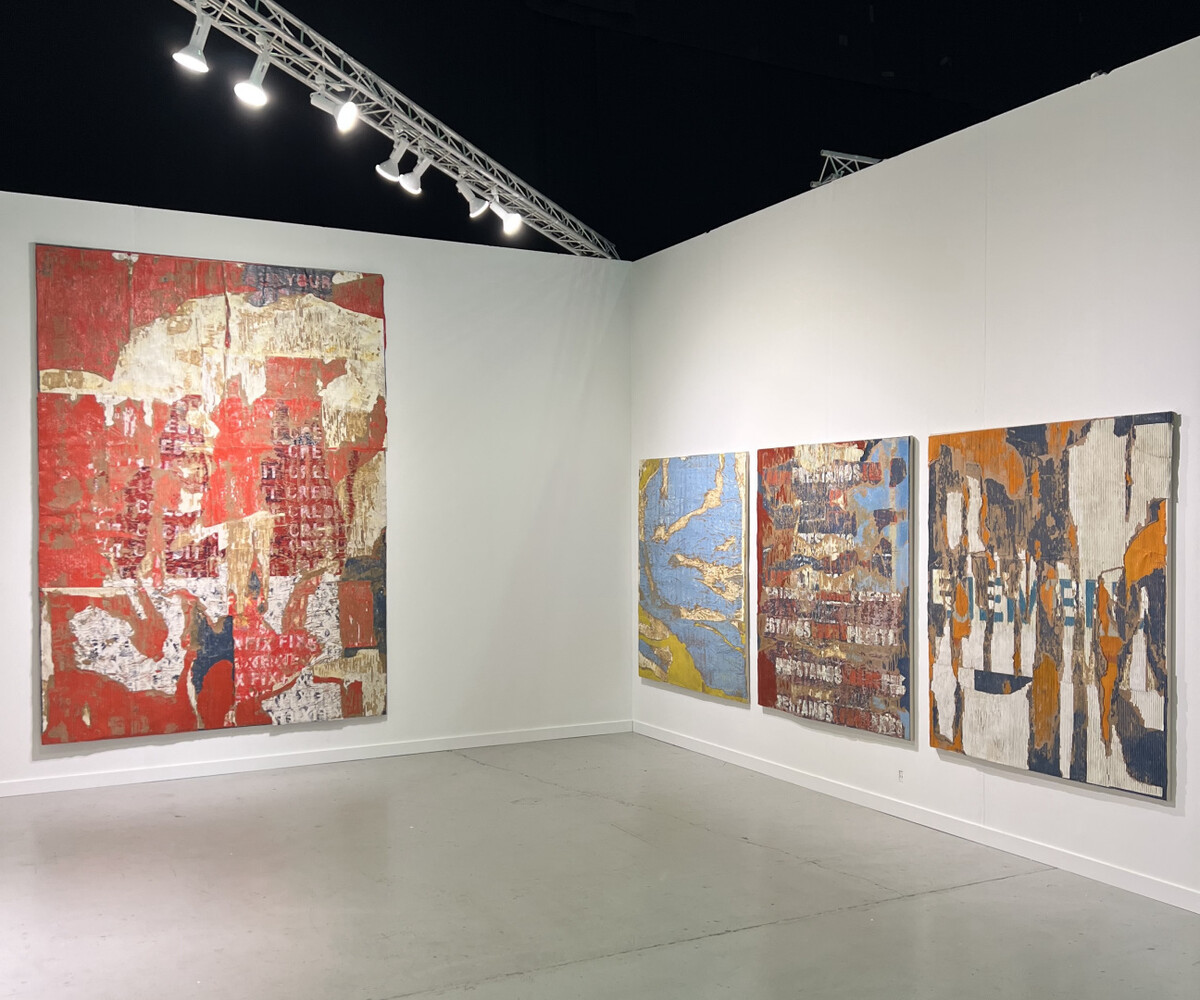 Edgar Ramirez

Chris Sharp, Los Angeles
For Los Angeles-based gallery Chris Sharp, Edgar Ramirez created a new body of work that investigates the visual culture of commerce and how trade, exploitation, and decay are all intertwined. Ramirez focuses on Wilmington, Los Angeles, the part of the city in which he grew up. Known for its high concentration of industry, in particular related to oil production and trade, the streets in this area are covered in posters advertising the nearby toxic refinery and the brands of shipping containers that loom over the neighborhood. Ramirez uses these posters along with what he refers to as PLPs (predatory loan posters) in low income areas as the subject of his work. Reinterpreting the signs and symbols of these posters, Ramirez uses house paint to create layers of colors on cardboard in abstract compositions. Through an aggressive subtraction process, he further manipulates the surface, creating a weathered appearance that resembles the layers of posters that continually blanket the walls and telephone poles of the street. Like monuments to urban decay and the cityscape of Ramirez's home, the final works are mounted on canvas.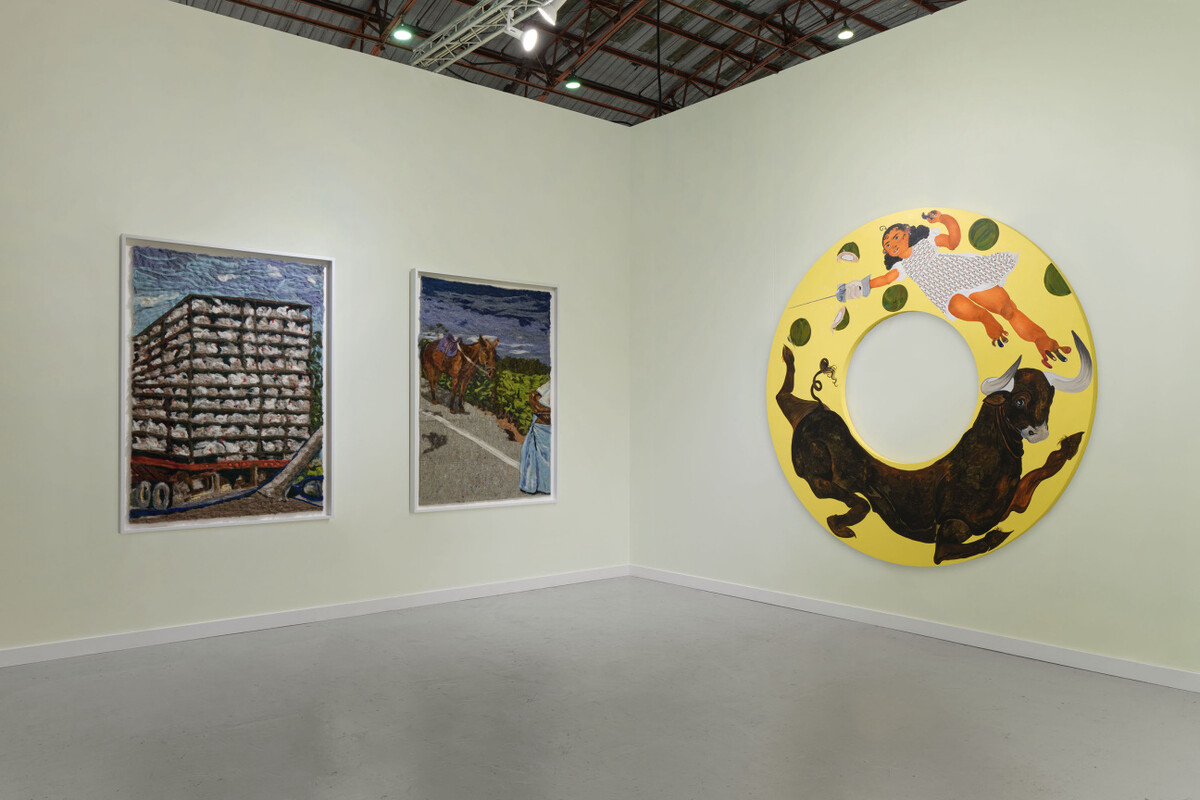 Melissa Joseph

REGULARNORMAL, New York
For New York-based REGULARNORMAL's debut Frieze LA booth, the gallery is exhibiting an eclectic range of works by Melissa Joseph and CULTURED Young Artist Bony Ramirez in a presentation titled "Captive Rest." Through different mediums and aesthetics, the two artists investigate connective themes in their work, specifically the challenges of finding a sense of self in different places and cultures. Both artists explore community, tradition, and collective memory through their materials and imagery.
Joseph's works highlight her artistic range and include stunning, needle-felted wool and carved, stained porcelain, all of which are adorned with intimate narrative and figural scenes. In her large, needle-felted wool paintings on industrial felt, the artist investigates the relationship between animals and humans, depicting a horse in India that is saddled and ready to be ridden, as well as a truck filled with seemingly endless rows of chickens. The latter, 2 miles behind the chicken truck, Bentonville, AR, 2023, includes a glimpse of the inside of a car, situating the viewer in the passenger seat. Joseph complements these large works with small paintings on porcelain, each offering a glimpse at a personal moment. Intimate and candid, Joseph's imagery is often sourced from photographs and memories from her own life.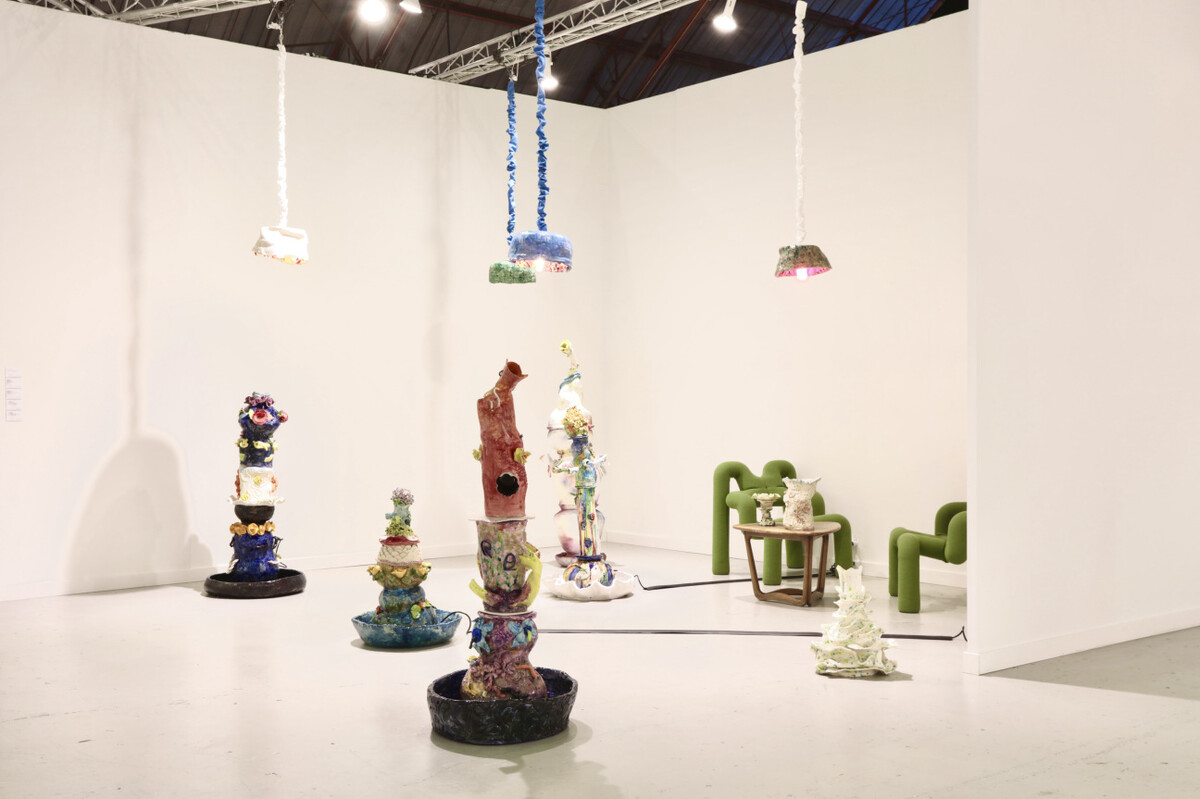 Sophie Wahlquist

Baert Gallery, Los Angeles
Bringing whimsy and water to the fair is Sophie Wahlquist, whose biomorphic ceramic fountains and light fixtures are on display in Baert Gallery's booth. Resembling a colorful oasis, the display of functioning sculptures invites viewers to consider the long legacy of ceramicists in Los Angeles while embracing a multi-sensory experience. Wahlquist made the works specifically for the Frieze presentation.
Included in Wahlquist's immersive environment are colorful, totemic fountains that are layered with hidden details like flower petals, leaves, and entire vases. Almost cake-like in their tiered structure, the fountains are packed with captivating colors and shapes. Colorful and discordant, Wahlquist's sculptures are a visual feast. Drips of paint cascade down some surfaces while others retain separate fields of clearly defined motifs. Tall, slender cylinders juxtapose short, stout pillars. Vines and flowers weave in and out of pipes, as if plugging holes in the fountain's surface. Every angle seems to reveal a completely different element. Refreshing and unexpected, Wahlquist's presentation adds a welcome three-dimensional element to the fair
---