Highlights and Surprises: A First Look at EXPO Chicago 2015
Sep 19, 2015 / by Ionit Behar / ArtSlant
In its fourth edition, EXPO Chicago has shown considerable institutional growth, adding new programs and publications, and expanding from 125 galleries in 2012 to 140 from 16 countries in 2015. A few months ago, signs promoting the fair popped up all around the city, boosting expectations for art lovers. Although EXPO is open to the public for just three days, the week of September 14-20—now referred as the EXPO Art Week—is one of the Chicago art scene's busiest times of the year. Collectors, artists, and curators from around the world meet in the Second City for scores of events built up around the EXPO centerpiece, among them: gallery openings, gala benefits, lectures, curator-led private tours, and performances.
A real highlight of this year's fair is the site-specific installations, with large and performative works located in and around the Navy Pier. These curated projects are part of the IN/SITU and EXPO PROJECTS initiatives including works by emerging and established artists represented by 2015 exhibitors: Daniel Buren, Amalia Pica, Hunter Reynolds, Jason Salavon, Dan Sullivan and Edra Soto, Hank Willis Thomas, Jim Rick and Ryan Alexiev, Iñigo Manglano-Ovalle, Jessica Stockholder, among many others. In the overwhelming environment of this and any art fair, with a majority of abstract and geometric art, Hunter Reynolds' project Survival AIDS – ACT UP Chicago – A Revolution caught my attention. Located on one the side hallways, next to the restrooms, this project is hypnotizing and harsh. Reynolds, a visual artists and AIDS activist, created three wall-sized panels made of photo collages of scanned newsprint of articles on AIDS and material from Positively Aware, a not-for-profit HIV/AIDS treatment journal published by Test Positive Aware Network (TPAN) in Chicago. Here, Reynolds uses archival material from the ACT UP collection at the University of Chicago and the private collection of Chicago HIV specialist D. Daniel S. Berger. One panel features a photo of the artist dressed up as his alter ego, wearing his AIDS Memorial Dress with 25,000 names of people who have died from HIV/AIDS. There will be a performance by the artist on Sunday, September 20.
Another EXPO PROJECT of note is Dan Sullivan and Edra Soto's DominoDomino where the couple, also founders of The Franklin, meticulously crafted a jatoba wood table with corian inlay, inspired by the cement domino table common to Puerto Rico. Interested in building relationships and friendly environments, Sullivan and Soto's installation evokes a game room where friends and strangers are both invited to interact.
Garth Greenan Gallery's sparsely installed booth at EXPO Chicago 2015
A surprise was the almost empty booth of New York Gallery Garth Greenan. What seemed to be a space to critique the art market was in fact the calm space needed for three wonderful and delicate works by Argentine artist Victoria Gitman who recently had a show at the Pérez Art Museum Miami (PAMM). These three works, one on each wall, are incredibly naturalistic oil paintings representing beaded and fur vintage purses that the artist finds in thrift stores, flea markets, and online. The paintings force the viewer to get near the work; the proximity might create not just a visual experience but a tactile one where one imagines touching the canvas or the actual purse. I was greeted by the artist herself who generously took the time to describe her work: "They are small abstractions." The geometric patterns in the purses remind her of canonical artists such as Sol LeWitt, Joseph Albers, Kazimir Malevich, and Mark Rothko.
Charlie James Gallery, EXPO Chicago booth 2015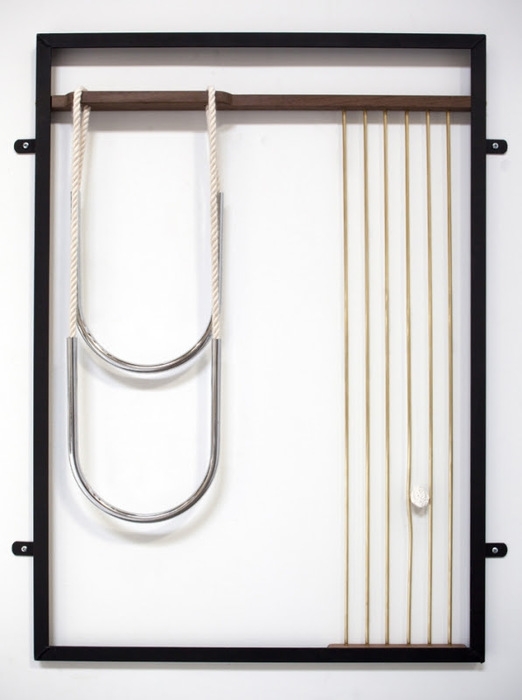 Alex Chitty, Ptng # 8 (U), 2015, painted steel, brass, chromed steel, cotton and screws, 33 x 26 x 2". Courtesy Patron Gallery
The fair's EXPOSURE initiative comprises 29 younger galleries that present one or two artists each to showcase emerging contemporary art. Patron, a gallery that opened this week in Chicago, has a small booth but presented compelling works by artists Alex Chitty and Kadar Brock. Aspect/Ratio went for a solo booth presentation of Desirée Holman, featuring her captivating three-channel video Sophont. Charlie James Gallery calls attention with an installation of light signs by artists Jennifer Dalton and Steve Lambert. San Juan's Gallery Roberto Paradise presents colorful wall artworks by Texas artist Caroline Well Chandler.
Three other booths were particularly welcoming: Tokyo's MA2 Gallery and Chicago's Monique Meloche and Kavi Gupta. Uniquely memorable was a work by Japanese artist Ken Matsubara who projects a white paper flying with the wind into a white book. Monique Meloche's booth included works by Ebony G. Patterson, Karen Reimer, Cheryl Pope, Carrie Schneider, and Abigail DeVille. The artist Mickalene Thomas was sitting next to her work, signing her recent catalogue at Kavi Gupta.
Seeing so much art at once is, of course, exciting and overwhelming. But it's the interactions at events like EXPO that make them truly remarkable: when the gallery owner, the artist, and the collector come together and relate to each other.
EXPO Chicago continues through the weekend. For the best of what's to come, check out the EXPO Weekender guide here.
—Ionit Behar