18 Artists to Watch
Dec 1, 2015 / Modern Painters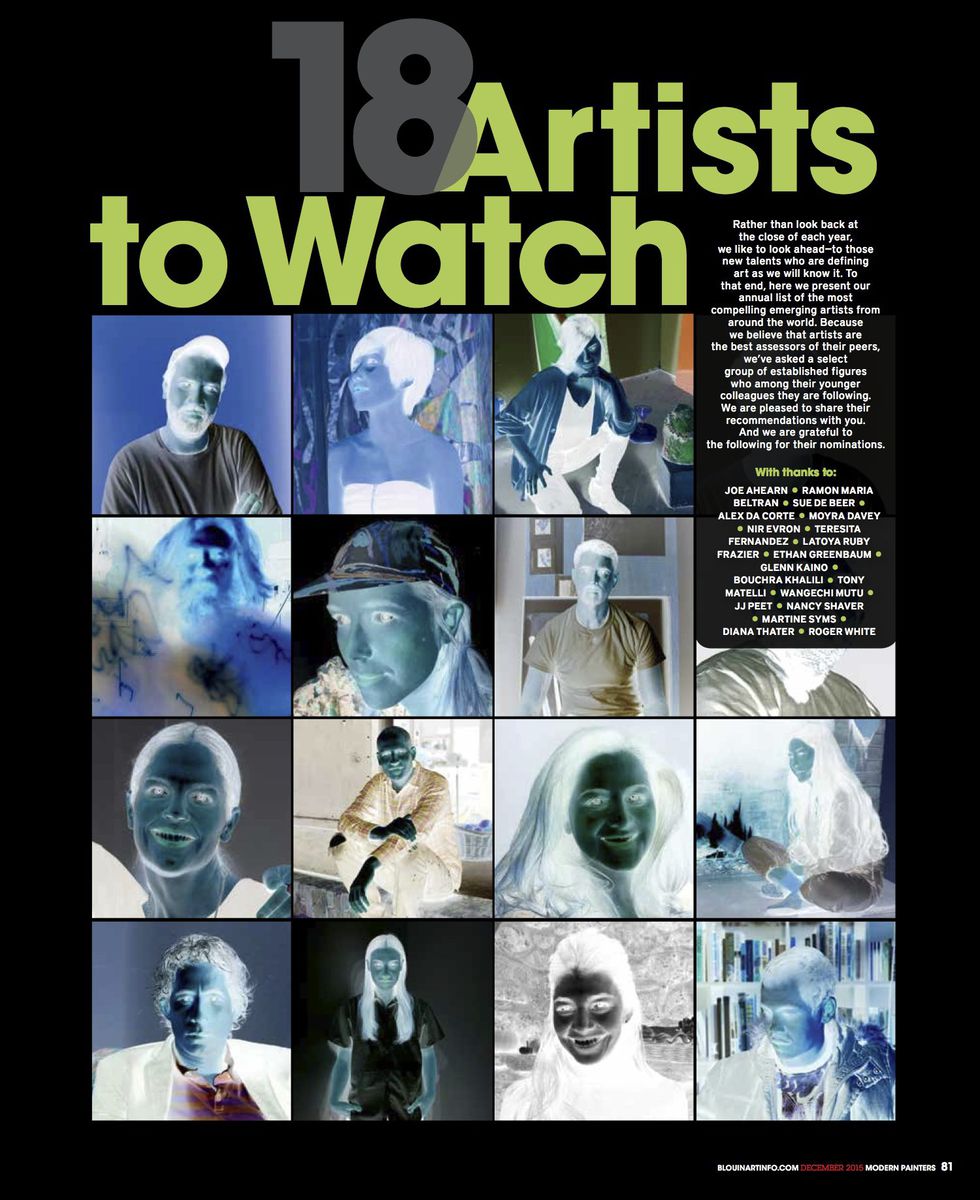 Rather than look back at the close of each year we like to look ahead—to those new talents who are defining art as we will know it. To that end, here we present our annual list of the most compelling emerging artists from around the world. Because we believe that artists are the best assessors of their peers, we've asked a select group of established figures who among their younger colleagues they are following. We are pleased to share their recommendations with you. And we are grateful to the following for their nominations.
With thanks to:
Joe Ahearn, Ramon Maria Beltran, Sue De Beer, Alex Da Corte, Moyra Davey, Nir Evron, Teresita Fernandez, Latoya Ruby Frazier, Ethan Greenbaum, Glenn Kaino, Bouchra Khalili, Tony Matelli, Wangechi Mutu, Jj Peet, Nancy Shaver, Martine Syms, Diana Thater, Roger White
Describe your approach.
I work with a time-based process that allows me to go after ideas that are both pictographic and automatic.Each painting is worked on within a set time of three days (a single session in a single layer of oil paint), during which I continuously move opposite colors so they eventually result in a gray. I think of a painting as an event; therefore, I do not return to, reconfigure, or layer a painting. During a painting session, I bury marks in fields of mute gray through actions, and navigate the pictorial among those actions. The gesturing often feels contradictory to the minimalism of the gray field, as do the pictorial intentions against the idea of movement.
What inspires you?
No objects; maybe routines are most inspirational to me. My studio is on
Hollywood Boulevard, and I like walking on the Walk of Fame side by side with disappointed tourists. I love my dog; she is my assistant. She breaks down cardboards and paper paint boxes for recycling. I love the California light that showers my studio.
What's on your must-see/do/watch/read list for the coming year?
Kelley Walker's first American survey at the Contemporary Art Museum of St. Louis;"Histories of a Vanishing Present" at the Mistake Room in Los Angeles (a show that looks at the millennial generation's relationship to identity politics). And apropos of politics and art, I am looking forward to reading Dr. Nizan Shaked's Synthetic Proposition: Conceptualism and the Political Referent in Contemporary Art.
What do you have coming up?
I am preparing for three solo shows: at Ameringer McEnery Yohe, New York, in February; Galerie Anita Beckers, in Frankfurt in April; and Patron Gallery, Chicago, in October. I have my first book coming out, titled Movements: The Work of Liat Yossifor, from DoppelHouse Press.