Talk to Me: Samuel Levi Jones at ProArts
Sep 13, 2015 / by Marie Martraire / Daily Serving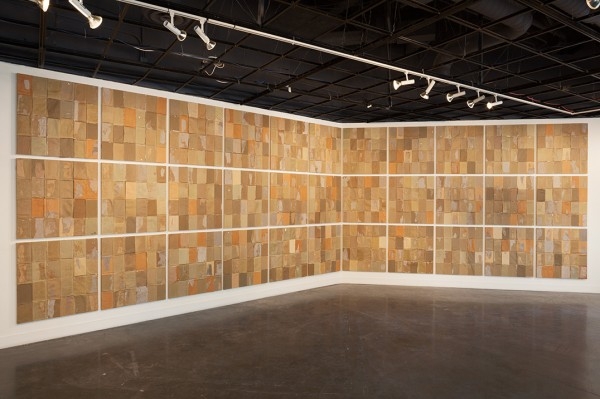 In front of Oakland City Hall, thirty-three large square collages are hung on two adjacent walls visible from the street through large windows. Neatly arranged in a giant grid, the canvases provide a feeling of order and calm. Upon closer inspection, each canvas consists of sewed unbound book covers in similar tones of pale green, yellow, and olive green. Not a single letter appears on the exposed covers, obscuring any possibility of identification.
For the site-specific installation Talk to Me, currently on view at Pro Arts and curated by Patricia Cariño, the Chicago-based artist Samuel Levi Jones skinned and sewed together covers of law books usually found in law firms or libraries. Mounted on canvas, some sections show signs of having been aggressively peeled away from their respective covers, a disruptive act that contradicts the neat order of the canvases. In Talk to Me, Levi Jones continues his long-term exploration of framing power as he deconstructs and reassembles these historical objects in non-expected and nonfunctional ways.
In an earlier project, Black White Thread (2014) at Papillion Art in Los Angeles, Levi Jones ripped the covers from encyclopedias and reference books, stitched them together in grids, and mounted them on canvas. Even though the prominence of that installation's site seemed less intentional, the artwork suggested the texts' role in producing biased bodies of knowledge. In Talk to Me, the law books are a synecdoche of the U.S. legal system and the federal and state laws as interpreted by the courts. The different shades of leather easily allude to human skin colors, in line with other artists' works such as Byron Kim's Synecdoche series (1991-present). As a result, located in front of the seat of the Oakland city government, the injured covers address their labeling powers on humans' rights and privileges. The tension between the calm order of the grid and the violence of the artist's process creates a sense of protest. By exposing these worn-out documents to the outside world, the artist symbolically deconstructs the sites of power and history.
Talk to Me: Samuel Levi Jones is on view through September 18, 2015, at ProArts Gallery, Oakland.
Marie Martraire is a curator and writer based in San Francisco. She is the Director of Asia Programs at Kadist Art Foundation, San Francisco.