Where art and science collide
Isthmus / Dec 10, 2015 / by Bob Jacobson / Go to Original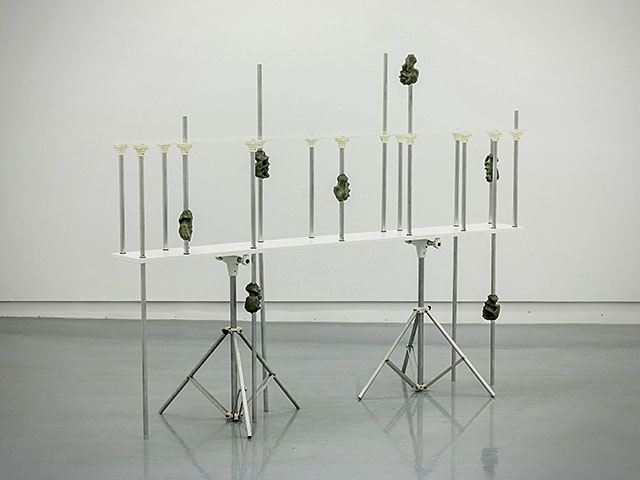 Art and science are like oil and water to a lot of people, but in reality they are more like chocolate and peanut butter — "two great tastes that taste great together." In the right conditions, they act in tandem to plumb the physical and metaphysical mysteries of existence and advance our collective understanding of life and the universe.
"Condensed Matter Community," a curatorial project featuring work by 34 artists in a variety of media, seeks to spark dialogue about the art/science nexus. Instead of a nondescript white gallery, the project has been installed at the Synchrotron Radiation Center, a recently decommissioned particle accelerator in Stoughton. It's a visually rich environment, with evidence of past experiments, in-progress preparations for new experiments, and even the random personal effects left behind by scientists who worked there.
Once home to the Aladdin electron storage ring, the center was the site of cutting-edge research for 45 years before the loss of $5 million in federal funding forced UW to pull the plug. The synchrotron beamed its final beam of electrons on March 7, 2014.
The idea of repurposing the space for a site-specific exhibit came from curators Evan Gruzis and Kristof Wickman, who both hold undergraduate and master's degrees in fine art from, respectively, UW-Madison and Hunter College in New York. Gruzis currently teaches at the School of the Art Institute of Chicago, and the Brooklyn-based Wickman is a guest lecturer in the UW's sculpture department. The two heard about the space when center staff notified the sculpture department they would have scrap materials available. Gruzis and Wickman thought it would provide an interesting context for an exhibition as it transitioned to other kinds of scientific work.
"We discovered that there was this amazing history with the site and that there was a lot of space there, and we thought this would be a great time and place to do an art exhibition," Gruzis says. Working independently of any sponsoring institution, Gruzis and Wickman reached out to their network of artists, particularly those based in the Midwest, to solicit works. They received double what they expected.
A wide range of media are represented, including video, sculpture and abstract painting. The themes underpinning the collection touch on the connections between pieces of art and scientific tools; the ephemera of scientific experiments; and the relationship between objects and workplaces. One piece, a 3D-printed prototype sculpture by Tauba Auerbach, is based on the iconic Greek key (meander) pattern, melding technology, history and design. Hand 2 (2014), by Tony Matelli, looks like a finger-streaked dusty mirror, but is actually a permanently fixed composition.
There's also appropriation art, in the form of work by David Robbins, who for several years has been appropriating books by an author also named David Robbins and placing them in various settings. The effect is a fusing of identities, creating ambiguity about authorship. Which David Robbins is responsible for the art if it took the efforts of both guys for the book to land in that particular place at that particular time?
"What's interesting is the pieces being in this context," says Gruzis. "Some of the work could even get lost in there or blend in or get camouflaged, in a way."
UW senior instrumentation technologist Mary Severson is a beamline scientist who worked at SRC for 24 years. She is in charge of finalizing the decommissioning of the facility and disposing of the equipment, some of which has been sold, some repurposed through UW Surplus With a Purpose, or SWAP, and some recycled.
The facility will next be used to manufacture equipment for detecting neutrinos (subatomic particles produced by radioactive decay) as part of the Deep Underground Neutrino Experiment, an international project based out of Fermilab (the particle physics accelerator located outside Batavia, Ill.). Visitors to the art exhibit can also view the massive ice drills and neutrino sensor.
The Synchrotron Radiation Center is located at 3731 Schneider Drive in Stoughton. A public reception is slated for Saturday, Dec. 12, 5-8 p.m. The exhibition can be seen by appointment for about four weeks afterward. All of the artwork will be documented and made available at condensedmattercommunity.org.
---