Review: Theory of Forms at Patron Gallery
Dec 17, 2015 / by Timothy Winkelman / Hairy Rainbow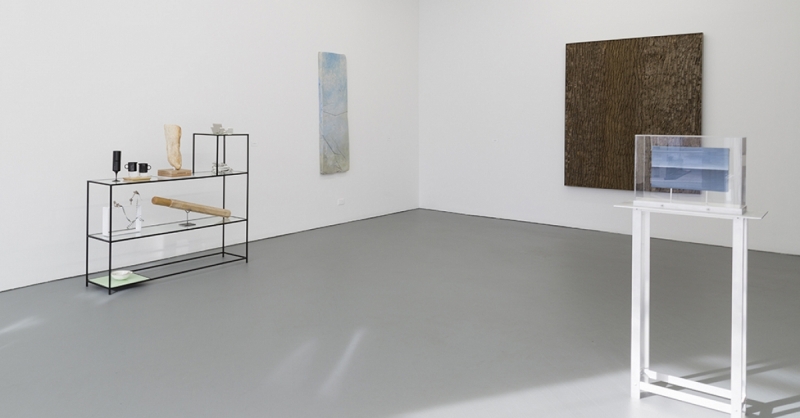 PATRON Gallery is a new space, taking over Shane Campbell Gallery's previous space on Milwaukee Avenue. For its inaugural exhibition, Julia Fishbach and Emanuel Aguilar brought together eleven artists. The artists in the exhibition include: Daniel G. Baird, Kadar Brock, Alex Chitty, Mika Horibuchi, Samuel Levi Jones, Matthew Metzger, Bryan Savitz, Kristen Van Deventer, Nick van Woert, John Patrick Walsh III, and Liat Yossifor.
These artists were brought together through the relation they all share to Plato's Theory of Forms. Briefly, these artists all explore manifestations of concepts into physical reality and explorations into interpretations of reality.
The gallery itself is divided into two distinctive spaces that reflect two equally distinct types of work shown. Upon entering the space, it is made apparent that this first space is devoted primarily to work that simulates reality through material manipulation. The second focuses on a more traditional view of trompe l'oeil.
Through these eleven artists, we see how trompe l'eoil can continue to challenge reality. When I first came into this exhibition, the idea of "trompe l'oeil" was a dated ploy used by artists. Theory of Forms transforms this notion into one that moves seamlessly from manipulation of material to simulate non-art materials to perfected pictorial representation.
Our reality is not as clear cut as it may seem. What seems to be tree bark may or may not be real. These artists brought together in this new space allow us to question our interactions outside this space. Is anything as it appears? How to we determine this?