Harold Mendez: 'I feel like I'm communing with the past'
The Art Newspaper / Nov 30, 2021 / by Jonathan Griffin / Go to Original
The Los Angeles-based artist on Columbus's secret religion, Rauschenberg's scrapyard—and the hunt for Belkis Ayón's grave.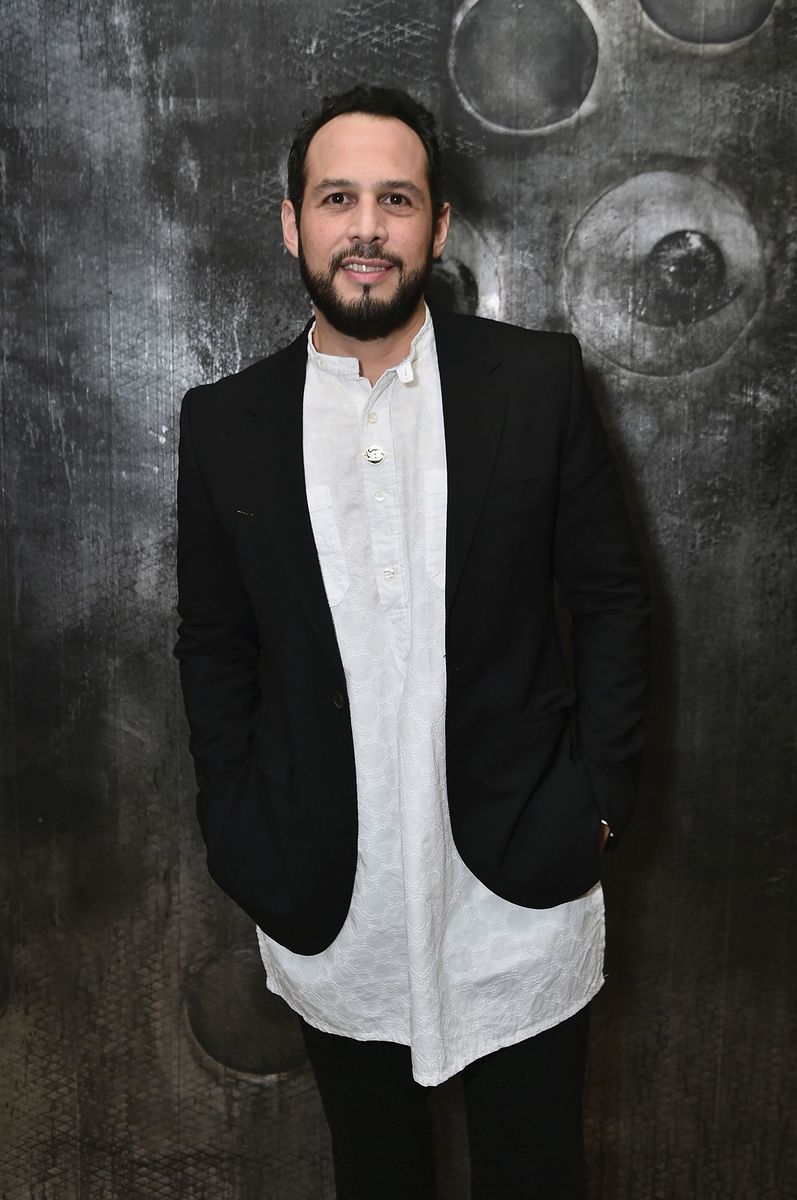 In 2017, the artist Harold Mendez travelled from Los Angeles, where he lives, to Havana. He was searching for the grave of the Cuban artist Belkis Ayón, who died in 1999. Mendez was born in 1977 in Chicago to Mexican and Colombian parents. Over the past decade, his work in sculpture, photography, printmaking and installation has touched on ideas of cultural memory, transnationalism, land, ritual and ancient histories.
His exhibition
And, perhaps, here, between
has just opened at the Institute of Contemporary Art (ICA), Miami, curated by Gean Moreno. Conceptualised as a memorial to Ayón, it includes modified photographs, found objects, cast iron sculptures, and a one-ton counterweight from a scrapyard in Captiva, Florida. The show followsLet us gather in a flourishing way, Mendez's survey that opened at the Institute of Contemporary Art, Los Angeles, in 2020, and travelled to the Institute for Contemporary Art at Virginia Commonwealth University, Richmond, in 2021.
We met him at his studio in Downtown Los Angeles.
The Art Newspaper: Could you tell me about your history with Belkis Ayón, and her significance for your work?
Harold Mendez: I studied printmaking and photography. Belkis worked primarily with collagraphs, building up the image with all kinds of textures and surfaces. I'm also interested in mediating my images. In 2016, a touring retrospective of her work at the Fowler Museum, Los Angeles, really reinvigorated my interest in her work.
A year later you went to Havana. How did that come about?
The National Museum of Mexican Art in Chicago received a grant through the MacArthur Foundation called the International Connections Fund. Instead of an exhibition, they proposed an initiative where six artists from Chicago would go to Havana for two weeks there and interact with six Cuban artists.
Did you go with the specific intention of looking for Ayón's grave site?
I did. I didn't necessarily expect to make work in Cuba. But one of the things I wanted to do was to look for her grave. And the other thing I did, which I always do when I travel, was spend time at libraries and photo archives.
You never found the grave. But tell me about the cemetery where you shot the photographs forThe days of yesterday are all numbered in sum(2019), showing a sacrificed chicken surrounded by petals.
It's called La Necrópolis de Cristóbal Colón, named for Christopher Columbus. It's one of the oldest cemeteries in Latin America. There's a section in the far edge of the cemetery for people who practised this secret religion called Abakuá, related to Santéria, that Belkis made work about.
What was Belkis's relation to Abakuá?
Abakuá was a male religious society. So she was not a practitioner, but she befriended members. She made work visually articulating some of their beliefs and religious practices.
Can you describe your treatment of photographic prints?
Parts of the images will get covered with all this powder—graphite and powdered charcoal and pigment—which I blend in, then dust off or erase. By doing that multiple times, I'm building up a kind of atmospheric veil.
I think of ideas of mobility and immobility in relation to your work: things that can be handled or removed, and things you would or could never touch.
A lot of my work is sourced in different places, and then comes together very slowly in the studio. I might use a slab of marble on the floor, with a copper vessel that gets water poured into it, or flower petals, these kinds of things. There's an accumulation that requires that kind of mobility. But it's important that my practice is not solely related to being in the studio; it's about engaging in the world.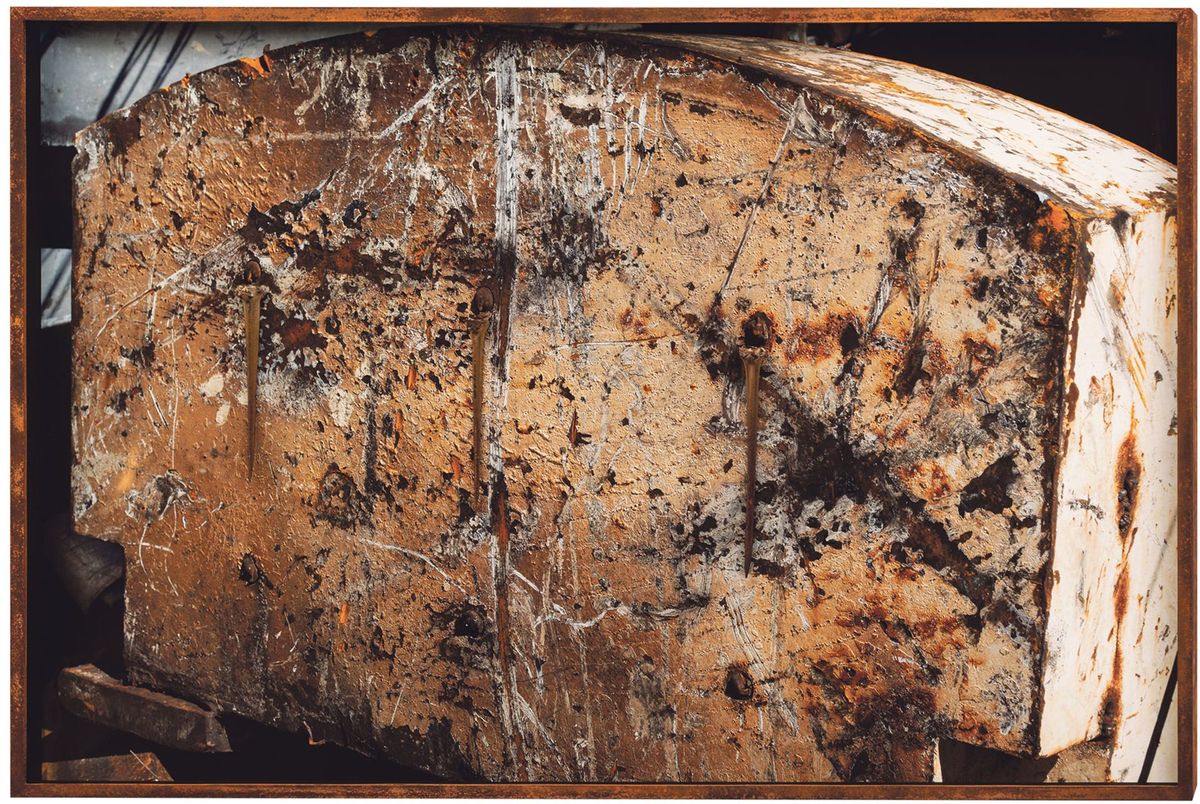 How did the one-ton counterweight come to be included in this exhibition?
In 2016 I was in residence at the Robert Rauschenberg Foundation in Captiva. I went to the scrapyard where Rauschenberg collected a lot of his materials, and I came across this counterweight. I photographed it—it looks like a yellow tombstone. I didn't have a studio at the time, so I was like, "How the hell am I going to get this one-ton object to Los Angeles?" But I have been thinking about it ever since. I went back there in July. It was gone, but I found something similar.
A major part of your work seems to be about not only death, but memorialisation.
Some pieces have been specifically about family members that recently passed. But the whole ICA exhibition is a kind of memorial for Belkis Ayón. My work is often about the notion of being in-between, having a connection to other histories. The importance of remembering. In some works, I feel like I'm communing with the past.
Do you also identify a redemptive or optimistic aspect to your practice?
I think a lot of the work is pretty optimistic. It might not always appear that way. But to engage with something from the past is to have a kind of optimism, a way to keep it moving forward and to keep a connection to it. There is a kind of reverence that, for me, is about mending or caring for something.
Harold Mendez: And, perhaps, here, between,Institute of Contemporary Art, Miami, until 1 May 2022
---