In and Around the Fair: A Report from Mexico City's Zona Maco
ARTnews / Feb 14, 2017 / by Joe Syverson / Go to Original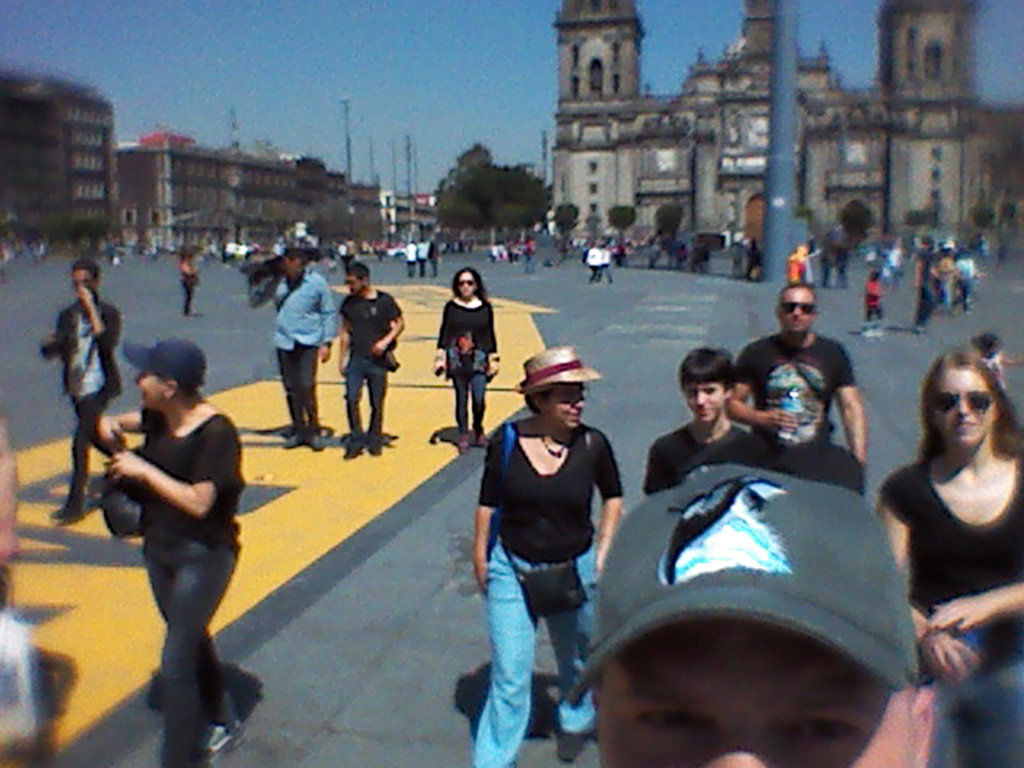 Last Saturday, for Zona Maco, Mexico City's premier contemporary art fair, artist Andrew Birk led a walk from the historical center of the city to Anonymous gallery's booth, which presented a group show featuring FlucT, Peter Sutherland, and Brendan Lynch. Participants in the ten-kilometer walk received free admission to the fair and, after three hours beneath the punishing sun, a glass of water. "Now go find a work in this fair that was better than that glass of water," Birk told participants before they left to go explore. The walk was part of a series inspired by the poems of Matsuo Basho, whose writings, Birk said, "reduce all the world's systems to the simplest language possible."
A much larger walk in protest of Donald Trump took place the following day, drawing in demonstrators who would have otherwise been at the fair. Exhibitor Lucinda Bellm of Lamb Arts from London and São Paulo found a volunteer to take care of her booth while she attended the march with an artist she represents, Fernando Otero of Peru. Otero's work in the fair, the gallerist said, addressed the positive effects that immigration had on Peru after World War II. "Initially the Japanese were sectioned into ghettos outside of the city," Bellm told ARTnews, "but over the years they have been integrated [while exerting] a huge influence on society, cuisine, and politics."
In the lead-up to the five-day fair, the Mexican peso's stark decline and strained relations with the new United States presidential administration left many wondering how Zona Maco would, well, fare. "Everyone was a little bit worried, especially because most galleries operate in U.S. dollars," said Polina Stroganova, director of the Mexican gallery ProyectosMonclova, in the opening hours of the fair. "But I have a feeling that it's actually generated a kind of opposite effect, people were even more enthusiastic to come." ProyectosMonclova sold the majority of its booth by the end of the fair, including works by Gabriel de la Mora, Chantal Peñalosa, Martin Soto Climent, and Adrien Missika.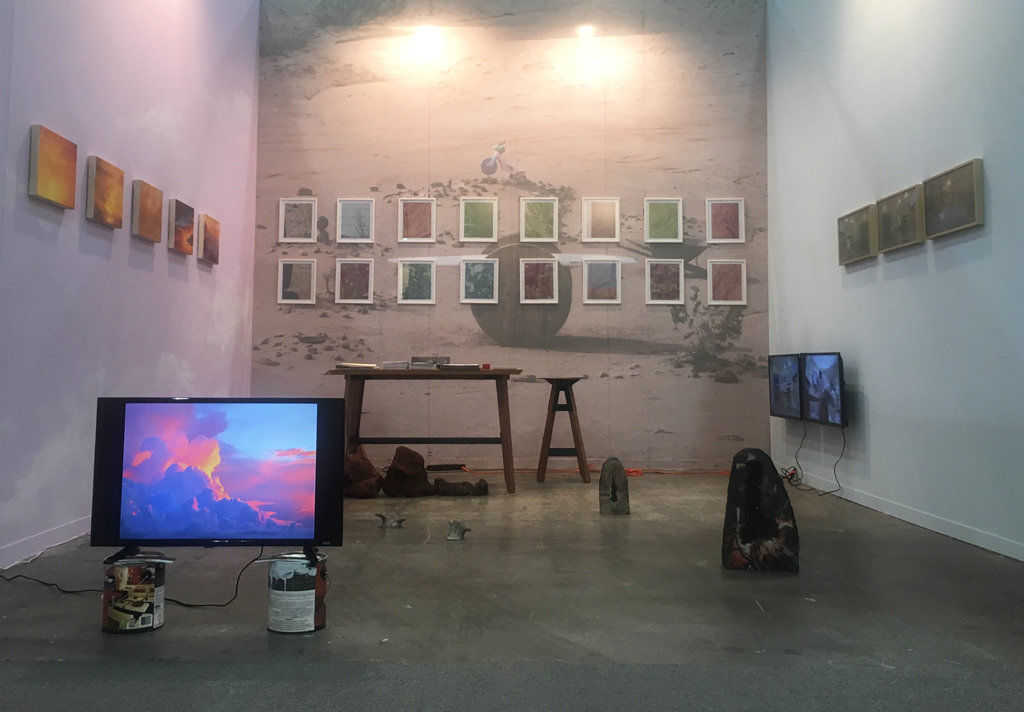 Other exhibitors remained optimistic, with faith in the market as they had known it before. Gary Nader, whose Miami-based gallery specializes in Latin American masters, told ARTnews, "Prime art is always a good investment, and Mexicans understand that very well." Timothy Taylor, in town from London to share a booth with Lorcan O'Neill from Rome, concurred. "It's about relationships you have with collectors and working with them to get what they want," Taylor said, adding a note about Zona Maco's particular allure: "It's a very much more meaningful experience"—owing to the "discernment" of collectors in attendance and the intimacy with which business is conducted—"than a lot of shopping that's done at other fairs."
Emanuel Aguilar, founder and director of the Chicago-based Patron gallery, attributed this to broader trends that apply just as much to Zona Maco. "I think there is a more contemplative and informed pace for some time now in regards to how collectors buy art," he said. "They are still buying, but it's certainly a much longer process, in regards to conversations and actual transactions. Ultimately this is a good thing—it means individuals are thinking about what they buy." Patron left Mexico having sold two works by Alex Chitty.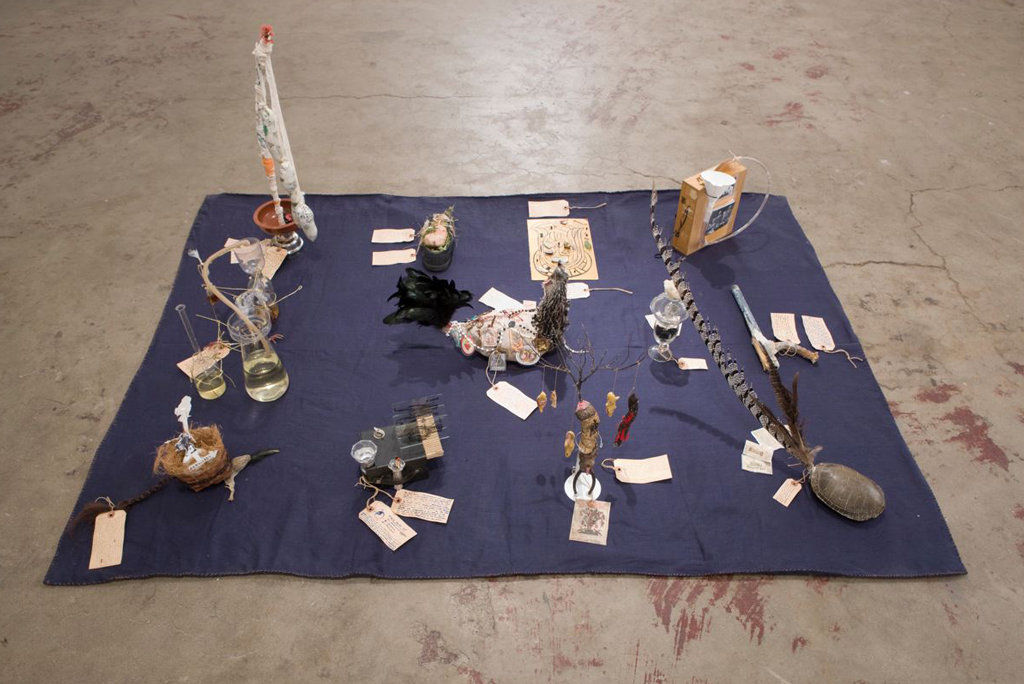 Francisco Borrego Vergara of the Guadalajara-based Curro gallery said he believed that relationships built over successive visits to the fair are essential. Foreign galleries and even Mexican galleries from outside of Mexico City have more difficulty at Zona Maco than those with hometown ties, he said.
Notable attendees of the fair included the architect Fernando Romero, son-in-law of Carlos Slim, and José Bastén, president of the Mexican media giant Televisa (as well as Eva Longoria's husband). Kim Gordon and Lawrence Weiner made the rounds too, with Weiner's work peppered across five locations in the city's Federal District as part of an exhibition with the Museum of Mexico City.
On the opening night of Zona Maco, a long red carpet lead to a room lit by the slender neon lights of the fair's liquor sponsor. Barricades and security separated the exhibitors and VIPs from the uninvited. Meanwhile, members of the local scene and other visitors packed into the art magazine Terremoto's YES Party a few blocks away, held in a dilapidated house called Centro de Salud. A bathtub doubled as a urinal and the party raged into the early morning.
The fourth edition of Material Art Fair opened the day after Zona Maco at Expo Reforma in the Juárez neighborhood of Mexico City. Through more affordable booths and lower price points, the founders of Material have expressed hope to encourage artistic risks by reducing financial ones. Differently from the regimented grid of Zona Maco, booths at Material circled the exterior of the convention space while the interior was lined with benches, so that visitors might take their time to appreciate the works on hand. Exhibitors included domestic spaces, such as Labor gallery and Joségarcía, as well as foreign enterprises like Ghebaly Gallery from Los Angeles, Maisterravalbuena from Madrid, and Crevecoeur from Paris.
Adam Gildar, of the Denver, Colorado-based Gildar Gallery, echoed the sentiment of several of his colleagues at Zona Maco who emphasized the importance of developing relationships over repeated years. "You have to invest in the community," he said, "if you want them to invest in you." Chris Sharp, cofounder and curator of Lulu project space in Mexico City, left the fair happy after parting with Tom Allen's otherworldly portraits of flowers, whose foregrounds and background wrestle for the attention. "Despite their utter strangeness, most of these paintings found homes," Sharp said.
Elsewhere in town, the exhibition "Modern Love (Vol. 1)" also popped up Thursday as artists attempted to capitalize on the increased visibility of Mexico City's art scene. Located on the fifth floor of one of Centro Histórico's elder buildings, the show featured an organic system of painstakingly arranged objects by eleven artists from six different countries. Additional volumes were promised for other countries at unspecified times.
Although removed from view of the politically charged march in town, Zona Maco did not quite come to a quiet end, with the fair still packed Sunday into the early evening. Manuel Forte, artist and collaborator with Galleria Continua, bolted past me at the entrance: "A little girl just pushed over a Buren!" he panted. (Later he reported that "there will be a discussion between those responsible for the girl, the gallery, and the artist's studio.")
Others were haggard from long days and long nights, too on edge or too tired to stress about final sales. In keeping with that mood, the local galleries La Esperanza and Lodos, along with the artist Diego Salvador Rios, closed the weekend with the Exhaustion House Party at Cafe Zena on Sunday night. "It was just friends hanging out and dancing," said Nico Colón, a painter. "It was great."
---