Detroit's Library Street Collective launches virtual exhibitions inside historic city buildings
The Art Newspaper / Apr 24, 2020 / by Wallace Ludel / Go to Original
The first group show will place digital renderings of work by artists Daniel Arsham, José Parlá, and Kennedy Yanko in the abandoned Beaux-Arts-style State Savings Bank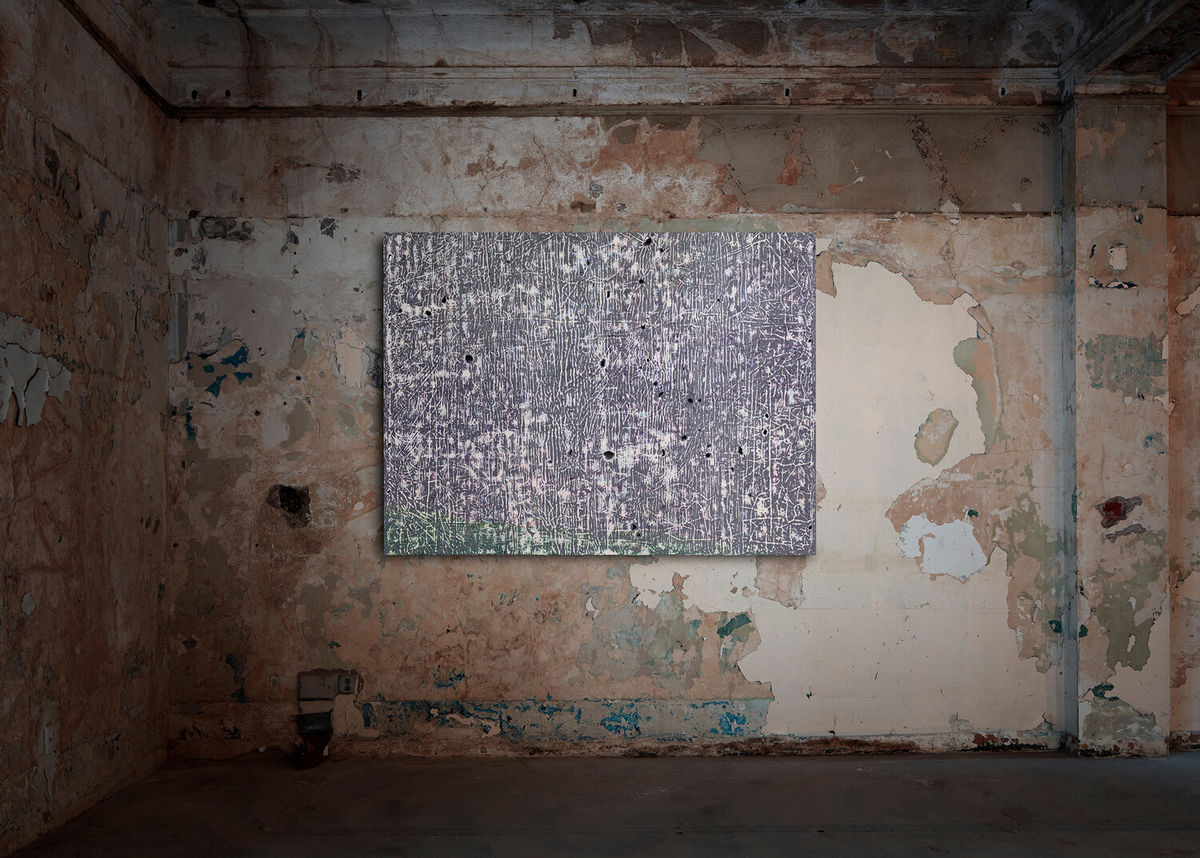 Kadar Brock's
guts the wanderer, guts by the sea, the artist's hand paints the world, the egg of the king, i wish i was albert oehlen
. (Image courtesy the artist and Library Street Collective; image and rendering by James Haefner)
Detroit's Library Street Collective—which earlier in the coronavirus lockdown collaborated with artists to make custom sketchbooks that were given out to local public school students—is now launching a series of digital exhibitions staged in significant architectural spaces throughout the city. The programme will start on 1 May with a virtual group show in Detroit's historic State Savings Bank, a landmark Beaux-Arts building erected in 1900 by architects McKim, Mead & White, and which sat empty for more than 20 years, until it was reopened in 2018 to present Doug Aitken's Mirage. With the help of the architectural photographer James Haefner, the bank building will be flooded with digital renderings of work by artists Daniel Arsham, Kadar Brock, Greg Fadell, Simphiwe Ndzube, José Parlá, Rachel Rossin, Phillip K. Smith III and Kennedy Yanko.
According to Library Street Collective co-founder Anthony Curis, forthcoming exhibitions for
SITE: Art and Architecture in the Digital Space
will be staged "in buildings designed by notable architects such as Minoru Yamasaki and Albert Kahn, as well as those that once housed the automotive industrialists of Detroit's past." Many of the spaces chosen for
SITE
are not easily accessible by the public, so letting the community catch a glimpse at their interiors is another layer to the project. "We look forward to including some of the most significant and historically important structures in the Detroit area, each with a unique story to tell," Curis adds.
"We started thinking about
SITE
over a year ago, and although the concept and content hasn't changed much as it has developed, we have realised that this access to unseen spaces holds a new significance during the pandemic. The platform feels especially escapist currently, and calls particular attention to the places where the real and the digital assimilate," Curis says.
"Within Detroit, we do our best to welcome a wide audience through our public programming efforts, and having the opportunity to work within some of the city's most captivating spaces left us looking for another way to communicate what we get to experience all the time in our city," Curis says. "It made
sense for us to bring these worlds together."
---