Reopened Galleries Offer Not To Be Missed Solo Shows
Art and Object / Jul 31, 2020 / by Paul Laster / Go to Original
With galleries slowly reopening across the Americas, especially in cities where the curve has been flattened, we took a look at the solo shows on view and found a number of exhibitions dealing with concepts of art-making in fresh and exciting ways.
Ranging from Nir Hod's use of chrome pigment to create surfaces that reflect the figure of the viewer in abstract planes and Talia Levitt's imaginative trompe l'oeil still life paintings to Trevor Paglen and Luke Parnell's reinterpretations of art histories through contemporary means, we've rounded up shows in Los Angeles, Chicago, San Francisco, Toronto, and New York that inspire both looking and thinking about art, even in the toughest of times.
Nir Hod: The Life We Left Behind
Kohn Gallery, Los Angeles
July 18 РAugust 30, 2020Ӭ
An Israeli-born, New York-based artist inspired by a joyful mix of life and Pop Art, Nir Hod has made both figurative and abstract artworks over his twenty-five-year career, with his newest paintings and sculptures conceptually combining a bit of each way of working. Reflective paintings from the series The Life We Left Behind are completely nonrepresentational when viewed from afar, but as soon as viewers get close to the surfaces of the large-scale, chrome canvases, their mirrored images become part of the art in a haunting way. His fragmented sculptures, meanwhile, reflect the ruins of societies past, where man's destructive nature ultimately won the day.
In paintings like The Life We Left Behind (7), which flaunts a background of gradated bands of purple, lavender, and pink, and The Life We Left Behind (4), which reveals the colors of a sun setting in a blue sky, the underpainting is exposed through a variety of deconstructive means. After abstractly painting the grounds, Hod and his team painstakingly apply a coat of chrome pigment, which he then brutally wipes and scrapes away. Initially inspired by Andy Warhol's Shadow paintings yet poetically linked to the aging canvas in Oscar Wilde's The Portrait of Dorian Gray, Hod's reflective paintings sport their ruin while inviting one to contemplate his own likeness and impending mortality when being absorbed by them.
"The viewer's reflection is mirrored back and they become part of the artwork," Hod shared in a statement on the gallery's site. "They position themselves in the painting and create their own distracted image, and the viewer metaphorically becomes the subject of the painting. In the age of social media, the idea and exploration of narcissism is ever more relevant."
Ironically, the artist's fragmented wall sculpture, I will always wait for you even if you never come back, which is a realistic-looking assemblage of building materials mixed with leftover food items and burning candles, evokes the same sort of sentiment with a gaping hole in its center, through which one could metaphorically return to a lost reality or escape to a totally new way of life.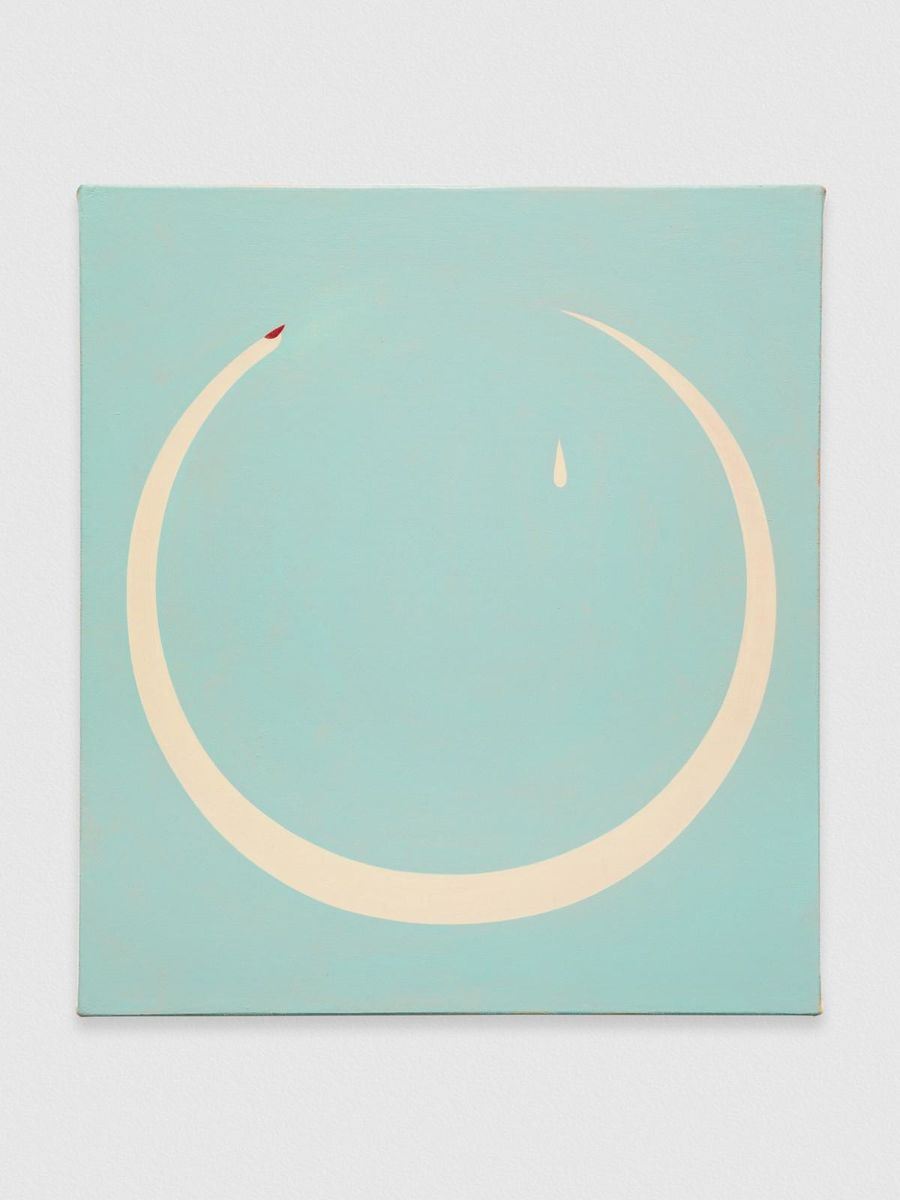 Courtesy the artist and PATRON Gallery, Chicago
Alice Tippit,
Dry
, 2020.
Alice Tippit: Pallid Carrier
Patron, Chicago
June 27 – August 29, 2020
A mid-career, Chicago-based artist who's been gaining traction internationally over the past five years for her graphic depictions of figurative subjects as silhouetted, flatly-colored forms, Alice Tippit makes her Patron gallery debut with eleven new, small-scale oil paintings and watercolors that whimsically transform human body parts and everyday objects into ambiguous signs and symbols.
The paintings Brood, Wife, and Share erotically capture the female figure in monochromatic shapes that convey multiple meanings. Likewise, the three-colored canvases Delete and Glance imbue still life objects with stylish facial forms. Continuing with the visual riddles, Dry graphically twists a red-tipped finger into a solar eclipse and Stuck wedges the monochromatic brown field of the painting into its simulated brick wall, while also hinting at the depiction of buttocks and breasts.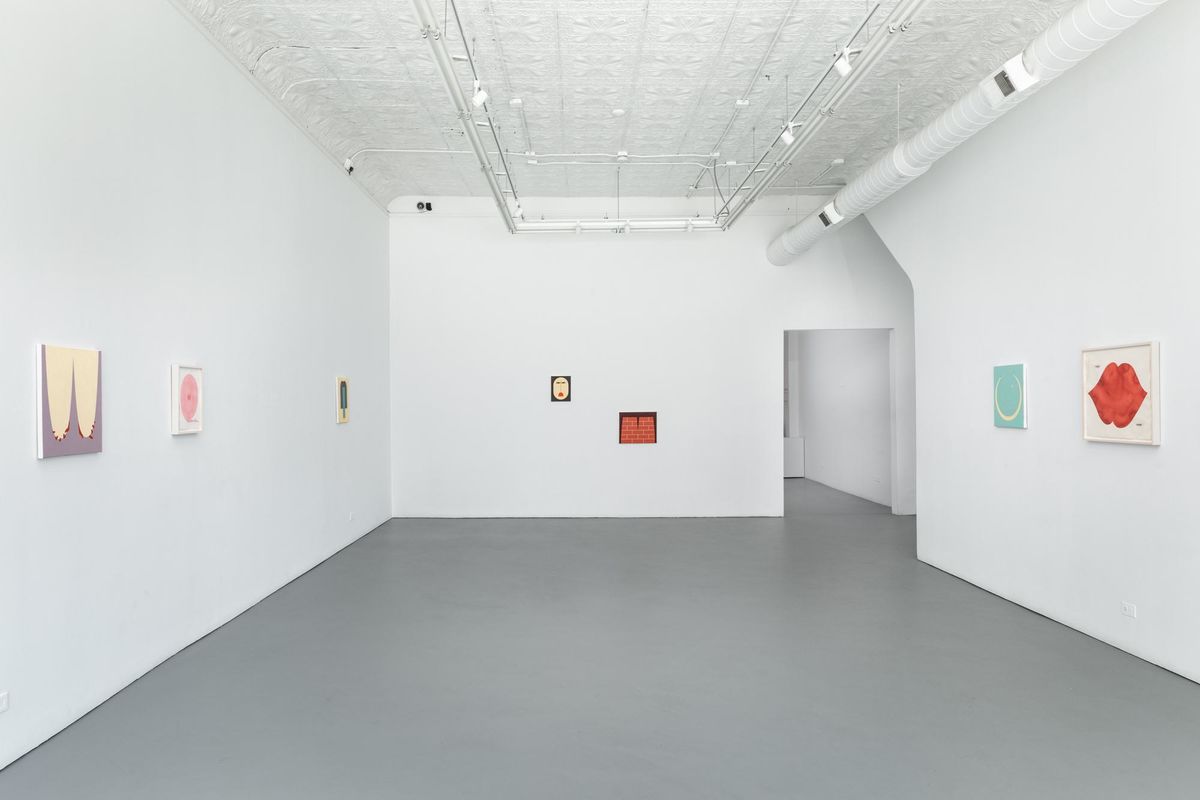 Courtesy the artist and PATRON Gallery, Chicago, Photo: Evan Jenkins.
Installation view of Alice Tippit: Pallid Carrier at PATRON Gallery.
Tippit's watercolors on paper differ somewhat from the oils in show in that they include words and letters that turn them into puns. Spoke presents the letter O in the middle of a pink, O-shaped body growing out of a kneeling leg and Beat offers a pair of red lips puckered like a throbbing heart with the words "nurse" and "curse" floating above and below in a seemingly reversible form. Elusive in meaning, Tippit's playful art makes you ponder what it is that you are observing when you are precisely in the middle of the act of seeing.
Trevor Paglen: Territory
Altman Siegel, San Francisco
June 25 – August 8, 2020
Following in the footsteps of such great American landscape photographers of the American Westas Eadweard Muybridge, Timothy O'Sullivan, and Carleton Watkins (albeit with modern technological means), Trevor Paglen examines the relationship between photography and power in a new body of work. Whereas his predecessors were hired to make many of their photographs by state and federal agencies interested in Western expansion and government control over land use, Paglen employed computer vision, facial recognition, and artificial intelligence to create aesthetic images with philosophical undertones.
"This body of work for me is about trying to see how photography and power were coupled together in the past, and to think about how those couplings might be taking place now in the age of computer vision and AI," Paglen proclaimed in a statement on the show's site.
A celebrated artist, geographer, and author whose work often deals with surveillance and data collection, Paglen has put the funds from the numerous awards he's received, including a MacArthur Genius Grant in 2017, to maximum use in this project. Shooting old-fashioned, large-format photographs with negative film, which then gets digitally analyzed by AI programs and processed in sunlight using traditional albumen and carbon printing techniques, he brings a bygone—seemingly benign—vision of imperialism into the digital age.
Connecting the dots between the past and the present with the addition of lines, circles, and strokes that signify how computer vision can use mathematical abstractions to analyze such historical sites as Glacier Point in Yosemite National Park and Near Point Arena on the California coast, Paglen makes compelling works of art, which give pleasure to the eye while simultaneously stirring the mind.
Luke Parnell: Indigenous History in Color
MKG127, Toronto
July 2 – August 22, 2020
A Native American artist who's a descendent of the Indigenous Haida and Nisga'a tribes in Canada, Luke Parnell metaphorically mines his cultural heritage through his art and writings. Exploring the relationship between indigenous oral histories and art from Canada's Northwest Coast, he makes paintings, drawings, and sculptures that bring the traditional tribal beliefs of the past into the present, while promoting the idea of reconciliation, which to Canadians means a reversal of the oppression and exploitation of First Nations peoples and their land.
Seven paintings from his 2014 series Re-Contextualizing the De-Consecrated explore the exhibition history of Northwest Coast art by interpreting curatorial statements from past shows as works on canvas with accompanying poetic texts. For example, the point of departure for the painting Beat Nation was a 2012 traveling exhibition, curated by and for Indigenous peoples, that was organized by the Vancouver Art Gallery. In the painting, a cartoon animal character strikes a warrior's pose while brandishing a mask, club and shield, with the artist's supplemental text considering the influence of hip hop and graffiti art on First Nations culture.
The colorful construction Neon Reconciliation Explosion, which is the largest work in the show, consist of forty-four individual panels, collaboratively painted by fifty-five community members, that form the shape of a house with a butterfly design on it. The painting illustrates each participant's thoughts on the notion of reconciliation. Similarly, Parnell's print Bear Mother employs a gridded composition to convey traditional imagery from Northwest Coast art in a lively palette inspired by present-day film stills and bold comic book colors
Donald Moffett: Aluminum/White House Unmoored
Marianne Boesky Gallery, Aspen
July 2 – September 13, 2020
A founding member of the AIDS activist artist collective Gran Fury, Donald Moffett is best known as a painter of abstractions that poetically speak to issues of love, loss, alienation, and death. Creating canvases that have corporeal and sculptural forms—which sometimes reference the body and at other times deconstruct painting's traditional structure—Moffett works outside of the box when making his spellbinding art.
Presenting just one piece, Aluminium/White House Unmoored, this solo show revisits a work from 2004 that spoke to the time of the Iraq War in a similar way to how it suggests a sense of drifting now. Consisting of a moving image of the White House projected on a monochromatic, textured canvas whose silvery surface has the chilling emptiness of the backside of an air conditioner, the work advances the notion that our metaphoric ship of state is bound for ruin, unless it's swiftly brought under better control.
When asked in a 2004 interview about how the footage was shot, Moffett replied, "With a Sony mini-DV camcorder on a tripod. Thinking about insolence, complacency, painting problems, and a Bozo as commander-in-chief."
Talia Levitt: Two Truths and a Lie
Hesse Flatow, New York
July 9 – August 8, 2020
A young artist making maximalist still life paintings, Talia Levitt creates captivating canvases that toy with the idea of painting in surprisingly surreal and conceptual ways. Graduating with an MFA from CUNY Hunter in 2019 before attending the Skowhegan School of Painting and Sculpture and getting a Rema Hort Mann Emerging Artist Grant that same year, the artist quickly chocked up a number of group exhibitions, but is making her solo debut with this show at Hesse Flatow, an emerging New York gallery.
Using trompe l'oeil effects, Levitt meticulously paints figures, frames, and objects that cleverly reference the process and history of painting. Dear Painting, I Love You looks like a collage of disparate elements in a decorative frame and yet all of the parts are painted, while her mostly monochromatic Blue Period painting is what its title suggests, a blue canvas with two highlighted periods on a faux piece of paper at the center of it.
Equally witty, her Painting a Wall illustrates a ghost-like figure rolling pink paint on a wall of a room filled with objects that are sketchily drawn and realistically painted, juxtaposed with a faux stained-glass artwork on the right side of the composition and a free-floating canvas mounted on the wall to the left. With a dozen fascinating canvases on view—and each one doing something different—Levitt proves that still life painting, which is old as the hills and as common as muck, can be fresh as a daisy when you play your cards right.
---