Harold Mendez at ICA LA
Nov 10, 2020 / by Allison Nicole Conner / Contemporary Art Review LA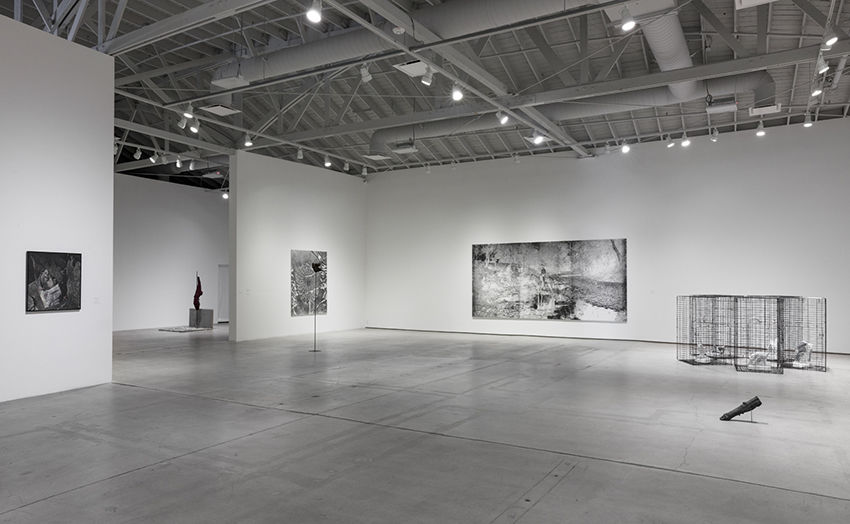 Harold Mendez (installation view) (2020). Image courtesy of the artist and ICA LA. Photo: Jeff McLane/ICA LA.
Five metal animal cages are tucked in the left corner of the room, arranged in a pentagonal formation. A concrete creature stands in each cage. The statues are in a state of ruin—crumbled, decayed, and difficult to clearly identify, as if relics from an ancient history. At the top of each cage, a delicate bone hangs suspended by twine. Like most of Harold Mendez's work, which crosses between sculpture and photography, this installation, titled
Jaulas
(2017), transports the viewer to an ambiguous landscape charged by under-acknowledged histories culled from the Latin American diaspora, both stateside and beyond. Indigenous rituals and Chimú ceramics are referenced alongside Peruvian literature and Santería. Mendez gestures to these hidden but resonant narratives through his use of symbolic-rich materials, triggering a rush of wide-open associations, from the history of colonization and current transnational conflicts to existential questions troubling the lines between earth and spirit, memory and erasure, and so much more. His work attempts to embody the absences of history, and how they filter through our everyday experiences.
Let us gather in a flourishing way
at ICA LA is the first West Coast solo exhibition for L.A.-based Mendez, and presents new works alongside 20 made over the last decade. Born in Chicago to Colombian and Mexican parents, Mendez is known for his poetic repurposing of found objects—historical photographs, soot, vulture feathers, eucalyptus bark, pigment from crushed beetles. Here, his assemblages evocatively leave the viewer to construct their own narratives based on what is present and what is missing.
Comma
(2019), a small wooden sculpture of a hoof, reads like detritus from one of the many unnamed encounters suggested by Mendez's work. The sculpture points to the existence of a body while also emphasizing its disappearance, obliquely highlighting histories of displacement and violence.
I'm not always fitting (After Koudelka)
(2014/2020), which references the moody black-and-white prints of street photographer Josef Koudelka, looks at first like a painting on canvas: in it, a cloaked monument is surrounded by a whirl of velvety soot, charcoal, and silver. Upon closer inspection, however, a reflective glare in certain areas leads to a disorienting discovery—the canvas is a reclaimed mirror. Yet, instead of clarity, the mirror offers a murky void, revealing the monument as a fraught site of power, an object swarmed by clashing narratives both constructed and suppressed.
When working with archival images sourced from photographers like Melitón Rodríguez and the anti-authoritarian art collective Grupo Proceso Pentágono, Mendez manipulates and reprints the photos using a labor-intensive manual transfer process. His unusual method combines drawing with photography to striking effect, conjuring an otherworldly aura in which the past moves through the present like an inexhaustible specter. For example,
let X stand, if it can for the one's unfound (After Proceso Pentágono)
(2016) depicts a person being attacked and electrocuted by disembodied hands. The image documents a performance from Proceso Pentágono in which one of their members was beaten. Active between 1976 and 1985, the group staged queasy interventions in response to Mexico's "dirty war," a period marked by government-sponsored political repression, torture, and murder. In Mendez's hands, white lines and scratch marks made during the transfer process echo the ruined aesthetic of concrete statues, and evoke a chaotic physical reaction, as if an incomplete attempt at capturing the subject's pain and shock. (They can also be read as ghostly marks from an avenging spirit.) While Mendez's process reanimates archival documentation in ways that unearth latent histories, his work also rewrites the archive as an ongoing collaboration between the present and the absences of the past.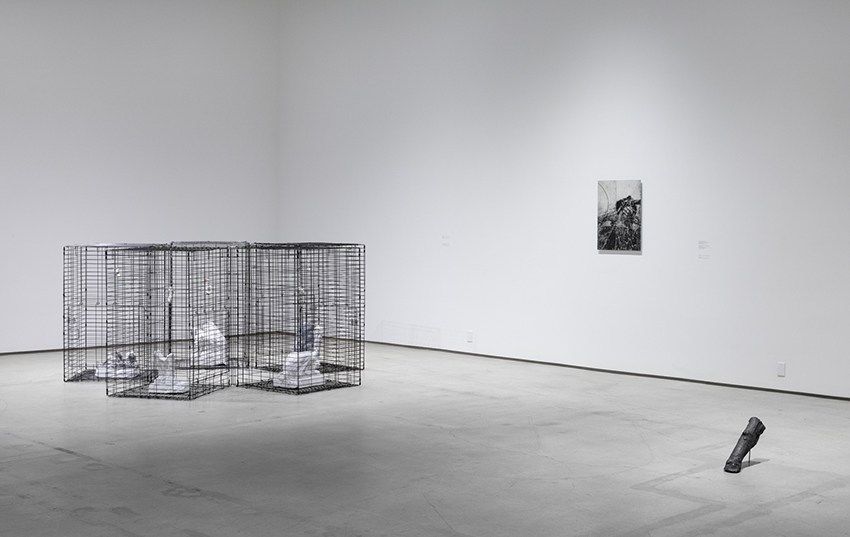 Harold Mendez (installation view) (2020). Image courtesy of the artist and ICA LA. Photo: Jeff McLane/ICA LA.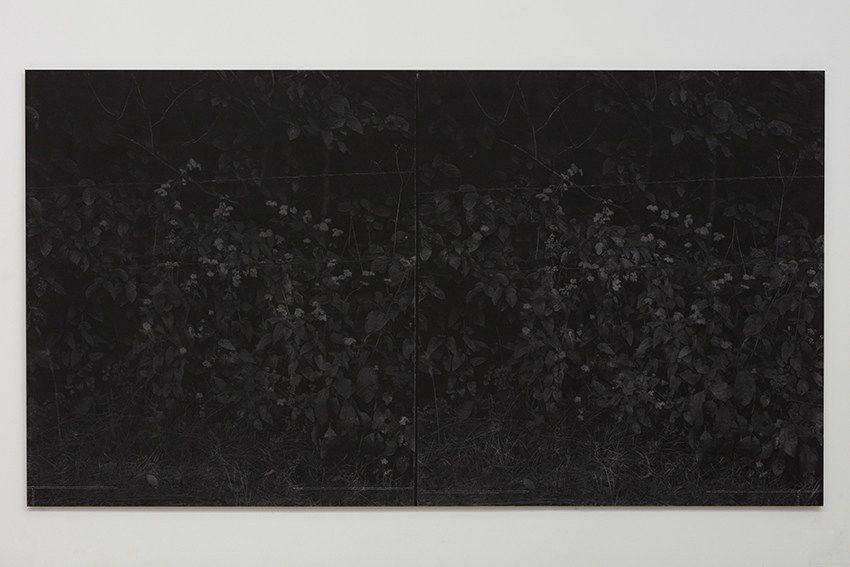 Harold Mendez,
Field
(detail) (2019/2020). Image courtesy of the artist. Photo: Jeff McLane/ICA LA.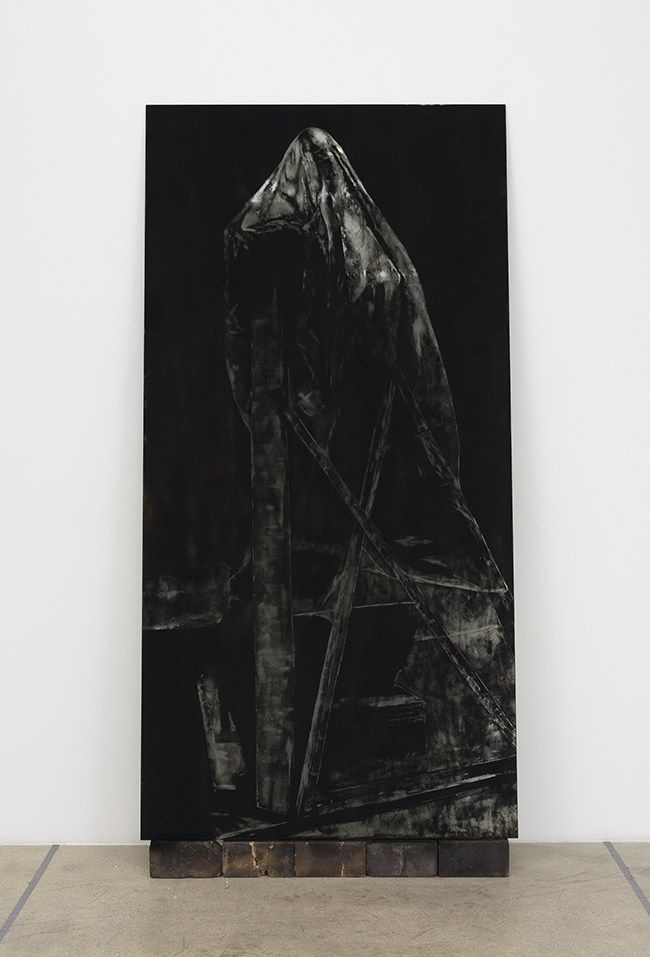 Harold Mendez,
I'm not always fitting (After Koudelka)
(2014/2020). Mixed media on reclaimed glass, bricks, soot, 84" x 48". Image courtesy of the artist and PATRON Gallery, Chicago.