Collector's Eye: They Built a World-Class Collection of Black Artists' Work. Who Are They Acquiring Now?
The Wall Street Journal / Jul 15, 2020 / by Kelly Crow / Go to Original
Denise and Gary Gardner, who built one of the preeminent collections of Black artists, are adding works by Lorna Simpson, Bethany Collins and Candida Alvarez.
Works by Black artists have surged in popularity in recent years, as curators and collectors reappraise their place in the canon. Chicago collectors Denise Gardner and her husband, Gary, have spent nearly four decades amassing one of the world's preeminent showcases of Black artists. So, who are they collecting now?
Their holdings of at least 130 works offer a sweeping look at modern and contemporary Black art, from pioneers like Henry Ossawa Tanner to modernists like Charles White and Norman Lewis. Yet even established collections can use a tune-up, said Ms. Gardner, who has focused lately on adding works by women of the African diaspora.
Ms. Gardner, the vice-chairman of the board at the Art Institute of Chicago, said she recently walked into the room at home where she has long displayed the masters of the collection—and realized every artist was a Black man. She had bought a couple of major works by Black women lately, so she resolved to add these artists to the main room, thereby allowing Black women to share the spotlight.
"I rearranged everything, and now my room of masters is half women, and they are holding their own," she said, including Amy Sherald's "A clear unspoken granted magic," a 2017 portrait of a young, Black woman with her arms loosely crossed.
Ms. Gardner spoke to The Wall Street Journal about three artists she and her husband recently added to their collection.
Lorna Simpson
"Mind Reader," 2019
Known for
: Emerging in the 1980s as a pioneer of conceptual photography, Ms. Simpson created collages using pictures of Black women she found in vintage magazines like Ebony and Jet, often calling out racism or sexism where she saw it. In recent years, she's added painterly elements to pieces like "Mind Reader" by screenprinting images onto fiberglass and then layering ink on top. More than 45 museums own Ms. Simpson's work. The Brooklyn, N.Y.-based artist is currently in a group show at Venice's Punta Della Dogana museum, up through Dec. 13, and has a solo show at Hauser & Wirth's Hong Kong gallery through Sept. 30.
Prices
: Several works in Ms. Simpson's 2019 "Darkening" show at Hauser & Wirth's New York gallery, where Ms. Gardner bought "Mind Reader," have since sold at art fairs for around $425,000.
"The work I got is part photography, because it uses a found image of a woman with a bouffant like the Supremes, but it's also part painting because the artist has washed over this woman with ink. It has such a quiet power to it, and when I stare at it, I get quite emotional. I don't know the artist well, but I get the sense she has that power, too. I see a moodiness in this work, a storminess."
Bethany Collins
"I am for you (You're a Grand Old Flag)," 2018
Known for
: Ms. Collins investigates the politics of language by partially erasing or burning phrases in everything from classic poetry like Homer's Odyssey to patriotic songs. The artist, who lives and works in Chicago, broke onto the art scene while doing a residency at the Studio Museum in Harlem. Then, two years ago, during Art Basel Miami Beach, she enlisted choral groups to sing 100 different versions of the 1831 song, "My Country, 'Tis of Thee," including politically charged lyrical alterations. She also displayed a hymnal whose pages had been singed so that parts of them crumbled as people flipped through. When the Peabody Essex Museum in Salem, Mass., reopens July 18, Ms. Collins' hymnal will go on view in an exhibit of "Jacob Lawrence: The American Struggle," up through Aug. 9.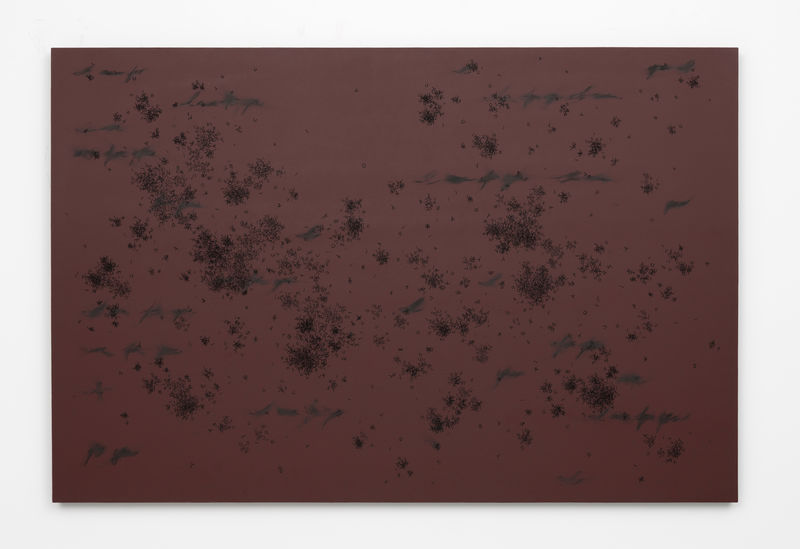 Bethany Collins included lyrics in her 2018 work, 'I am for you (You're A Grand Old Flag).'
PHOTO: BETHANY COLLINS/PATRON, CHICAGO
Prices
: Ms. Collins' Chicago gallery, Patron, has sold her works for between $10,000 and $65,000.
"She layers text in most of her paintings. I have two, and from afar they look like clouds or smudges. But when you get close, you see they are individually painted. I just got 'I am for you (You're a Grand Old Flag),' and she's taken the lyrics from that song, and it looks like she's thrown them onto a dark burgundy background. For at least the past three years, she's been revisiting the lyrics of these classic, Americana songs, and it's her way of asking: 'Who is American and what does that mean?' Just the sheer man hours it takes for her to do her works, it's so rewarding to see. It means more to me than someone who just kind of threw a splat on a canvas and called it done."
Candida Alvarez
'dadadahlia,' 2005-08
Known for
: This 65-year-old painter makes kaleidoscopic abstracts that evoke everything from shards of stained glass to nebulous shapes inspired by her favorite Renaissance paintings. She has built a following since going back to school at age 40 to earn her master's in fine art from the Yale School of Art, graduating in 1997. The next year, she started teaching at the School of the Art Institute of Chicago, and in February she had her first solo show with Chicago's Monique Meloche Gallery, suspending new, mesh-like paintings on aluminum frames. New York's El Museo del Barrio is including her work in an exhibit planned for next year.
Prices
: The artist's gallery said her prices span $4,500 to $45,000.
"Her family is originally from Puerto Rico, but she lives locally, and I've collected her for the past seven years. She paints big, bright, complicated canvases like mine, which references the Dada art movement but also big florals. I'm a sucker for artists' personal stories, and I admire how Candida painted even while raising her son, and then she started teaching at the Art Institute. Now, she's really producing work, and it's amazing. When we gutted our basement, we converted it into a gallery-like space just to show living artists like Candida. I wanted to pivot our collection more squarely onto contemporary art, and my husband said, 'All the art you're buying now, we'll put it there.'"
---